There is a famous anecdote about a super-star car salesman who adopted a simple career strategy: every January he researched the most popular vehicles and changed dealerships if necessary to make sure he was always selling the hottest product.
Why swim upstream when you can float with the current?
This is also a valid investing strategy.
Don't try to sell Chevrolet Silverados to car-buyers that want fuel-efficient SUVs.
You will experience diminished returns.
Find a hot sector and put your resources there.
Some hot sectors enjoy a brief moment (3D printing, graphene, block-chain), others will run for a few years but are destined to crash (cannabis, crypto, space stocks) while other hot sectors are tied to macro-changes in behavior that are likely to play out over decades (clean energy, electric vehicles, mobile devices).
Lithium – a key battery ingredient – is at the heart of this macro-change.
Thanks to Electric Vehicles (EV's) and all things mobile – lithium demand is projected to increase 300% in the next 8 years.
"With many governments and businesses committing to reducing emissions, S&P Global Market Intelligence estimates that global lithium demand will grow to 2 million metric tons (mt) per year by 2030 from 640,000 mt/year in 2022," states Clean Energy News, "84% of all lithium produced is expected to go into battery making".
"Automakers sold 6.6 million plug-in vehicles in 2021," states Green Car Reports, "More than double the 3 million sold in 2020, and more than triple the 2.2 million sold in 2019, according to the International Energy Agency (IEA)".
Here are three lithium juniors poised to benefit from the shift to EVs and green energy.
Alpha Lithium (ALLI.V) is $142 million company developing the Tolillar and Hombre Muerto Salars. In Tolillar, ALLI has assembled 100% ownership in one of Argentina's last undeveloped lithium salars, encompassing 27,500 hectares (67,954 acres). The project is surrounded by multi-billion-dollar lithium players in the heart of the renowned "Lithium Triangle".
In Hombre Muerto, ALLI is expanding its foothold in one a high quality, longest producing, lithium salar.
On March 15, 2022 Alpha provided an operational update on its 100% wholly owned, 27,500-hectare Tolillar Salar, operations in neighboring Salar del Hombre Muerto, as well as an update on the previously announced Uranium One transaction, whereby Uranium One agreed to acquire 15% of the Tolillar Salar for US$30 million, implying a US$200 million asset value.
"Given the recent challenges experienced with Uranium One, the Company has chosen to provisionally suspend closing of that transaction," states ALLI, "The Company has no knowledge of any sanctions currently in place against Uranium One, its subsidiaries, affiliates, or its executives and that this decision is being made responsibly and in the best interest of shareholders.
Prior to this announcement, and without actively marketing the project, the Company has received several inbound expressions of interest from numerous parties, all of which are multi-billion-dollar, experienced electric vehicle supply chain related companies.
Alpha is fortunate to have multiple development paths for Tolillar Salar, one of which is to continue independently, utilizing the Company's significant cash reserves and expert operational team."
Alpha has four drilling rigs on Tolillar Salar focused on northern, western, and eastern extensions to the Tolillar Salar. One of the wells will be the second well into a recently discovered fresh water source – a rare and critical requirement for lithium production.
The salar is currently home to Livent Corporation, Allkem Limited (the recently merged Orocobre Limited and Galaxy Lithium), and POSCO – all multi-billion-dollar lithium operators.
"While we're disappointed after working so hard on the Uranium One transaction for several months, we have also enhanced the asset while the market conditions have significantly improved," stated Brad Nichol, Alpha President and CEO.
"This is evidenced by the high level of unsolicited interest in both Tolillar and Hombre Muerto," continued Nichol, "However, we currently have more than enough cash on hand to continue developing both assets independently, and we would only consider bringing in a partner if the terms were highly favorable and accretive to our shareholders."
Alpha's engineers are preparing a Request for Quotes (RFQ), which will invite several of the world's largest and most experienced lithium engineering firms to submit tenders for the preparation of a bankable feasibility study on the Tolillar Salar.
Alpha has $44 million of cash in the treasury.
Critical Elements Lithium (CRE.V) is a $337 million company advancing the wholly owned, high purity Rose lithium project in Québec. Rose is the Corporation's first lithium project to be advanced within a land portfolio of over 700 square kilometers.
On April 6, 2022 CRE announced its exploration program for 2022.
Highlights and objectives:
Expand the main Rose Lithium-Tantalum deposit by drilling
Drill test several satellite showings proximal to the Rose deposit
Drill the Lemare Lithium project targeting delineation leading to an initial Mineral Resource Estimate
Conduct an extensive surface exploration program including compilation, artificial intelligence (AI) targeting, prospecting, mapping, rock sampling, and soil sampling with the goal of finding new lithium mineralization warranting follow up drilling
Prospect and sample the targets identified by the Goldspot Discoveries AI system in 2021
CRE is working to secure diamond drill rigs for the full year with a program of up to 25,000 meters divided between the Corporation's projects:
10,000 meters for the expansion of the Rose Lithium-Tantalum deposit
7,000 meters to delineate an initial Mineral Resource Estimate at the Lemare Lithium project
8,000 meters to explore for and test new targets identified
Last summer, Critical Elements announced that the Federal Minister of Environment and Climate Change confirmed that the Project is not likely to cause significant adverse environmental effects when mitigation measures are taken into account.
In July 2019, Critical Elements announced that the Cree Nation of Eastmain, the Grand Council of the Crees (Eeyou Istchee), the Cree Nation Government and the CRE had signed an impact and benefit agreement, concerning the development and operation of the Rose Project.
The Pikhuutaau Agreement is a binding agreement that governs the long-term working relationship between the parties while respecting Cree traditional activities and ensuring the promotion of Cree economic and social development based on mutual trust and respect during all phases of the Project through a sustainable development approach.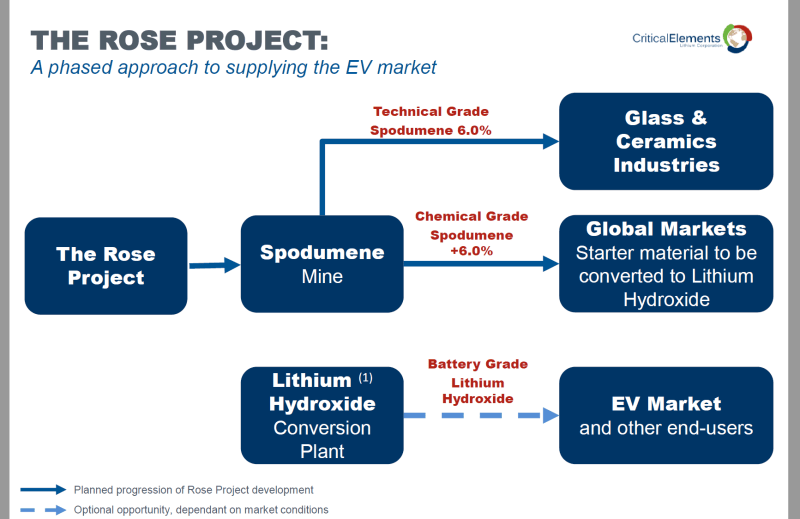 Argentina Lithium & Energy (LIT.V) is a $32 million company focused on developing high quality lithium projects in Argentina, advancing them towards production in order to meet the global demand from the battery market, which is growing 15% a year.
Lithium comes from seafloor sediments which have been thrust under the Andes Mountains. The light elements boil upwards, bringing with it gold, copper and lithium.
When the volcanic flows come out at surface in Argentina, the minerals cool, the lithium gets squeezed out of the crystals, and it enters the interstitial space between the crystals where it's available to be leached.
LIT controls nearly 58,000 hectares of claims on four salars (Rincon West, Pocitos, Antofalla and Incahuasi) in pro-mining Argentina provinces Salta and Catamarca. All LIT's properties are highly prospective for lithium.
The geological team is prioritising the 2,370-hectare Rincon West Project, adjacent to Lincoln Ltd. and Argosy Minerals, with proven reserves.
Mining is a tertiary industry in Argentina, but the exploration dollars go a lot further than in mature jurisdictions, like Chile
Argentina Lithium and Energy is a member of the Grosso Group, a resource pioneer in Argentina since 1993 that has racked up multiple wins.
The Grosso Group has a vast network of local and regional contacts in Argentina. Joe Grosso is in the Argentina Mining Hall of Fame.
"Joe Grosso can get a meeting with anybody in Argentina at any time," stated Niko Cacos, President and CEO of Argentina Lithium.
"The Gross Group has made four major discoveries in Argentina," confirmed LIT VP of Exploration, Miles Rideout, "That's not an accident. They pick good people, they execute well, and they persevere. Argentina has good moments and downturns – which is an opportunity to pick up ground."
On November 1, 2021 LIT announced a non-brokered private placement financing of up to 11,000,000 units at a price of $0.45 per unit for gross proceeds of $4,950,000.
Each Unit will consist of one common share and one transferrable common share purchase warrant at $0.70 per share for three years from the date of issue.
On April 11, 2022, LIT announced that it has entered into an option agreement with a local vendor to earn a 100% interest in three granted mine concession properties totalling 5411 hectares in the Salar de Antofalla in Catamarca Province, Argentina.
With this new Option the Company now controls 14,987 hectares of mining leases in the salar, distributed between the adjacent provinces of Salta and Catamarca.
"Our team has identified the Antofalla Salar as one of the most prospective undeveloped lithium brine basins in Argentina," stated stated Nikolaos Cacos, President and C.E.O., "We are aggressively consolidating our land position in Antofalla North."
"With these new acquisitions, Argentina Lithium's properties extend from a half kilometre north of Albemarle concessions, towards the north for approximately 27 kilometres," added Cacos, "We have begun the permitting process, in order to explore this salt flat with advanced geophysical imaging and drill testing,"
Terms of the option include cash payments totaling US$2,800,000 over four years, including mandatory commitments totalling US$180,000 in the first twelve months.
The option also includes annual exploration expenditure commitments of $500,000 in year one, followed by $1.5M in year two, $2.0M in year 3 and $3.0M in year 4.  The vendor retains a 2% Net Smelter Royalty (NSR) which can be repurchased for US$3M.
"Argentina's center-left government has been making a conscious and strategic push towards lithium," reported Reuters on September 9, 2021.
"Last year it lowered taxes on all mining exports to 8% from 12% and in April eased capital controls on firms taking foreign currency out of the country for projects with investments of over $100 million," continued Reuters.
According to Research and Market's Lithium Mining Market – Growth Trends and Market Forecast Report (2021 – 2025), the global lithium market will expand at 26% CAGR from 2021-2025, reaching US $1 billion.
Alpha Lithium (ALLI.V), Critical Elements Lithium (CRE.V) and Argentina Lithium & Energy (LIT.V) are three well-managed juniors with the capability of meeting future lithium demand.