We here at Equity Guru have been very bullish on uranium! It was months ago when we called the major monthly chart breakout above $40, and called for the resumption of the uptrend. One higher low swing after, and it appears as if uranium is ready for another push higher.
With sanctions on Russia and talks of energy issues in Europe, it wouldn't come as a surprise if some European nations are ready to turn on their nuclear reactors, or invest in nuclear energy. Hey, it is clean energy. Perhaps the best CO2 free energy source as Bill Gates has said many times.

I provided a Uranium chart update back on March 2nd 2022. Just over a month ago. Readers may recall that I spoke about the major breakout above $50, printing new record highs for 2022.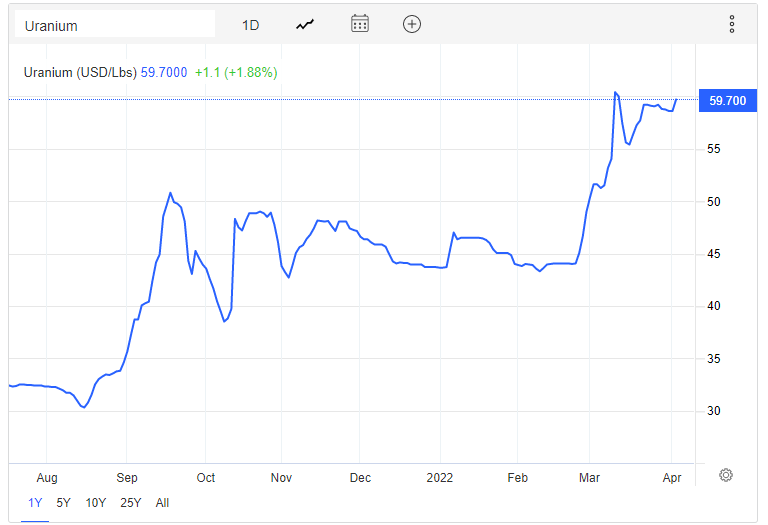 Pulling this daily chart from  tradingeconomics, and we can see that spot uranium kept on ripping after the $50 breakout. We saw a pullback to $55, but the bulls bought the dip. We are now looking to confirm another breakout and the continuation of the uptrend. For upward targets, I see some resistance at $66 and then just under $75.

Uranium is green for the year. Only Natural Gas has performed better.
A quick plug for the Sprott Physical Uranium Trust (ticker: U.UN). I have mentioned this in previous posts, but this is the best way to play the spot price of uranium. The chart looks exactly the same, and it is supposed to. Sprott has made this fund to track the spot price. One can hold shares in U.UN as a way to play higher uranium prices for the long term.
For a breakout, we want a confirmed daily candle close above the recent highs. If this happens, the uranium stocks are set to continue their rally.
On March 2nd 2022. I also provided an update on Azincourt Energy AAZ.V. A few things have developed since then.
Azincourt Energy (AAZ.V) is a Canadian-based resource exploration and development company focused on the alternative fuels/alternative energy sector. The core projects are in the green energy space focusing on Uranium projects in the prolific Athabasca region. Good jurisdiction, and high grade Uranium. The place you want to be. Azincourt also holds lithium/uranium projects in Peru, on the Picotani Plateau. Currently, Azincourt is developing the East Preston uranium project, located in the prolific Athabasca Basin, with partners Skyharbour Resources (TSX.V: SYH) and Clean Commodities Corp (TSX.V: CLE) , and the Escalera Group lithium/uranium project in Peru.
Azincourt controls a majority interest (72%) in the 25,000+ hectare East Preston project as part of a joint venture agreement with Skyharbour Resources (TSX.V: SYH), and Dixie Gold. Three prospective conductive, low magnetic signature corridors have been discovered on the property. The three distinct corridors have a total strike length of over 25 km, each with multiple EM conductor trends identified. Ground prospecting and sampling work completed to date has identified outcrop, soil, biogeochemical and radon anomalies, which are key pathfinder elements for unconformity uranium deposit discovery.

Drilling at the East Preston Project commenced on January 24th, and to date, 1,334 meters has been completed in 6 drill holes. After some initial startup delays due to the extreme cold weather, two drill rigs are now operational on the project. Four drill holes are complete and two are in progress on the G-Zone. One drill rig is being moved to the K-Zone.
On March 29th 2022, Azincourt energy announced the completion of the drill program at the East Preston uranium project. A total of 5,004.5 meters was completed in 19 drill holes over eight weeks. A total of 420 samples were collected throughout the program and sent to the Geoanalytical Laboratory at the Saskatchewan Research Council in Saskatoon, Saskatchewan for analysis. Complete assay results, expected to be received beginning in late April and into June, will be reported once received, reviewed, and verified by the Company's QP.
Those drill results are your upcoming catalysts for the share price. Very relevant especially where we are on the chart.
The most recent news was the closing of a $5.1 million private placement. The company now has cash in the bank to deploy and initiate catalysts. In the same press release, Azincourt announced a share consolidation on a 2.5 for 1 basis, which upon completion, would mean there would be approximately 227,000,000 common shares outstanding.
Chris Parry recently had a chat with Alex Klenman, the CEO and director of Azincourt Energy. In The Gauntlet, Mr. Klenman addresses investor concerns over the 2.5 to 1 share consolidation. Check it out:
Now let's take a look at the chart.
The stock is heavily supported between the $0.05-$0.06 zone. Not that it matters now because of the trendline breakout. We did pullback to retest the breakout on March 4th 2022. Buyers stepped in, indicated by the green candle and the large volume. We have had volume in the millions in the past few days.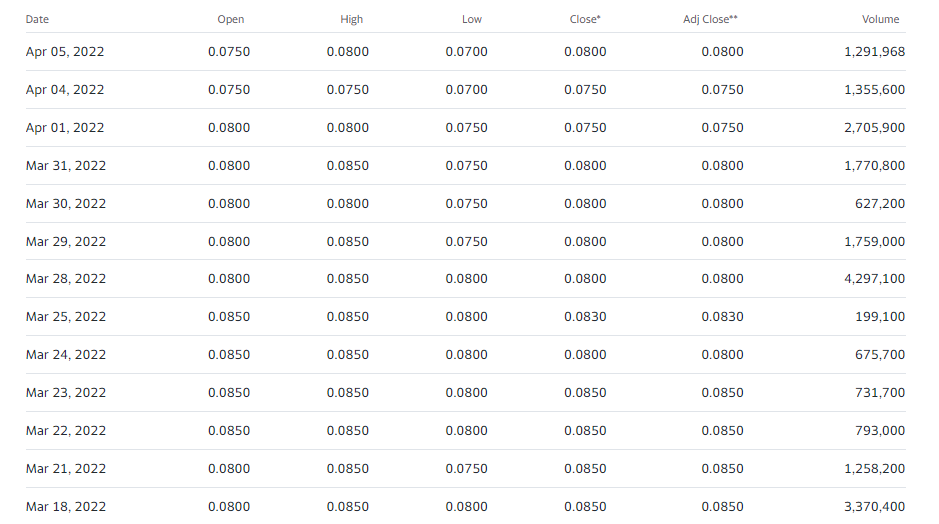 Plenty of days with volume well over 1 million shares traded.
We are now waiting for round 2 of the rip. Note how after a triangle breakout, the stock goes for a run! This happened back in August of 2021. The key here is going to be a candle close above $0.085. It is very likely this will coincide with spot uranium price confirming its breakout. We remain bullish on the stock above $0.05.
From a risk vs reward perspective, Azincourt is very appealing. We have broken above technical zones and patterns, and are seeing big volume come in. The company has catalysts in terms of drill results, and has money in the bank to trigger more catalysts. Investors should pay attention to this stock! With uranium on the verge of a breakout, you will be seeing a lot of uranium posts on social media.