As we head into the holidays, liquidity is drying up in the markets. Low volume but moves are happening. US Stock markets are popping. The S&P 500 at time of writing is setting up for an all time record close. Maybe by the time you are reading this, the S&P is making new record all time highs before Christmas. The Santa Claus rally is finally here. As markets take off, larger cap agriculture companies are moving in tandem. We'll take a look at three companies Yahoo Finance picked as big winners for 2022 (CF Industries, Nutrien, and the Andersons). With the lower liquidity also comes major moves in the Agricultural commodities. A few of them are catching my attention, and making incredible moves.
Before we delve into charts and company news, here's one of the coolest news I have seen. Have you heard of the term 'Farmscraper?'. Think farming and skyscrapers combined.
It looks like something you would see on a plant in Star Wars, but the world might see its first farmscraper in the near future. Not in North America, but in Asia. They are taking vertical indoor farming to new heights. Literally.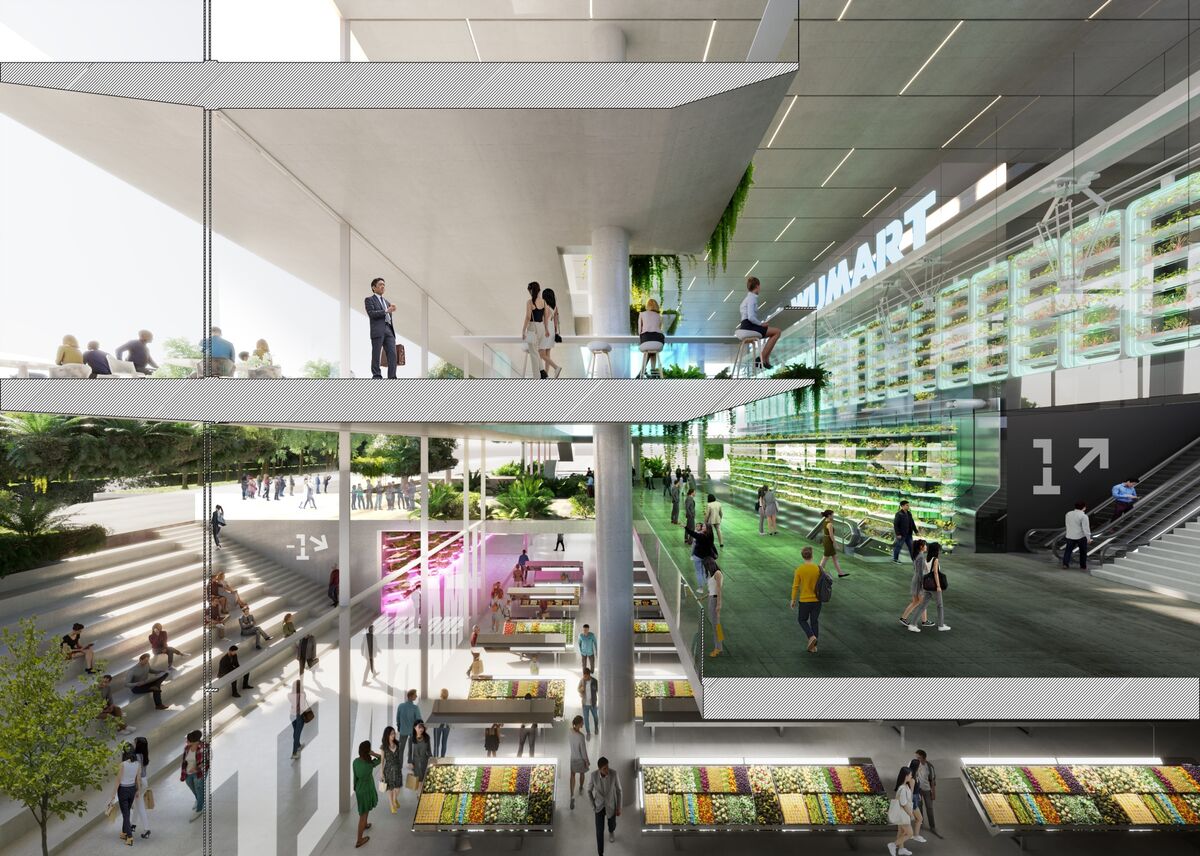 The illustrations you see above are Carlo Ratti's newly unveiled Jian Mu Tower in Shenzhen, China. The 218-meter high building incorporates a large-scale vertical hydroponic farm across its entire facade, producing vegetation that can feed up to 40,000 people per year. The 51-storey tower will also include housing offices, a supermarket, and a food court with inner gardens for recreation and social gatherings. Included in these farmscrapers is an AI-supported "virtual agronomist" system which handles the farm's day-to-day operations, irrigation, and nutritional conditions, to optimize the vegetation production process.
The Jian Mu Tower was an international competition entry organized by Chinese supermarket chain Wumart, occupying the last vacant plot in Shenzhen's Central Business District. The self-sustaining proposal allows residents to cultivate and consume fresh vegetables and fruits from within the tower, producing an estimated 270,000 kilograms of food per year. The landscape terraces also include a wide variety of flora including water lily, fern, and lychee, further promoting biodiversity.
Very futuristic and exciting stuff. I think we will be seeing more architecture incorporating environmentally friendly technology in the future even in North America. Here are some more details on the building from Bloomberg:
The greenery would sit in what's known as a double-skin facade, with windows on both sides to allow natural sunlight to reach both the plants and the building interior. Ratti says this design — and the copious amounts of sunlight in Shenzhen — will enable the farm to be less reliant on artificial light and heating, which come with high energy use. But the farm is also intended to have benefits for the built environment: The heat that reflects off tall buildings can make a city hotter. Encasing a skyscraper with a farm is a good way to not just mitigate this effect and keep the building cooler without air conditioning, Ratti says, but also to produce food to feed the people in that building.

"Our point was, why don't we try to harvest this energy from the sun on the facade of the skyscraper and turn it into a giant farm," he said. "This would not have been possible a few years ago, but it's possible today, thanks to advances in hydroponics and also robotics."
One criticism of indoor farming has been heating and artificial LED lights that require a large amount of electricity. The building Ratti has designed overcomes this by using natural sunlight. However, as we all know, in many parts of the world, sunlight is not consistently available throughout the year. In this sense, it could pose a problem in Winter months, unlike those artificially lit indoor farms.
I am looking forward to seeing these farmscrapers being built like the rest of the world.
Onto the charts and news.
Soybeans was a chart I highlighted in last week's Agriculture sector roundup. We were waiting for that breakout and we got it. A nice move up for readers if they happened to play the ag commodity. A new uptrend is in play as long as we stay above the $1280 here on my CFD chart of Soybeans. This is the CFD I trade, but the futures chart of Soybeans will look similar in structure. Just a different price.
Corn is finally breaking out and taking off again. We have been bullish ever since the breakout above $540 on the CFD. After breaking out above $580, we began to stall for many weeks. This week we finally saw the break. Bullish. It looks like Corn will be heading up to $640.
I highlighted Wheat retesting a major support zone. Well that support has held. Take a look at the wick on the retest too. Now we are looking for wheat to take out highs at $860.
These are great for our trades, but unfortunately, it does mean that higher food prices will be greeting us at the grocery stores in 2022.
Orange Juice (yes folks, we can trade Orange Juice futures!) was one of the biggest movers last week. We were watching for a breakout above the $1.31 resistance zone. Well, we got it alright. Not just the break, but also a retest which was held by buyers evident by the large wick candle. Would not be surprised to see Orange Juice break above recent highs at $1.45. A major breakout which could see us approach highs from 2018.
Nutrien (NTR.TO)
Let's start off by looking at the three companies Yahoo Finance (from Zacks) mentioned as the three best for 2022. Let's start off with Nutrien, a company featured plenty of times in my agriculture round ups.
Nutrien is a leading provider of crop inputs and services. The company is benefiting from solid demand and higher prices for crop nutrients. It is also gaining from acquisitions, cost efficiency and increased adoption of its digital platform. The company continues to expand its footprint in Brazil through acquisitions, including Tec Agro. These factors have contributed to its share price appreciation of 51% so far this year.
The company has appeared in many round ups because the stock keeps moving higher and higher. Another new all-time record high was printed yesterday. Support comes in at $90, and the next resistance would be $100. I am sure institutions are picking up shares of this company. A solid business and they pay a dividend.
The Andersons (ANDE)
Andersons is a regional grain merchandiser with diverse businesses in agriculture, plant nutrient formulation and distribution, turf product production, railcar marketing and general merchandise retailing. The company is gaining from rising fertilizer prices on limited supply and a higher level of inventory.
It is well-positioned to capture value and growth across its diverse portfolio in commodity markets on strong farm fundamentals. The company's technological advancement also enables customer-centric innovation. In addition, positive pricing and cost-control initiatives will likely drive margins. ANDE's shares have appreciated 57.7% year to date.
The stock still has plenty of room before making new record highs (which comes in at $69). The stock had a nice pop on earnings, largely to do with the fertilizer demand. In a previous round up we discussed the news that 2022 could see a fertilizer shortage. The Andersons is a stock to front run that supply and demand imbalance.
CF Industries (CF)
CF Industries is a leading global manufacturer of nitrogen and hydrogen products for fertilizer, clean energy, emissions reduction and other industrial applications.
The company is gaining from higher nitrogen fertilizer demand stemming from healthy corn acres in the United States. Strong global demand and lower global supply availability will drive nitrogen prices higher. It is also committed to boosting shareholders' value by leveraging strong cash flows. These factors have resulted in a share price rally of 81.3% year-to-date.
The stock just printed new all time record highs this week. Another stock which will attract institutional investors with their dividend. Since we are in new record territory, I would watch to see how the stock reacts around $75. Support comes in at $67.25.
AG Growth (AFN.TO)
Here is one for you technical traders.
I have discussed the beautiful chart that is AG Growth. We got the breakout above $30 a few months ago. Since then, we hit resistance at around $36, before pulling back. As many of you technical traders know, whenever a stock breaks out, it will pull back to retest the breakout zone. It could happen a few days after the breakout, or a few weeks after the breakout. The key is how price reacts when it comes back to retest it. AG Growth has retested the $30 zone. What was once resistance has become new support. A nice green candle with a large wick indicates the retest was successful. As long as we remain above $30, the stock is setting up nicely for a break above $36 in 2022.
Bee Vectoring (BEE.CN)
Bee Vectoring (BVT) has announced that their 2022 US sales are on track with 2021 trial results driving growth in new markets. BVT is still in discussions with customers representing several hundred potential new acres. High customer retention has also been confirmed in the Southeast, with 80% of growers from last year already confirmed to use BVT's natural precision agriculture system for the upcoming blueberry bloom period in February.
"The cost of inputs for growers has skyrocketed, and having customers reorder when they are cutting back in other areas shows how important BVT is to their operation. Many traditional chemical products have risen by as much as 40 percent over the last year," says Ian Collinson, Sales Manager at BVT.
"Our expansion in the US market is progressing on schedule in terms of sales growth and retention," added Mr. Collinson. "We've secured sales in the Southeast as a solid foundation, since their growing season starts first. The bulk of BVT's new sales growth will occur over the next three to four months, aligned with later growing seasons in the Northeast, Midwest, Pacific Northwest and California."
Overall, it is setting up for an exciting 2022 for Bee Vectoring.
For those considering picking up shares, you have a very good zone to do so. The stock is back at testing major support. A zone that has not seen a candle close below it. Buyers have stepped in indicated by all the large wicks. This support has been held four times this year. Let's hope it holds a fifth to end off 2021.
Water Ways Technologies (WWT.V)
An incredible year for Water Ways Technologies. This is a company I will be keeping a close eye on in 2022. Can they build off a great 2021? I believe they can and will.
We know about all the orders Water Ways has been reporting. A recent press release now says that the 2022 order backlog of its Canadian subsidiary, Heartnut Grove WWT Inc, has exceeded $4.1 Million as of December 22 2021. These orders on hand are to be delivered and revenue will be recognized in Q1 and Q2 of 2022.
As we close the year, Water Ways is seeing some selling near all time record highs. Profits are being taken which is fine. Perhaps to close off the year for taxes. We have found some buyers around the $0.255 zone. I still consider $0.22 being the major support zone to hold. A good opportunity for adding to your position as the company keeps rolling on and shareholder's look for a strong 2022.
Karnalyte Resources (KRN.TO)
The final company for this week is Karnalyte Resources, an advanced Potash company that owns 100% interests in Subsurface Mineral Leases KLSA 010, KL 247A, and KL 246 totaling 367 km2 of mineral rights. It also holds interests in the Wynyard potash project located in Wynyard, Saskatchewan; and Proteos nitrogen project located in Central Saskatchewan.
There hasn't been any substantial press releases for some time, yet the stock was up nearly 40% for the week.
I want to zoom out to show you guys the major breakout. We have broken and closed above the $0.30 zone. As I said, a breakout on no news, but perhaps price action is indicating some good news is coming down the pipeline.