A few months ago, I spoke about the Coinbase IPO being a watershed moment for cryptocurrencies. Well, let's add another date to the history books. October 19th 2021 is when the first US Bitcoin ETF went live. There is always talk about institutions getting involved with crypto's. In fact, we know that some banks even offer Bitcoin and other crypto trading for their clients. We know that corporations such as Tesla, Square, and Microstrategy are buying Bitcoin. But here is the thing: the banks won't trade it, and traditional funds won't as well until the regulations come. Hedge funds and individual billionaires can because they accept the risk, but for institutional traders, depositor insurance (or lack thereof) becomes a problem. Not to mention the money that would have to be put up aside for risk purposes on each position buying the coin/crypto.
But this is where things like Coinbase and now, the ProShares Bitcoin ETF come into play. This allows institutions to have a Bitcoin and cryptocurrency allocation the traditional way: buying shares traded and now an ETF. Coinbase, Riot Blockchain, and the GrayScale Bitcoin Trust are ways for institutions to play Bitcoin since the price of those shares are highly correlated with the crypto. But now the ETF gives institutions and investors another option to play something that will be better correlated with Bitcoin.
For those wanting to dive a bit deeper into the institutional side of things, I recommend watching this interview with Anthony Pompliano and Plan B, a popular crypto analyst with some mystery surrounding him and a large Twitter following. All we know is that he managed large amounts of money in the past (we're talking $100 Billion). He gives a good rundown on what institutions are thinking about Bitcoin right now.
I have mentioned this many times in previous Bitcoin and crypto Market Moment posts, but I am really looking forward to see how the crypto purists react. For those that don't remember, the original purpose of Bitcoin and other crypto's is to be decentralized and away from government, banks and corporations. Now they are jumping in. Watch the DeFi space, because I think as more ETFs and regulations come, the purists will be moving onto DeFi. Already some amazing moves are happening in that space.
Back to the ProShares Bitcoin ETF. I would post their summary for you, but their website seems to be down at the time of writing. Maybe due to traffic to the site. Here is a link to ProShares summary of their Bitcoin ETF. Check it out when the site comes back online. But I managed to get a shot of the holdings.
What should be stressed is that this is a Futures ETF. It does not track the price of Bitcoin but rather tracks the fund tracks CME bitcoin futures, or contracts speculating on the future price of bitcoin, rather than the crypto itself. It's meant to allow market participants to have access to the bitcoin market and hedge and direct exposure to bitcoin pricing.
As CNBC states: investors in the ETF should expect the price and performance of the shares to differ somewhat from the price of bitcoin itself. This isn't ideal for existing investors; many of them take a long view on cryptocurrencies and had hoped for an ETF that would track physical bitcoin that investors could buy and hold.
And even from ProShares:
"The fund seeks to provide capital appreciation primarily through managed exposure to bitcoin futures contracts. The fund does not invest directly in bitcoin," states ProShares website on the fund. The fund has an expense ratio of 0.95%.
What cannot be denied is that this is a historic moment. A US ETF has been in the works for 4 years. It opens the door to more Bitcoin and crypto ETFs being available for institutions and retail traders. And it may come sooner than thought. Today the Grayscale Bitcoin Trust released a press release stating they have formally kicked off a plan to convert into an ETF. Also Valkyrie's Bitcoin Strategy ETF with the ticker BTFD, yes to attract the meme crowd, received SEC approval.
ProShares Bitcoin ETF goes under the ticker BITO. It is up 3% for the day at time of writing and has seen over 11 million shares traded.
Being a Gold and Silver guy, I think trading the ETF or options on it is okay for gains. For us traders, using ETFs and options are great to leverage positions. But if you actually are bullish Bitcoin due to fundamental reasons regarding the world and it being a safe haven, then don't buy the ETF, buy actual Bitcoin. Us Gold and Silver guys know how the institutions short paper contracts. Paper shorts sometimes even more than the entire world's Gold supply to push down prices. I don't own the ETF, but rather physical Gold and Silver.
Before we get to the chart of Bitcoin, let's take a quick look at Coinbase:
Coinbase is the type of chart we love to trade here at Equity Guru. This was given to our followers over on Discord. A nice breakout above resistance levels. $280 was the recent breakout, and we are at a resistance zone right now. We are bullish COIN above $280. We could pullback to retest $280 but the structure looks really good, especially if Bitcoin prices take off.
In terms of Bitcoin, a few charts I want to highlight. First the weekly:
A new record weekly close was confirmed last week. That's a good sign. But an important technical breakout that you should be aware of.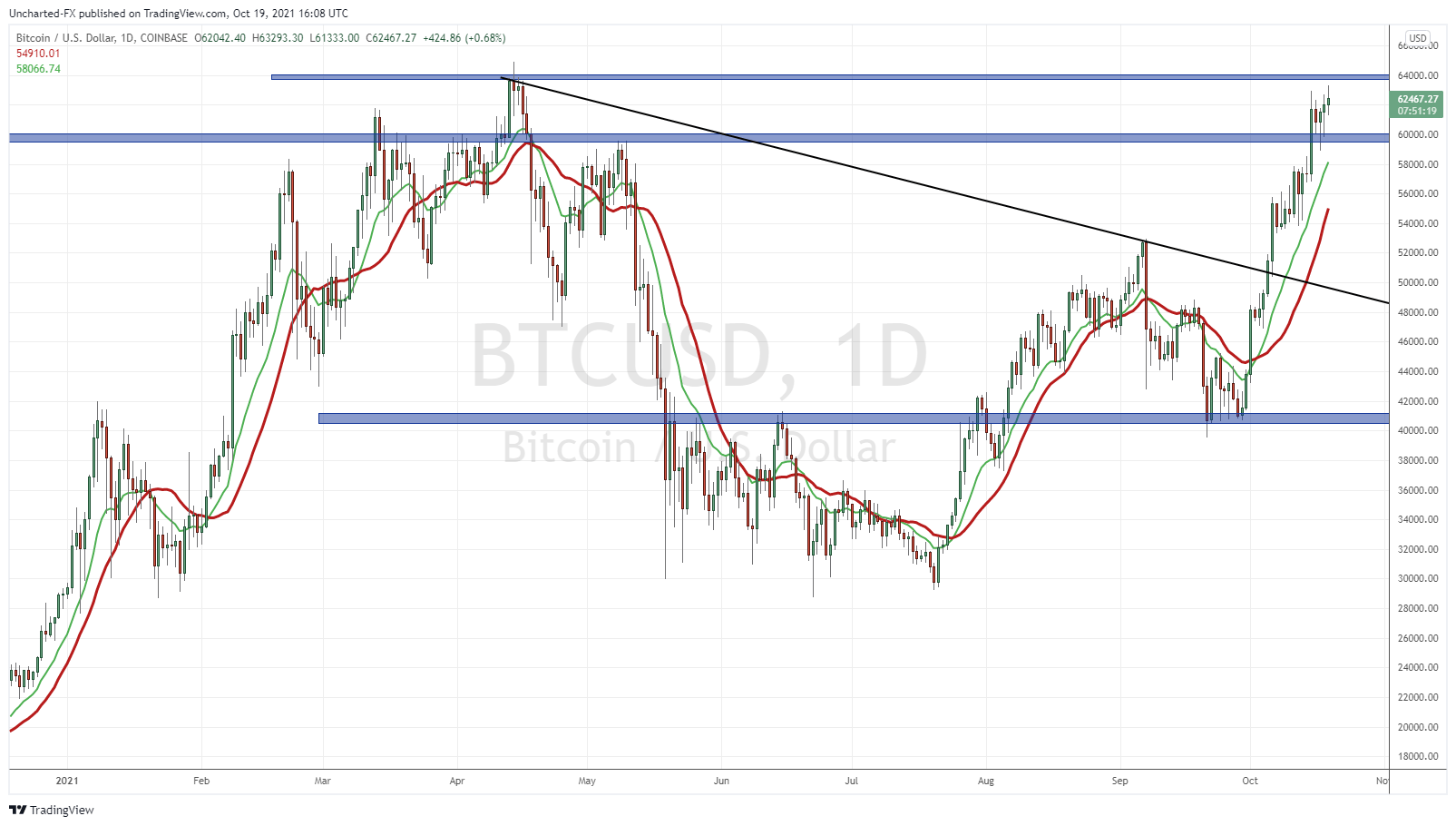 On the daily, our trendline break has taken us near record highs. Now we are on new record high watch. $60k holds as support, and then $64899 is previous record highs. Now we wait and see if the Bitcoin ETF is bullish for Bitcoin. Personally, I like the trend. The breakout of the trendline and 50k, which I covered in the past, has led to strong momentum. Some sort of daily close above $64k but below the record high wick will take us one step closer to new record highs…and maybe even a 100k target.
My take on Bitcoin and crypto is similar to what I think of Gold and Silver. These are anti dollar bets which I am bullish on due to monetary policy and the possible currency crisis/conundrum. I know some people don't think Bitcoin has real value but all I can say is I think it is better to own some rather than none. I'm not saying you need to go all in. Just have some.