My readers know I am a big fan of commodities. I love the precious metals, preferring to stack physical bullion. However, when metals run, the junior miners are where big gains are made. Yes, they are speculative, but if you can pick the right one, you can be rewarded handsomely. What do I look for? Management. Projects in good jurisdictions, the balance sheet, projects near operating mines and around good infrastructure, and then the charts. I know, a lot to look through, but when it comes to juniors you need to do your due diligence.
In a previous Market Moment article, I spoke about investing in Mining Royalties and Streamers. The core of my metals position is in those type of stocks. When it comes to management decisions, the same can apply to juniors. I look for management that buy assets when metal prices are lower, or when there is not much interest in precious metals. They then derisk and drill those assets, positioning themselves in a great position when the next metal bull cycle or uptrend begins.
Marvel Discovery (MARV.V) is a junior doing such thing. And the market is paying attention!
The company has a diversified portfolio covering almost every commodity you can think of. Gold, Silver, Copper, Uranium, Nickel, and Rare Earth metals. Definitely not placing all the eggs in one basket!
You can see that Marvel Discovery has a focus on Newfoundland. The company is positioning itself to be one of the top landholders in the Central Newfoundland Gold Belt. Judging by the map, they are doing a good job so far!
There are tons of projects Marvel Discovery has, and I recommend those interested to check out their investor deck for more details. But this is what I am interested in: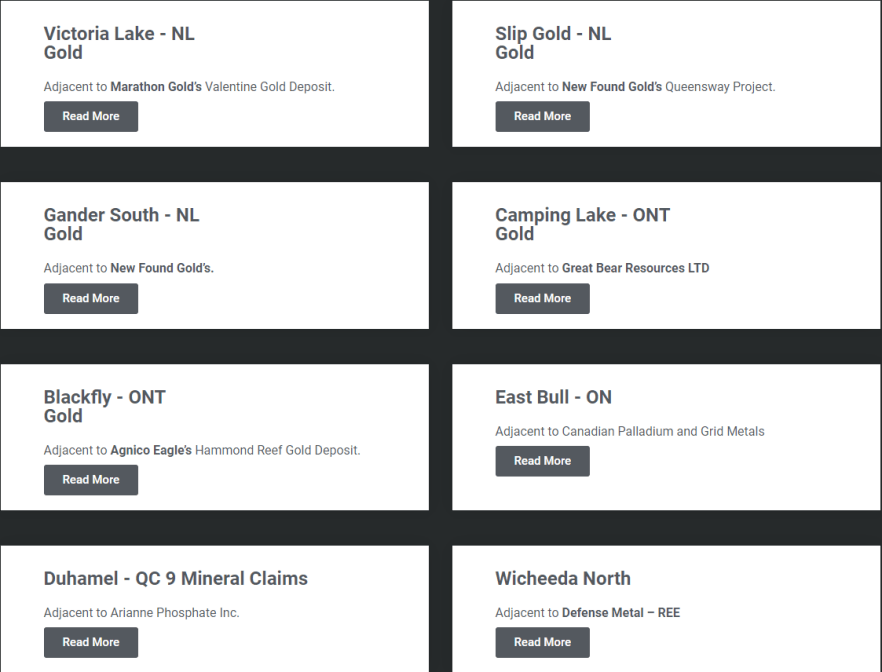 Do you see it? Management is not just buying any old cheap property, but properties next to other projects. If Gold was found, then the chances are the veins could extend into Marvel's claims. If a company needs to expand their resource, they may just look to Marvel Discovery who are right next to them, and who have done some drilling and discovery on their own. Acquisition comes to mind.
Recent news has seen Marvel Discovery acquiring new claims in Newfoundland. You can read our coverage here, or if you prefer video format:
Make sure to catch our Investor Roundtable to hear our thoughts about the company, and whether one should invest in it or not.
Technical Tactics
The stock has been discussed a lot. From marketwatch data, Marvel Discovery is up 170.77% year to date, with a market cap of $11.69 million. The market cap itself makes this an enticing investment.
It should be noted that the CEO himself buys shares. This is important. When management does not have skin in the game, you should reconsider. How many times have we all heard Doug Casey mention this to Marin Katusa at the Vancouver Resource Investment Conference? Mr. Casey always brings up the story of meeting junior miner CEO's, and when they don't own any shares of their own company, it is a sign to get up and leave.
Above I have the daily chart of Marvel Discovery. The stock is in a strong uptrend. Look at the slope of the trend line I have drawn out. If we maintain this trend, the dips will be bought. Above, I am looking at the $0.275 resistance zone. That's a major flip zone on the charts, and price could stall there. If we break above, it would be big.