Marvel Discovery (MARV.V) announced they have received their third round of assay results from their Blackfly Gold Project.
The latest round of assays is the third of three and included 168 results, which is more than the previous two rounds combined. 303 samples were submitted for analyses at Actlabs in Thunder Bay, Ontario and surface samples taken in recent trenching are still pending.
The highlights of the third round of 2021 surface samples are:
29 samples returned assays greater than 500 ppb gold;
12 samples graded from 1.00 g/t and up to 2.99 g/t gold;
9 samples in excess of 3.00 g/t gold; and,
3 samples assayed greater than 30 g/t gold.
These samples come after a strong second round of assays, which temporarily sent MARV shares up 39% to $0.195. The biggest find was sample W 1069770 that showed 52.5 g/t gold and also includes a 30 cm quartz vein with cubic pyrite and minor chalcopyrite, which they note could represent a new drill target. Results from this round can be seen in the table below:
Marvel has completed three drill holes and core logging is underway, and they plan on completing 2000 m of drilling as part of their 2021 exploration plan with 16 drill holes planned for the summer field season.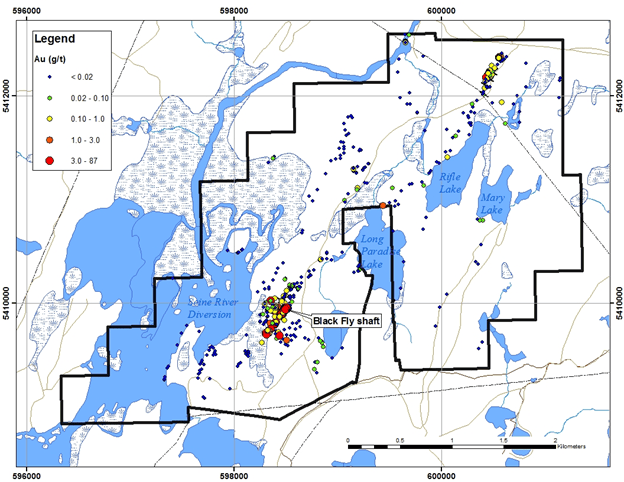 The field team believes that gold zones were reached in each of the three holes drilled so far, with visible gold found in a vein intersected at a depth of 8m in drill hole BF21-15. MARV also plans on using historical data at the site to make the most of their exploration efforts.
"Marvel's Blackfly Gold Project is strongly living up to its potential. The surface samples reflect the wide variety of gold targets – some we knew of, and some are shaping up to be first time discoveries. The diamond drilling is now well underway and visually the core is looking very promising," commented Karim Rayani, President and Chief Executive Officer of Marvel Discovery.
The Blackfly Gold Project is located near Atikokan, ON, and consists of 64 unpatented mining claims totaling 1,296 hectares of land. The property is located along and within the Marmion Lake Fault Zone, ~13.6 km southwest along the strike of Agnico Eagle's Hammond Reef Gold Deposit. Agnico Eagle's deposit has 4.5 million ounces of gold measured or indicated.
Following the news, MARV shares are down 1 cent and are currently trading at $0.155.
Full disclosure: Marvel Discovery is an Equity Guru marketing client.