Wild day on Wall Street. The major story are the meme stocks. The apes over at WallStreetBets have done it again! Here on Market Moment, I have covered AMC and BB technicals. AMC took out all our levels, and could be in the process of pulling back to retest previous resistance now turned support at $36.
BlackBerry on the other hand is now being talked about a lot over on WallStreetBets. We discussed this. How many people will take profits on AMC and put them into BlackBerry because its much cheaper. BlackBerry has taken out the resistance level I mentioned on yesterday's Market Moment post, and it now is our support for the retest.
I personally closed my option weekly contracts this morning for a nice 400% gain.
Meanwhile, the indices (S&P 500, Nasdaq, Dow, and the Russell 2000) are red and dropping. The Russell 2000 is the one of interest for us as it can indicate the retail money leaving crypto's and flowing back into stocks. Small caps to be precise.
Everyone is looking for short squeezes. Zerohedge released this list of most shorted stocks for those wanting to hunt for more squeezes.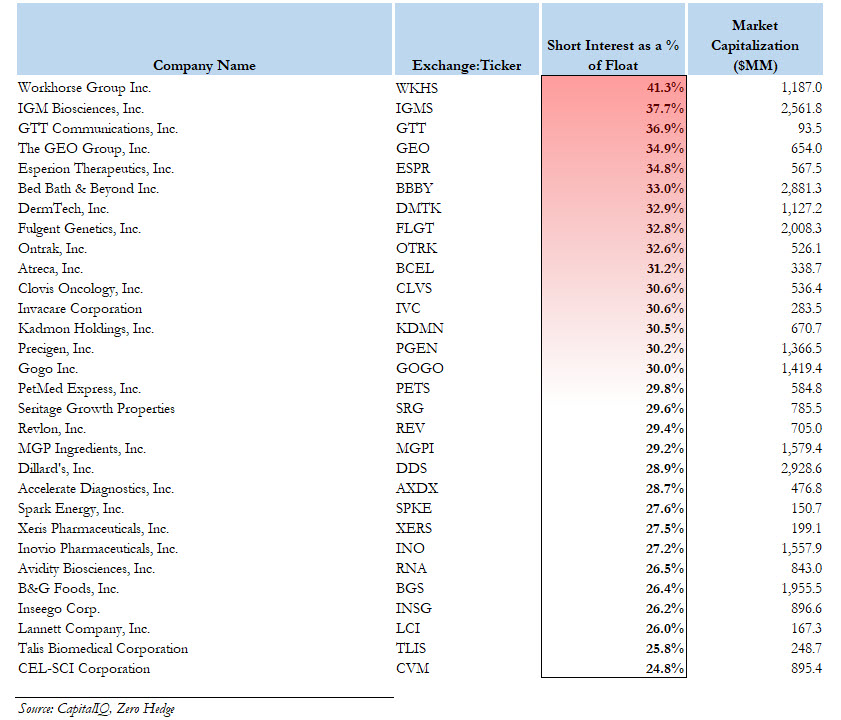 Over on our Discord Trading Room I was asked why all these other stocks are popping. AMC and BB are the only ones being mentioned on WallStreetBets. To be honest, I think the institutional side are closing their shorts. They saw the action on AMC and BB and decided to cover rather than being squeezed out. They theorized that after AMC and BB, the apes over on WallStreetBets would begin targeting other most shorted stocks.
Technical Tactics
If you missed out on AMC and/or BB fear not. I have some past short squeeze favorites that have really good technical. Many of these charts will look similar. Bottoming patterns with breakouts imminent or occurring. If the breakout has occurred, we have some support to work with.
Tilray is breaking out currently. The close above $19 at the end of the day confirms the trigger. This one is exciting because perhaps the retail crowd might start pouring money back into the cannabis sector. The catalyst of legalizing and the decriminalization of Marijuana on a Federal level in the US still remains in play.
Tilray spiked above $65 in the last squeeze, but just on pure breakouts, I think we can target the $30.00 zone.
Sticking with the Cannabis theme, we need to look at SNDL. This was one of the favorites mainly because of its sub $1.00 price. Well SNDL is also popping and gapped up. Going forward, $1.00 becomes the key support. The next resistance comes in around $1.80.
NAKD was one of WallStreetBets favorite stocks. Likely due to its sub $1.00 price. It has broken out. $0.8080 becomes support. $1.00 being an important psychological resistance zone and price is currently struggling to climb above it. However, if we do, we can target the $1.40 zone.
One that may surprise readers is TR. Yes! Tootsie Roll is traded! It is a stock that tends to have a decent short interest. The squeeze from $30 to $56 took a lot of traders by surprise. As you can see from the chart, that squeeze was the only action this stock has seen. Other than that, it remains stable. Watch for a break above $34.00, TR can be another surprise pop.
RKT has a gap to fill, but if it can, RKT can rocket higher. We need a close above $22.00 to fill the gap and trigger a breakout.
PETS was my final pick, but it has moved. And a lot. Was not discussed at all over on WallStreetBets, but the stock still popped 58% yesterday. This is what I mean about institutions and other traders covering their shorts. Would not be surprised to see these type of moved depending on how AMC and BB perform next week.
At time of writing, both AMC and BB are getting slammed down. BUT both are still holding above support mentioned earlier. It is all about the retest. If support holds, we can see a continuation move either next week or longer term. If not…then well maybe that retail money flows back into cryptocurrency.
Tags: