PlantX Life (VEGA.C) announced today that is has opened its first Canadian brick-and-mortar store under the PlantX brand in Squamish, British Columbia. The Squamish flagship location showcases a variety of curated grocery and wellness items manufactured by popular Canadian and U.S. plant-based brands.
"We are extremely pleased to announce the opening of PlantX's first brick-and-mortar store in beautiful Squamish, British Columbia…Squamish is a health-oriented town with a thriving vegan community and it is a very popular destination for locals or tourists in search of adventure or travelling between Vancouver and Whistler – two of the most famous locations on Canada's west coast. The store is an essential component of our targeted growth strategy," said PlantX CEO Julia Frank.
PlantX acquired PlantX Living Squamish, formerly recognized as Score Enterprises, earlier this year on January 7, 2021. PlantX Living Squamish operates the Locavore Bar & Grill, Cloudburst Café and the Locavore Food Truck. Moreover, the the company owns a 15,000 square foot commercial space and has access to a spacious outdoor seating areas along with surrounding amenities including shops and a family-friendly park. PlantX estimates that an average of 1,000 customers per day will be exposed to the Company's brand.
Following the acquisition of PlantX Living Squamish, the Company saw increases in its month-over-month revenue compared to the previous year. For example, PlantX recorded a revenue of CAD$153,625 for January 2021, representing a 62% improvement. Similarly, PlantX saw its month-over-month revenue for April 2021 grow 119% compared to the year prior. With this in mind, the acquisition of PlantX Living Squamish has served the Company well in the last year.
Through PlantX's new flagship location, customers will have access to a variety of plant-based products that are currently available on the Company's ecommerce platforms. The Company's curated offering will include pantry items of well-known brands such as Simply Organics, Nature's Path, and Naked Foods. Additionally, PlantX will also offer popular frozen and refrigerated items like Beyond Meat, Very Good Butcher, and Nature's Path.
In addition to offering more than 10,000 plant-based products to customer across North America, PlantX is committed to improving engagement and plant-based education. With that being said, the Company's flagship location in Squamish will include an education center dedicated to improving customers' knowledge pertaining to a plant-based lifestyle. The education center will feature educational videos, recipes, and weekly flyers containing plant-based nutrition tips. Additionally, customers will have access to trained staff capable of answering any common nutrition-related questions as well as providing information on PlantX products.
While PlantX's opening of its latest flagship location represents a huge milestone, the Company also offers a variety of other services including food and houseplant delivery. In particular, the global online food delivery service market is expected to grow from $115.07 billion in 2020 to $192.16 billion in 2025 at a compound annual growth rate (CAGR) of 11%, according to reportlinker.com. In addition to having its foot in a highly lucrative market, PlantX could see its food deliveries increase substantially in relation to a growing demographic of millennials identifying as vegan, vegetarian, and flexitarian.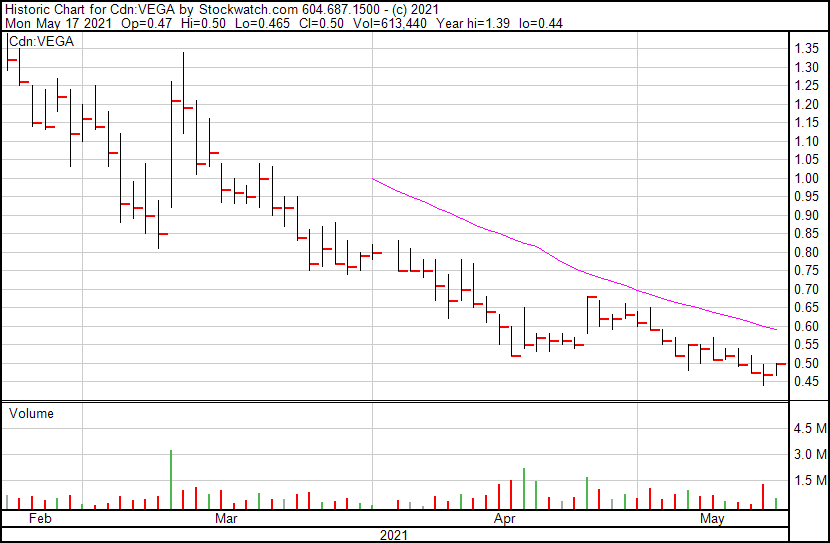 PlantX Life's share price opened at $0.47 today and is currently trading at $0.50 as of 11:47AM ET. The Company's shares are currently up 6.38% indicating that there has been some positive change following the news.