Aion Therapeutics' (AION.C) proprietary and patented combinatorial mushroom preparations, Aion F7 and Aion F8, have shown high efficacy in killing HER2+ breast cancer cells, ER+/PR+ breast cancer cells, and triple-negative breast cancer cells by direct cytotoxicity.
"Each year more than 1.6 million new cases of breast cancer are diagnosed globally, making it the most common cancer among women, and more than 500,000 women will die of the disease…"We are excited that these Aion Mushroom Preparations that have shown very encouraging initial test results will be developed to be transformative in how women are treated globally," said Graham Simmonds, Executive Vice Chair and CEO of Aion Therapeutic.
There's a lot to unpack but lets start with cytotoxicity. Cytotoxicity refers to the quality of being toxic to cells. With regards to cancer, cytotoxicity studies are pivotal to understanding and discovering treatments that are effective in combating or killing cancer cells. A recent study conducted by BIOENSIS demonstrated direct killing of the breast cancer cells by Aion's mushroom preparations. With this in mind, such preparations may be effective in treating HER2+ breast cancer, ER+/PR+ breast cancer, and triple-negative breast cancer which is particularly difficult to treat. Bottom line, Aion's mushroom preparations have shown potential as a relevant treatment for breast cancer which is a huge breakthrough.
Aion's mushroom preparation's effectiveness is comparable to trastuzumab, a monoclonal antibody treatment sold under the brand name Herceptin. Monoclonal antibodies refer to antibodies that bind to only one substance. As such, monoclonal antibodies are commonly used to treat some types of cancer. Herceptin is effective for treating HER2+ breast cancer that is either early-stage or advanced stage, also referred to as the metastatic stage. While there are other FDA approved trastuzumab products available, Herceptin currently leads the market with annual global sales of approximately $7 billion.
"The extremely exciting results obtained from these independent 3D cell culture studies suggests that when appropriate Aion Mushroom Preparations are used together, they may offer a dual approach to the killing of HER2+ breast cancer cells through two separate and distinct pathways (direct cytotoxicity and antibody dependent cytotoxicity). The significant improvement in cancer cell cytotoxicity that was observed when the Preparations were combined with Trastuzumab warrants immediate further investigation in breast cancer patients…We look forward to the next step of initiating clinical trials of the Aion Mushroom Preparations with and without Herceptin (and other trastuzumab biosimilars) for the treatment of HER2+ breast cancer patients as well as the Aion Mushroom Preparations alone in ER+/PR+ breast cancer and triple-negative breast cancer patients," commented Dr. Herbert A. Fritsche, Chief Science Officer of Aion Therapeutic.
According to the American Cancer Society, an estimated 281,550 new cases of invasive breast cancer will be diagnosed in women in the United States for 2021. Additionally, incidence rates, the frequency which some event occurs over a specified period of time, have increased 0.5% per year. With this in mind, Aion's mushroom preparations show potential as effective, versatile treatments for breast cancer. When combined with trastuzumab, Aion's mushroom preparations demonstrated a greater than 60% increase in the killing of HER2+ breast cancer cells compared to when trastuzumab was used alone.
Overall, this is a monumental accomplishment for Aion and the breast cancer treatment sector as a whole. The Company possesses a strong international intellectual property portfolio and continues to make advancements related to the development of combinatorial pharmaceuticals. Aion's latest accomplishment will undoubtedly put the Company in the spotlight.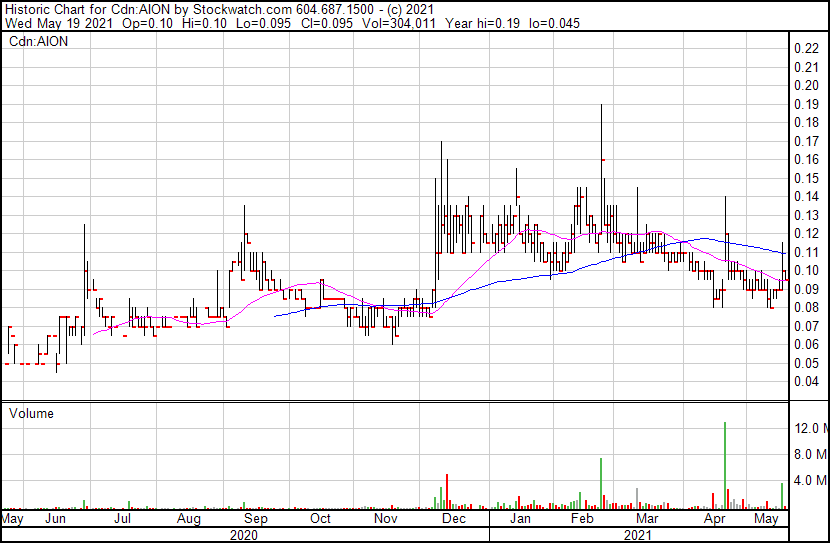 Aion's share price opened at $0.11, up from a previous close of $0.09. The Company's stock is up 27.78% and its share price currently sits at $0.115 as of 1:19PM ET, indicating notable growth following the news.