Sixth Wave Innovations (SIXW.C) announced an amendment to their option agreement with TriLateral Energy, which would see Sixth Wave acquire 100% of Geolithic Corp.
Sixth Wave and TriLateral co-founded Geolithic as a joint venture back in January 2017 to use Sixth Wave's technology to improve the extraction of lithium and other minerals from geothermal brine, located primarily in the Salton Sea area of California. The JV sought to use SIXW's technology to lower the cost of producing Lithium and other minerals, compared to traditional extraction techniques.
The previous agreement had TriLateral owning 60% of Geolithic with Sixth Wave owning the remaining 40%, but under the new deal, SIXW will own 100% of Geolithic. Sixth Wave will pay TriLateral $300,000 USD for sole ownership of the venture. So far, Sixth Wave has paid TriLateral $85,000 USD, and will give them 800,000 shares of SIXW to cover the remaining $215,000 USD.
"While our primary focus had been centered on the Salton Sea brines, the Company has had growing interest in its patent pending technology and our prototype extraction media from other brine and hard rock sources of lithium. Moreover, the growing use of lithium in a range of batteries supporting the automotive, electric grid, and solar/wind power industries brings into focus the need not only to mine new lithium but also to recycle lithium. Battery recycling, in particular, is an application for our existing designs that lacks some of the complexities of the mining side and for which our technology may be uniquely suited and cost effective. With the completion of this deal the Company will be free to exploit the interest it has developed over the past year," stated Dr. Jonathan Gluckman, President and CEO of Sixth Wave.
As Gluckman noted, lithium has become a key element for electric vehicle batteries. Although there are still many debates over exactly what kind of batteries are going to power the vehicles of the future, Lithium plays a part in the vast majority of proposals.
Currently, it costs more to extract lithium from brine than from hard rock, but as innovation increases the cost of extraction could go down.
The last four years, 2017-2020, have seen an average of around 82,000 metric tons of lithium produced per year, up from an average of 32,000 in the four years prior, 2013-2017. Lithium production is expected to reach 1.5 million metric tons per year by 2025, making lithium extraction increasingly important.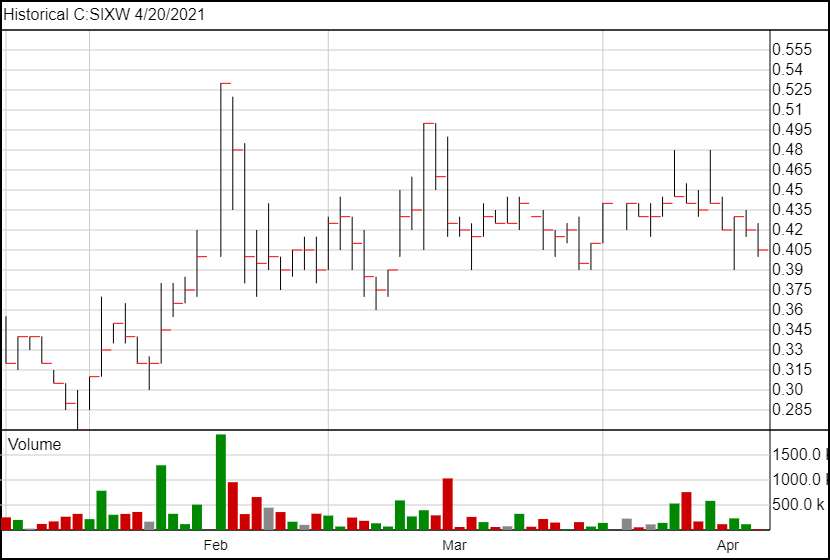 Following the news, Sixth Wave's share price went down slightly to $0.40.
Full disclosure: Sixth Wave Innovations is an Equity Guru marketing client.