Mind Cure Health (MCUR.C) has entered into a partnership with Speak Ai to bolster the Company's iSTRYM platform.
"We are proud to partner with MINDCURE today to help build iSTRYM into a powerful solution for therapists and patients around the world…I have had the privilege to witness the potential of psychedelic-assisted therapies in my own life and in the lives of amazing people around me who are healing from anxiety, depression, PTSD, traumatic brain injuries, and more…By developing solutions with empathy, we can improve the level of care to help people avoid, navigate through and recover from crises. We share the belief with MINDCURE that technology can play a major role in enabling these potentially life-changing and individual therapies to succeed at scale," said Tyler Bryden, Speak Ai Founder.
Speak Ai is a Canadian-based technology company focused on helping individuals and organizations analyze media, language, and metadata to automatically generate valuable insights through machine learning. If you're anything like me, that description left you with more questions than answers. Put simply, Speak Ai's platform is capable of analyzing and transcribing metadata from audio, video, and text.
For example, Speak Ai could use its platform to analyze a video lecture and provide accurate transcription for students who have impaired hearing. Speak Ai's machine learning is able to differentiate between speakers and label them, making it easier to understand who is speaking and when. The platform is even able to automatically insert proper punctuation like commas, question marks, and periods. With this in mind, Speak Ai's platform is capable of recognizing questions, different speakers, and can convert speech to text in 10 languages with 98% accuracy.
"We are excited to work with Tyler and the team at Speak Ai because of their intimate knowledge of the value of technology in the therapeutic and integration process within psychedelics and the traditional therapeutic model…We will be building custom integrations with Speak Ai for the iSTRYM platform that allow us to marry sentiment with biometric data, location, weather, and a variety of other variables to help optimize our integration protocols and provide individuals with quantified care at scale globally, all with the stated goal of advancing Mental Wealth, rooted in data," said MINDCURE CEO and President Kelsey Ramsden.
By pairing Speak Ai's natural language processing with machine learning, MINDCURE will be able to drive insights more effectively for both therapists and patients using iSTRYM. With this in mind, iSTRYM has come a long way since it was initially revealed back in January 2021. Following the onset of the COVID-19 pandemic, mental health issues have become increasingly prevalent. According to Mental Health America, 19% of U.S. adults experienced a mental illness between 2017 and 2018.  With this in mind, MINDCURE has been working tirelessly to create a platform capable of providing treatment to those suffering from a mental illness.
Although MINDCURE's sentiment is admirable, the Company performance has been rather stagnant as of late. However, despite a small market cap of $22.70 million, MIDCURE has seen relatively high trade volume for its size demonstrating that investors are interested in MINDCURE. Keep in mind, MINDCURE submitted a patent for its iSTRYM platform on March 22, 2021. Further developments regarding this patent application may be worth watching as it could impact the Company's growth.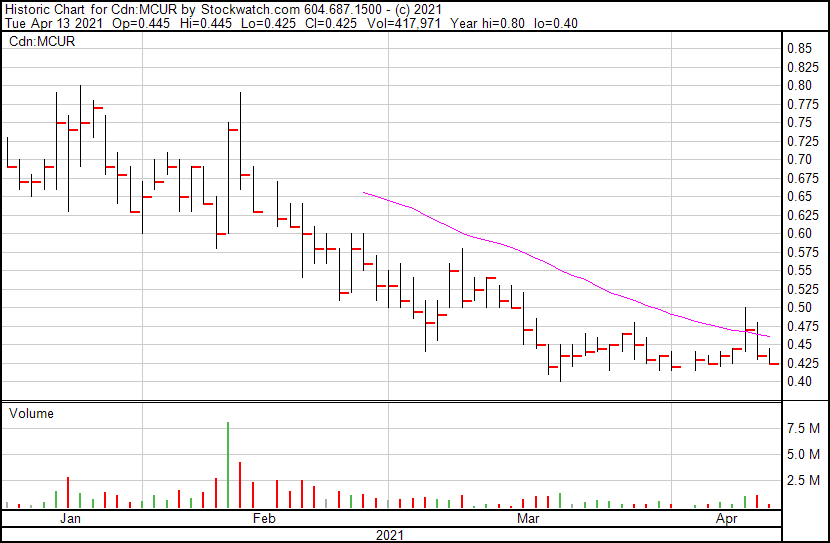 MINDCURE's share price opened at $0.445 today, up from a previous close of $0.435 following the news. However, the Company's stock price has since dropped to $0.425 as of 1:20PM ET.