BioHarvest Science (BHSC.C) has noted that orders for VINIA® have reached an all-time high of US $377,756 in Q1 2021.
"I am proud of the Company's achievements in the last quarter…I made a commitment to all BioHarvest stakeholders to build a professional team and bring "Best in Class" talents to support all the facets of a fully operational company. The sales results of Q1 are a testimony to their talent, which has allowed the Company to grow from an R&D organization into one that has all the elements needed to bring highly differentiated wellness products to the end consumer. I look forward to the Company continuing its momentum in Israel during Q2 and beyond and to disrupting the US market shortly, with the launch of VINIA® in that region," said Ilan Sobel, CEO of BioHarvest.
BioHarvest's latest high represents a 17 percent increase compared to Q4 of 2020 sales orders and a massive 668 percent increase over sales in Q1 of 2020. Additionally, VINIA® purchase orders in Q1 of 2021 reached a new high of 2,190, indicating an increase of 45 percent compared to Q4 of 2020. The Company's growth suggests a successful transition from an R&D company to a business that can compete in United States' massive supplement market estimated at USD$140.3 billion in 2020.
Compared to the U.S. market, the Israeli market is small in comparison with a total population of 9 million. However, product performance in the Israeli market remains in line with achieving or exceeding the higher end of the $1.4-1.5 million guidance range for projected sales orders in Israel in 2021. According to BioHarvest, the average dollar purchase amount for first-time customers is $169 indicating that Israeli consumers recognize the quality and efficacy of VINIA®. Normally, a company's word doesn't tend to mean much, however, its hard to lie when it comes to dollars and cents. That being said, BioHarvest's VINIA® products are clearly performing and exceeding the Company's expectations in Israeli market.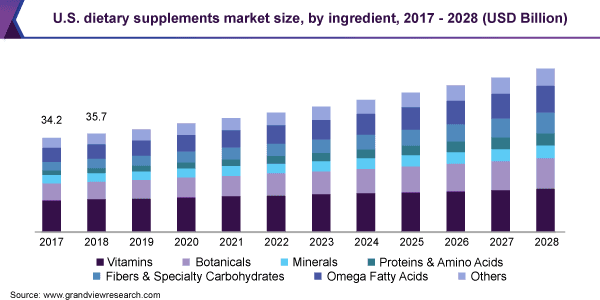 With this in mind, BioHarvest is hopeful for VINIA®'s successful ecommerce launch in the highly competitive U.S. market. BioHarvest's eventual U.S. launch will represent a major milestone for the Company as a demand for nutritional supplements increases. According to Grandview Research, the dietary supplement market is anticipated to grow significantly in the next few years. Additionally, BioHarvest's VINIA® products are the only dietary supplement containing piceid resveratrol, giving the Company a one up on other supplements currently available in the market.
Although the BioHarvest's stock price is currently volatile, the Company could see significant growth upon entering the U.S. market. Furthermore, BioHarvest's VINIA® powder has already found success in the U.S. via Batory Foods, the Company's U.S. distributor. BioHarvest hopes to launch a business-to-consumer (B2C) pipeline for its VINIA® powder in the U.S. at some point this month. Things seem pretty vague, but keeping an eye on BioHarvest may not be such a bad idea leading up to the ecommerce release of VINIA® in the U.S.
BioHarvest's stock price opened at $0.49 today, up from a previous close of $0.47. However, the Company's stock price has since dropped to $0.465.