DMG Blockchain Solutions (DMGI.V) has entered into a license agreement with Marathon Digital Holdings (MARA.Q) in which DMG will provide technology solutions for Marathon and the Digital Currency Miners of North America (DCMNA) pool.
Marathon wants to create the first bitcoin mine that is fully compliant with US regulation, including anti-money laundering (AML) and the Office of Foreign Asset Control (OFAC) standards.
Talks of collaboration began earlier this year, and Marathon has now formally agreed to pay DMG for their services. DMG's Blockseer pool technology allows those running the pool to filter transactions to ensure AML and OFAC compliance in anticipation of impending US regulations. DMG will also provide strategic guidance and assistance as needed, but DCMNA will run the pool's day-to-day.
"While institutional interest in Bitcoin is accelerating, many large funds and corporations have expressed concerns over purchasing Bitcoin that may have been tainted by nefarious actors," stated Merrick Okamoto, Marathon's chairman and CEO. "'Our pools' initiatives are grounded on decentralization, transparency, legal compliance with U.S. rules and regulations, and independent auditability under U.S. auditing standards. While we appreciate some miners' appetite for processing transactions indiscriminately, it is our belief that as a publicly listed company based in the United States, and as one focused on enabling more institutional adoption of Bitcoin, it is our responsibility to follow U.S. regulations. We believe that such regulatory compliant mining will allow us to produce 'clean' Bitcoin, which will enable a greater number of institutions to gain exposure to this new asset class, ultimately benefiting our organization, our shareholders, and the broader network."
Marathon will pay DMG Blockchain $500,000 USD in Marathon shares, a monthly license fee paid in cash or Bitcoin (at DMG's discretion) with a sliding scale based on DCMNA's block rewards and transaction fees received by the pool, as well as additional payments in USD for technical support.
"We are excited to provide our proprietary software tools to the DCMNA pool.. As more U.S.-based Bitcoin mining companies (and their hashrate) join DCMNA, DMG will receive more Bitcoin from licensing our technology," remarked DMG Blockchain CEO & COO, Sheldon Bennett.
The DCMNA is part of a larger effort for Bitcoin to be taken more seriously by large institutional players in the financial markets. By complying with US AML and OFAC regulations, the DCMNA expands the types of investors who can participate in the Bitcoin market.
Just today, Goldman Sachs announced they are close to offering Bitcoin and other Digital Assets to their private wealth management clients. As my colleague Vishal Toora discussed, it seems Bitcoin regulations are inevitable.
DCMNA getting out ahead of these regulations could be a big win for them.
DMG's share price has seen small gains following the announcement.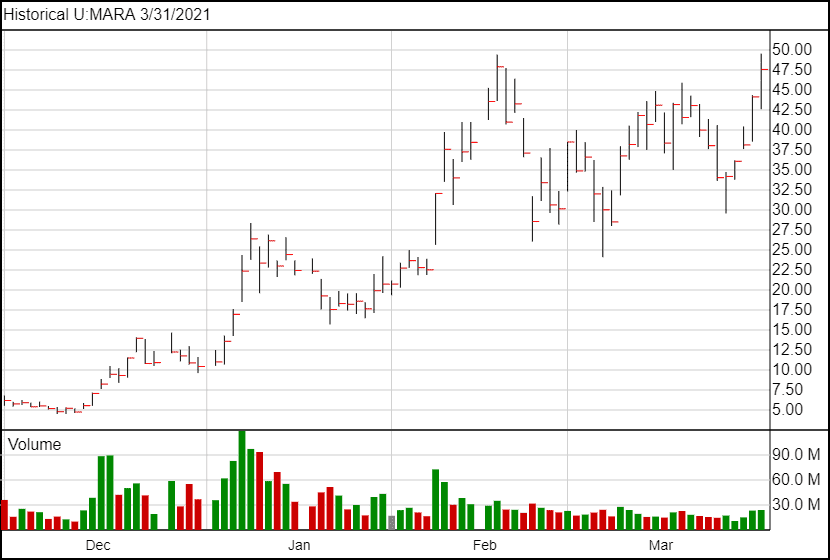 Marathon's stock price has continued its strong performance over the last four months, increasing over $3 following the news.