Vox Royalty (VOX.V) announced that they have entered a binding agreement with a private Australian entity to acquire a $10 AUD/oz royalty on part of Norton Gold Fields' Bullabulling Gold Project in Western Australia for $2.2 million AUD.
As part of the deal, Vox will pay $1.2 million AUD cash upfront, followed by two payments of $500,000 AUD (either in cash or in shares, at Vox's discretion) at two milestones. The first agreed upon milestone is Norton receiving approval of a mining proposal from the West Australian Department of Mines, Industry Regulation and Safety. The second milestone will be when Vox receives their first royalty revenue from the Bullabulling project.
The closing of the transaction remains conditioned on approval from the Australian Foreign Investment Review Board, and any issuance of shares is subject to approval by the TSX Venture Exchange.
Riaan Esterhuizen, Vox Royalty's Executive Vice President of Australia stated: "The addition of Bullabulling grows the number of gold royalties held by Vox in Western Australia to nineteen (with 34 total in Australia ), further strengthening the portfolio of royalties which includes multiple producing, development and exploration stage assets. Bullabulling adds exposure to another large gold resource with near-term development potential and is ideally located in Western Australia's premier Kalgoorlie/Coolgardie gold mining district. We look forward to seeing our operating partner Norton bring this project into production."
The total Bullabulling project's indicated and inferred resource is 91.65 megatons at 1.04 g/t Au for 3,079,000 ounces of gold, spread across 12 deposits.
Vox's acquired royalties would cover 100% of the Bonecrusher, Dicksons and Phoenix deposits, which collectively contain 25 megatons at 0.95g/t Au for 775,000 ounces of gold.
The royalty is uncapped, and so if Norton mines all of the indicated and inferred gold from these areas, Vox would receive $7.75 million AUD.
Not bad for a return for a $2.2 million AUD investment.
It feels like just yesterday I was writing about how Vox was making a big splash by spending some big money to acquire royalties on Western Australian gold mines. Oh right – that was yesterday.
Vox obviously does not feel the need to sit on the $16.85 million they raised in an overnight marketed public offering that concluded last week.
Instead, they are getting straight to work, deploying their capital in order to acquire high return royalties in Australian gold mines.
And by my math, between the fundraising and their money at the start of the month, they've still got more than $14 million cash on hand.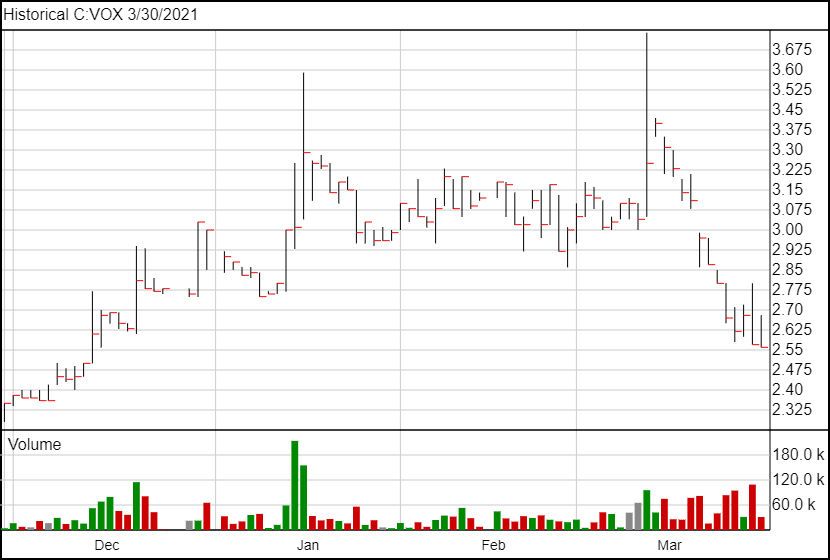 The stock price has not changed following the news.