As our Stock Market Reversal Patterns all trigger (besides the reversal pattern on the Dow), a few stocks are making their long awaited drops. Tesla (TSLA) is the first that comes to mind. The question going forward is whether this is the 'Big One" for stocks, or just a pullback. A lot of this will be answered today and tomorrow as Fed Chair Powell gives his testimonial to congress. The first in the Biden era. But things are looking similar to the everything sell off we saw back in February 2020.
The Nasdaq has seen a 6% drop in two days. Yesterday, it was the market that was leading the rest to the downside. A lot of this had to do with the price action of two stocks: Apple (AAPL) and Tesla (TSLA). But a note of caution: the Nasdaq is now at our major support level and if buyers were to step in, it would be here: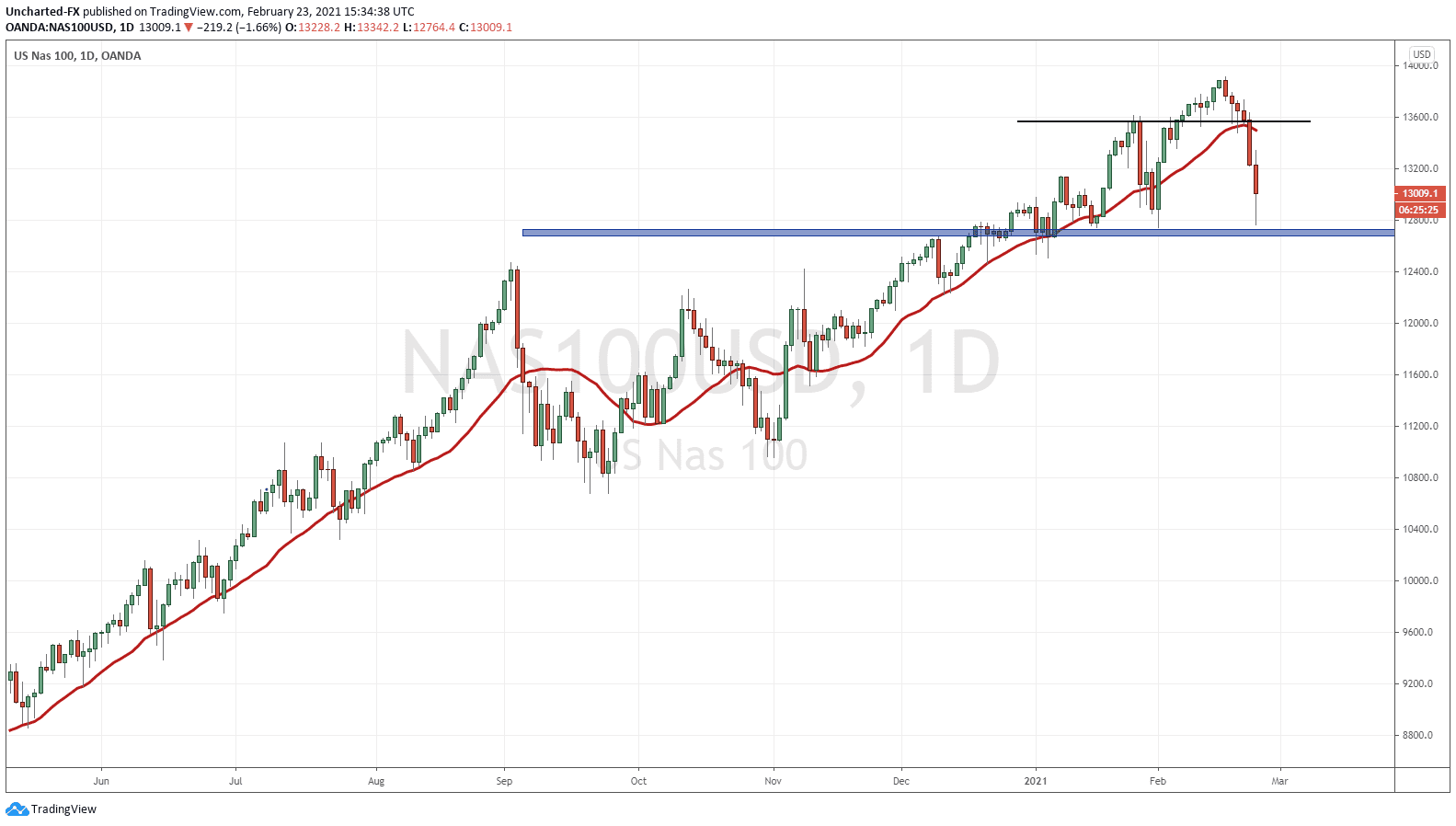 Apple has broken below a major support zone at $125, and is also giving us a breakdown signal. We will have to watch the price action on Apple going forward. But today's Market Moment will be on Tesla, which by the way, is now red for the year.

Everyone has an opinion on the company and Elon Musk. Whether the company deserves a Market Cap larger than most of the automanufacturers combined. Is it the Robinhood/WallStreetBets new retail money crowd which has had the largest impact on share prices hitting record high after record high? Why did Tesla spend more on purchasing Bitcoin than their entire Research and Development expenditures for the year 2020? Will they be able to increase their manufacturing?
One can make a bullish case or a bearish case for Tesla. This is why I prefer to look at the chart. The charts do not lie. I trade the markets I see rather than the markets I hope to see.
Technical Tactics
Ever since Tesla developed a range between $775-895, it was put on our radar as a breakdown candidate. Meets all the criteria for our market structure trades. A range is considered a topping pattern (or a bottoming pattern in a downtrend) when the stock has been in a prolonged uptrend. I don't want to get just too technical, and I have covered this in many posts in the past, but a prolonged trend means we have multiple waves called higher lows in an uptrend. In laymans terms: whenever the stock pulls back and then continues higher. These points indicate where buyers are stepping in and keep the trend intact. Tesla has a lot of these going back to last year.
I should add that the members of our Discord Trading Room were given my thoughts on Tesla weeks before this breakdown. You can join our group of traders by clicking on the Discord link at the top of this page among the social media icons.
The range breakdown was confirmed yesterday with the close below the $775 support zone. Going forward, Tesla remains in a downtrend as long as we remain below this zone. If we get a scenario where stocks reverse and begin to make new highs backed by Federal Reserve action or rhetoric, Tesla closing back above $775 would nullify this downtrend.
As you can see, I drew a target here at $640. It is a flip zone, meaning it has been both support and resistance in the past. This can easily be seen by switching to a line chart and you can see the multiple touches here. However, this zone is technically the last higher low in Tesla's uptrend. So far so good. We are seeing bidders step in and we have gone green for the day!
$500 would be the next major target IF Tesla and the Stock Markets in general maintain their downtrend. Once again, for Tesla this needs to close back ABOVE $775. One can argue that this is people buying the dip, but I must say that markets can still make another swing lower. It is safer to wait for the stock to close back above to increase our probabilities.
Remember: Tesla can still retest $775 and NOT close above, but reject and move lower. This would be normal breakdown price action. We tend to see a pullback to the breakdown or breakout zone before continuing with momentum down to $500.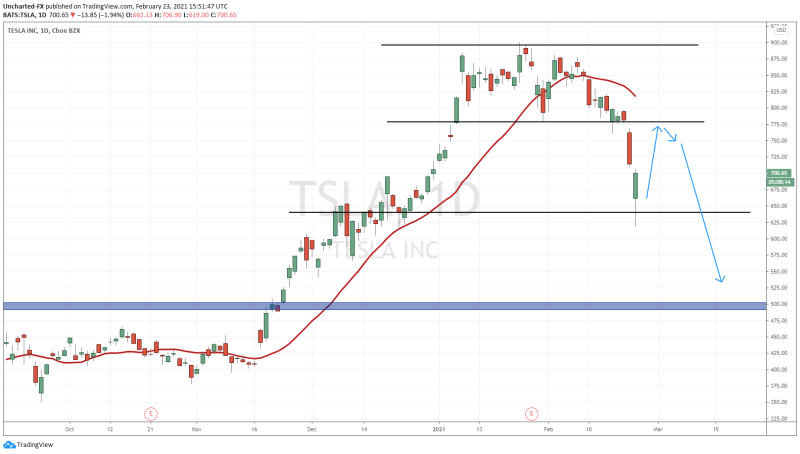 In summary, whether you think Tesla deserves this stock price or not, you cannot disregard the macroenvironment we are in. Irrational exuberance. The Federal Reserve essentially harboring an environment where the only place to go for yield are the stock markets (commodities and crypto's as well). Every word from Powell's testimonial will be analyzed. Judging by the current price action of the market's at time of writing, the markets like what they hear.