It is unusual for a publicly traded entity to issue a press release about two companies – neither of which are its subsidiaries or acquisition targets.
But that's what happened today.
On November 16, 2020 Defense Metals (DEFN.V) announced that Fortress Value Acquisition (FVAC) held a special meeting to discuss "combining" (merging) with MP Materials – the owner and operator of Mountain Pass, the only rare earth element (REE) mining and processing site of scale in North America.
Why is this news important to DEFN?
DEFN's Wicheeda REE Project in British Columbia has indicated mineral resources of 4,890,000 tonnes averaging 3.02% LREO (Light Rare Earth Elements) and inferred mineral resources of 12,100,000 tonnes averaging 2.90% LREO.
Flotation pilot-plant processing of a 26-tonne bulk sample of Wicheeda REE material yielded a mineral concentrate averaging 7.4% NdPr oxide (neodymium-praseodymium) critical magnet metals.
The deposit is positioned next to a major forestry service road connected to Highway 97. 30 Km from Major hydroelectric power line, major gas pipeline and a Canadian National railway line.  Superior strip & upgrade ratio promotes a quick-to-cash mining scenario.
Over the last decade, the North American REE supply-chain issue has gone from "on-the-to-do-list" to "urgent-business".
"REEs are crucial for high-tech manufacturing," states The Verge, "These elements are produced mostly in China, and used in the US for everything from electric cars to missiles".
The U.S. House of Representatives has launched a bipartisan caucus aiming to increase domestic production of REEs.
The U.S objective to de-couple from the China supply chain creates a strong tailwind for North American DEFN which recently announced the filing of an updated 43-101 technical report on the 4,220 acre Wicheeda Rare Earth Element (REE) Property located near Prince George, British Columbia.
The FVAC/MP Materials news suggests a future where DEFN will have the ability to process its ore in North America.
That's like a baker sitting on warehouse of flour, sourcing an industrial oven.
"Completion of the FVAC-MP Materials merger would signal a sea-change in ongoing joint Canadian-U.S.A. government efforts towards the establishment of a North American critical metals supply chain," confirms DEFN.
"The Mountain Pass Mine, an open-pit mine of rare-earth elements in California, once supplied most of the world's rare-earth elements," states UK's famed wealth management firm Charles Stanley & Co on October 9, 2020.
"Fortress Value Acquisition (FVAC) was set up this year to buy the mine and float it on the New York Stock Exchange," continued Charles Stanley and Co., "The $500 million raised from the stock market listing will then be used to build the facilities that process its ore on site. Currently, although there are a few rare-earth mines in the US, they must send their ore for processing in China."
"This floatation will be a major step in America's tech war with China. Rare earths are now as significant in Washington's quest for technological supremacy over Beijing as any sanctions on technology leaders such as Huawei and SMIC".
Defense Metals anticipates the merger would have a positive impact on the advancement of Canadian critical metals deposits, which includes Defense Metals Wicheeda Rare Earth Element (REE) Property (Table 1).
In a comparison chart of Mountain Pass Mine and Wicheeda REE Deposit, DEFN points out that the "Feed grade for Wicheeda was derived from a 26 tonne bulk sample head grade, and Feed Grade for Mountain Pass represents combines proven + probable reserve grades".
"The potential completion of the Fortress-MP Materials merger signals the beginning of what Defense Metals believes will be the inevitable establishment of a North American critical metals supply chain," confirms Craig Taylor, CEO of Defense Metals.
On July 8, 2020 Equity Guru's mining wizard Greg Nolan gave a detailed geological and metallurgical update on DEFN's project.
"Wicheeda holds the following in its subsurface layers," stated Nolan.
"An Indicated Mineral Resource of 4,890,000 tonnes averaging 3.02% LREO (Light Rare Earth Elements);
An Inferred Mineral Resource of 12,100,000 tonnes averaging 2.52% LREE;
All reported at a cut-off grade of 1.5% LREE (sum of cerium (Ce), lanthanum (La), neodymium (Nd), praseodymium (Pr), and samarium (Sm); in addition to niobium (Nb) percentages).
This resource, a significant increase versus an earlier estimate, is the upshot of a successful 2019 drilling campaign, one that tagged some truly exceptional values (all 13 drill holes + assays are plotted on the following map):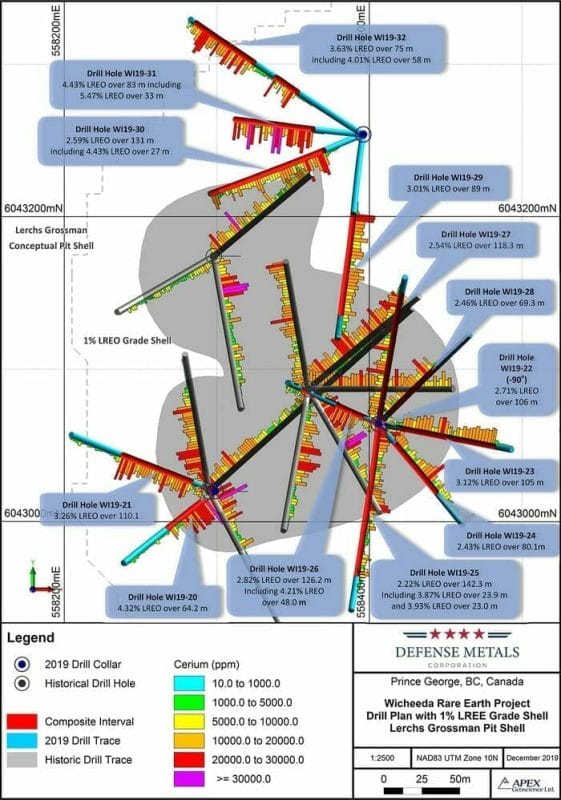 Note how the deposit remains open for expansion to the North, the Southwest, the East, and at depth.
Metallurgy – the mother of all concerns re REE deposits
On October 23, 2019, the company dropped news that substantially de-risked Wicheeda. In terms of metallurgy, it's currently ranked among the very best REE deposits in the world.
a TREO metallurgical recovery rate of 85.7%;
a 48.7% TREO high-grade concentrate of cerium, lanthanum neodymium, and praseodymium oxides (Ce2O3+La2O3+Nd2O3+ Pr2O3)"
End of Nolan.
"This merger has the potential to unlock significant value in other North American REE deposits like Wicheeda; further buoyed by recent announcements by the state of California, Province of Quebec, China and UK targeting year 2035 to ban or significantly reduce sales of internal-combustion engine vehicles," stated Taylor.
"The critical magnet metals, principally NdPr, that occur at high concentration within the Wicheeda REE Deposit will position Defense Metals to capitalize on the significant growth potential of the rapidly emerging green energy-electric vehicle sector."
Turning an exploration project into an economic mine requires a holy convergence of bullish factors (high spot price of target metal, robust demand-drivers, favourable geology, favourable metallurgy, political will, ability to raise money etc).
To get Wicheeda into production, more dominos need to fall.
But the merger of FVAC and MP Materials pushes DEFN further down the development track.
"The FVAC-MP Materials special meeting represents a significant milestone in the establishment of a North American critical magnet metals supply chain," states DEFN, "If approved, the combined company created by the FVAC-MP Materials merger would have an estimated post-transaction equity value of approximately $1.5 billion."
DEFN has a current market cap of $9.5 million Canadian dollars.
Full Disclosure: Defense Metals in an Equity Guru marketing client.