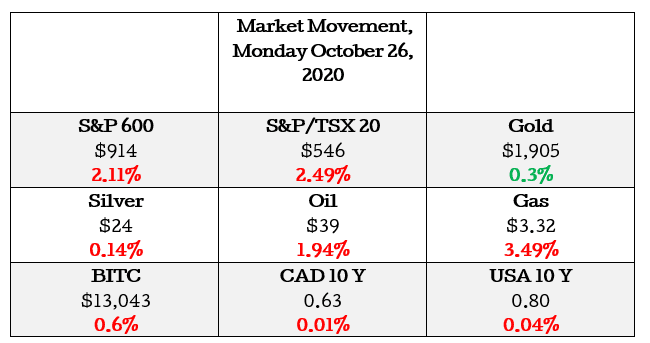 "We are initiating coverage of FansUnite Entertainment Inc. ("FansUnite") with a SPECULATIVE BUY recommendation and a target price of $0.55 per share. Potential catalysts include expansion of B2B contracts and B2C platforms, the award of new licenses, revenue growth, and M&A activity."
At first glance, this might seem like a mundane statement but is definitely an indication of where we currently are in the market. Investment research firms are usually very conservative with their recommendations but have recently taken on the mantra, no price is too high. This is due to the fact we have been in an environment with record low returns on investment for the last 12 years since the great recession.
Institutional and retail investors alike have deployed their capital in speculative investments as they thirst for yield (investment return). This thirst for yield has caused many to be shortsighted and make mostly YOLO bets with their 'investments'.
This is not to say we are in a stock market bubble or that speculative investments are inherently bad and every investor should sell their investments and buy gold or put their money under a mattress. The real lesson we should extract from this market sentiment is that now more than ever investors should be aware of what they are putting their hard-earned money into.
Due diligence is the key and this means every investor should exercise diligence, independence, and thoroughness in analyzing investments, making investment recommendations, and taking investment actions. The intelligent investor should always have a reasonable and adequate basis, supported by appropriate research and investigation, for any investment analysis, recommendation, or action.
This is the Standard used by the Chartered Financial Analyst and most Equity Analysts on Wallstreet. If the professionals apply this procedure why should you and I not incorporate the same principles in our own investment operations? The simple and only answer is we should and today we will.
---
FansUnite (FANS.C)
FansUnite is a global sports and entertainment company, focusing on technology related to regulated and lawful online gaming and other related products. FansUnite has produced a one-of-a-kind complete iGaming platform, with a sport and esports focus geared for the next generation of online bettors and casino players. The platform includes products for pre-match betting, in-play betting, daily fantasy, content, and a certified Random number generation(RNG) to produce casino-style chance games. The platform operates multiple business-to-customer(B2C) brands and business-to-business(B2B) software for the online gambling industry.
Mackie Research Capital believes that there are three main catalysts that will push the valuation of FansUntie closer to their target price in the next 2-3 years and these are:
expansion of B2B contracts
expansion of B2C platforms
revenue growth and M&A activity
Business to Business:

FansUnite has two B2B brands; Chameleon and Askott Games.
Chameleon is a complete B2B sport and esports white label "turnkey" iGaming solution offering innovative and scalable technology to launch new sportsbooks. A sportsbook sometimes referred to as 'book' is a place where a gambler can wager on various sports competitions, including golf, football, basketball, baseball, hockey, soccer, horse racing, greyhound racing, boxing, and mixed martial arts. The Chameleon platform is essential to the success of FansUnites other brands as it is the main infrastructure used by their McBookie, FansUnite (sportsbook and social), Esports Bets, and VamosGG platforms.
On August 11, 2020, FansUnite completed the acquisition of Askott Entertainment Inc., creating one of Canada's largest iGaming companies. Askott Games combines the popularity of casino-style RNG games with esports and video game themes.
Currently, Askott has two flagship games out these are  Loothunter and Crash Heist. This is one of the strategic acquisitions that has been made by management with the hope that it will add value to the revenue streams of FansUnite. With time they believe the client base will grow as more users recover from the COVID depression and get back into the gambling mood. On the other hand, esports has seen a recent surge in demands as more business realize the true economic value that has thus far gone untapped in U.S.A and Canada compared to the Asian market.
These strategic acquisitions are in line with management's overall goal of diversifying their revenue streams at the same time acquiring strong brands.

Business to Consumer:
FansUnite has four B2C platforms with over 300,000 registered users which have generated over $350 million in betting volume since inception. The B2C Platforms include McBookie; FansUnite (sportsbook and social), Esports Bets, and VamosGG.
On March 26, 2020, FansUnite completed the acquisition of McBookie, which is a leading provider of sports betting services focused on the Scottish market.
McBookie has been operating for over a decade, with 10,000 active members, and has generated $340 million of betting volume since inception. FansUnite's goal is to double revenue from McBookie over the next 12 months and to dominate the underserved Scottish market.

The FansUnite Sportsbook is an internally developed B2C sportsbook platform that will take wagers on all pro, college, and regulated sporting events. The social platform is a free to play site that has over 30,000 registered members. Social betting is a potential source of new clients for the Company's real money platforms.

VamosGG is a new esports betting site on the Chameleon platform, servicing the Latin American market. The Chameleon platform currently supports 10 languages and can be localized to additional languages as needed. This flexibility should allow FansUnite to continue to target niche or underserved markets.
---
A combination of B2B and B2C growth from strategic acquisitions and the pending gaming licenses that FansUnite has applied for are the perfect catalysts for a speculative rise in the revenue streams for the business. This return can usually be captured by those investors willing and able to take on that higher risk and uncertainty.
The  Mackie Research Capital  team state in their report that:
"We believe FansUnite has the technology, team, and experience to become a global leader in the iGaming industry. We initiate coverage on FansUnite with a 12-month target price of $0.55 per share based on applying a 7.00x EV/Sales multiple to our 2022 annual sales estimate of $13.2 million discounted by 10%."
They use two styles of valuation :
Comparable Valuation
and Exit Multiple valuations
Comparable Valuation is the process of comparing companies based on similar metrics to determine their enterprise value. Before they establish the key metrics used for the valuation the investor/analyst needs to establish a peer group or industry and the stage of the life cycle the business is in.
FansUnites business peers are in the table below and the fast sales growth indicates that FansUnite might be in the late expansion phase. This is indicated by the 100% sales growth rate which is well above all its peers.

Exit Multiples Valuation
An exit multiple is one of the most commonly used terms in finance and it refers to the terminal multiple at which any given project will be exited. The most commonly used multiple is EV/EBITDA or for earlier stage business EV/Sales.
Investors start multiples valuation by identifying similar companies and evaluating their market values at the moment. A multiple is then computed for the comparable companies and aggregated into a standardized figure using a key statistics measure, such as the mean or median, the most common being the mean. The value identified as the key multiple among the various companies is applied to the corresponding value of the firm under analysis to estimate its value. When building a multiple, the denominator should use a forecast of profits, rather than historical profits. And depending on the stage of the life cycle the denominator is usually higher up on the Income statement.
e.g Income Statment Company B
Sales – Usually Early Stage business
EBITDA – Fast growing business that has not broken even
EBIT – Fast growing business that has not broken even, but they are starting to generate operating cash
EBT – Not as common but used for more mature companies.
Once the value has been determined the investor needs to compare this economic business value with the range in the last year (52 weeks low and high), and the current market price.
If your business value is well above your current bid price this stock is defined as being undervalued, but if the current price is above the business value it is the opposite. In the report published by Mackie, they believe the stock is undervalued and there is a 53% discount from the business value to which they suggest a speculative buy. This because the business is in the early-to-late expansion stage and there is no assurance that this price target can be met or is realistic for that matter.
But again, this is merely a guess. The reality of the beauty contest that is the stock market is that if every stock is somebodies favorite, then every price should be viewed with skepticism even those that may seem like risk-free investments.
HAPPY HUNTING!
FULL DISCLOSURE: FansUnite is an Equity.Guru marketing client