Hey Investors, today was a pretty slow day for the general market, and here is a quick wrap up of how the indexes did:
S&P 600 (USA Small Caps) lagged the S&P 500(USA Large Caps) by 0.2% for the day
S&P/TSX 20(CAD Small Cap) beat S&P/TSX 60 (CAD Large Cap) by 1.7% intraday
Bitcoin up 0.83% and Gold up 0.78% as USD appreciates by 0.03% & CAD depreciates by 0.21%
Market Close, Tuesday, September 15, 2020
S&P 600

$ 878.9

+0.2%

S&P /TSX 20

$ 558.5

+2.2%

Gold

$ 1,954.70

+0.78%

Silver

$27.23

+1.83%

Oil WTI

$37.99

– 0.24%

Gas Henry Hub

$2.74

– 0.15%

BTCUSD

$ 10766.32

+0.83%

CAD 20 Y

0.83

+0.01%

USA 10 Y

0.68

+0.00%
The market movers
Today we have a big winner in:
Manganese X Energy (CVE: MN)
52 Week H/L: $ 0.72/0.055
Open : $0.6
Close : $0.72
Intraday Price Change: 40%
Days Volume : 3 Million
10 Day Average Volume: 533 Thousand
Market Cap: CAD 67 Million
Book Value: CAD 64 Thousand
Diluted Shares Outstanding: 69 Million
Sales TTM: NA
Manganese X Energy Corp. engages in the acquisition and development of mineral properties in Canada. The company's property portfolio includes Houlton Woodstock Manganese property consisting of 55 claims totaling 1,228 hectares located in Carlton County, New Brunswick; Peter Lake Copper-Nickel-Cobalt property comprising 34 claims totaling approximately 1,985 hectares located in the Mont-Laurier Terrane, Central Grenville Province; and Lac Aux Bouleaux property consisting of 4 mineral claims totaling 738.12 hectares located in Mont-Laurier in southern Québec. It also explores for copper, nickel, cobalt, and graphite deposits.
On September 10, 2020, the company announced that it had just completed its phase 1 yielding manganese sulfate with a purity exceeding 99.95 percent with low levels of base and alkali metals using material from its Battery Hill property. This has been a transformational achievement, demonstrating its resource material which can be compliant with electric vehicles and other requirements.
The Exploration and Development business has two main characteristics that make it very difficult to break even:
It is a highly competitive industry with many market participants who all rely heavily on the auction prices of the commodities and minerals they are involved in. This makes the industry very cyclical and cash flow fluctuates very rapidly and to survive a business has to have very efficient internal controls over its indirect and direct costs to sustain the business.
Over the last 5 years, Manganese X Energy Corp has been able to keep its exploration costs low, they have dropped by 17%, this ability to control their indirect costs has put the business on a path that will allow it to stay competitive.
The business has been able to control costs specifically its Exploration and Drilling costs, this allows management more room to allocate capital into more profitable endeavors such as the recent announcement on September 10, 2020.
The industry is very capital intensive, meaning there is a need for very expensive equipment and usually there is very little cash left to reinvest in the business for growth, and the majority of the cash from operations is spent on maintaining the expensive equipment as it depreciates over time.
Manganese X Energy Corp has been able to grow its assets base by 7% over the last 5 years.
The majority of the assets held by the business are current in nature meaning they are very liquid and can be turned into cash within a year.
Due to the COVID pandemic, this has been essential to the survival of the many businesses as liquidity, or a need for quick cash has come to a dramatic pause over the last few months as companies borrow up to their limits to meet their current obligations.
A simple way to quickly assess the health of a business in the short-term is to look at the Cash Ratio (Cash / Current Liabilities) and the Current Ratio(Current Assets / Current Liabilities) over time.
| | | | | | | |
| --- | --- | --- | --- | --- | --- | --- |
| Year | 2016 | 2017 | 2018 | 2019 | 2020 June 30 | Best Ratio |
| Cash Ratio | 0.001x | 4x | 10x | 1x | 4x | 1x |
| Current Ratio | 0.19x | 10x | 13x | 1.3x | 4x | 2x |
The table above shows that Manganese X Energy Corp has been able to deploy cash in productive assets that leave it in a finically stable position. These ratios show the ability of the business to cover its current obligations and have improved over time for the firm, as of June 30 the cash in the business can pay all the creditors and suppliers of the business 4x over.
This fortress-like balance sheet is very difficult to find during a global slow down, but this has given them the ability to weather the storm. The optimism of the auction market has reflected this feeling of security and rewarded Manganese X Energy Corp shareholders with a 40% higher stock valuation today.
For a deeper look at the business check out this great article written by Lukas Kane. (Manganese X)
Second Place
ShaMaran Petroleum Corp (CVE: SNM)
52 Week H/L: $ 0.08/0.02
Open : $0.03
Close : $0.03
Intraday Price Change: 20%
Day's Volume: 87 Thousand
Daily Average Volume: 38 Thousand
Market Cap: CAD 65 Million
Book Value: CAD 3.4 Million
Diluted Shares Outstanding: 2.1 Billion
Sales TTM: CAD 70 Million
ShaMaran Petroleum Corp., together with its subsidiaries, engages in the exploration and development of oil and gas properties in the Kurdistan Region of Iraq. The company holds 27.6% interest in the Atrush Block production sharing contract, which covers an area of 269 square kilometers located in the Kurdistan region of northern Iraq. It also provides technical and administrative services.
Key Asset is the Atrush Block
Oil production from Atrush commenced in July 2017. Installed production facilities have a capacity of over 50,000 barrels of oil per day(bopd/BPD). Fourteen wells have been drilled to date and ten wells are currently producing. Atrush's production guidance for 2020 is 44,000 to 50,000 bopd.
Total field production per barrel has gone up by 11% since Q3 2017 and is now able to produce 3.83 million barrels. This translates into 41,700 barrels of oil per day.
The big question is has this generated revenue for the business? The simple answer is yes, but a deeper dive shows exponential growth by this one asset for the business.
Revenue over the last 5 years has gone from $ 100,000 USD to $ 70,000,000 USD (zeros left for emphasis); this is a compounded growth of 270%. Concurrently the Operating Expenses have grown by 36%, which is rapid but relative to the revenues is very small.
The business has also been able to keep direct costs low at the same time;
| | | | | | |
| --- | --- | --- | --- | --- | --- |
| Year | 2016 | 2017 | 2018 | 2019 | 2020 June 30 |
| Gross margin | 100% | 63% | 80% | 65% | 56% |
This means as of June 2020 the business was able to sell for $1 and it cost them 44 cents to produce and extract the oil. This has translated into positive cash flows for the firm, and for the particular project. (SEE TABLE BELLOW)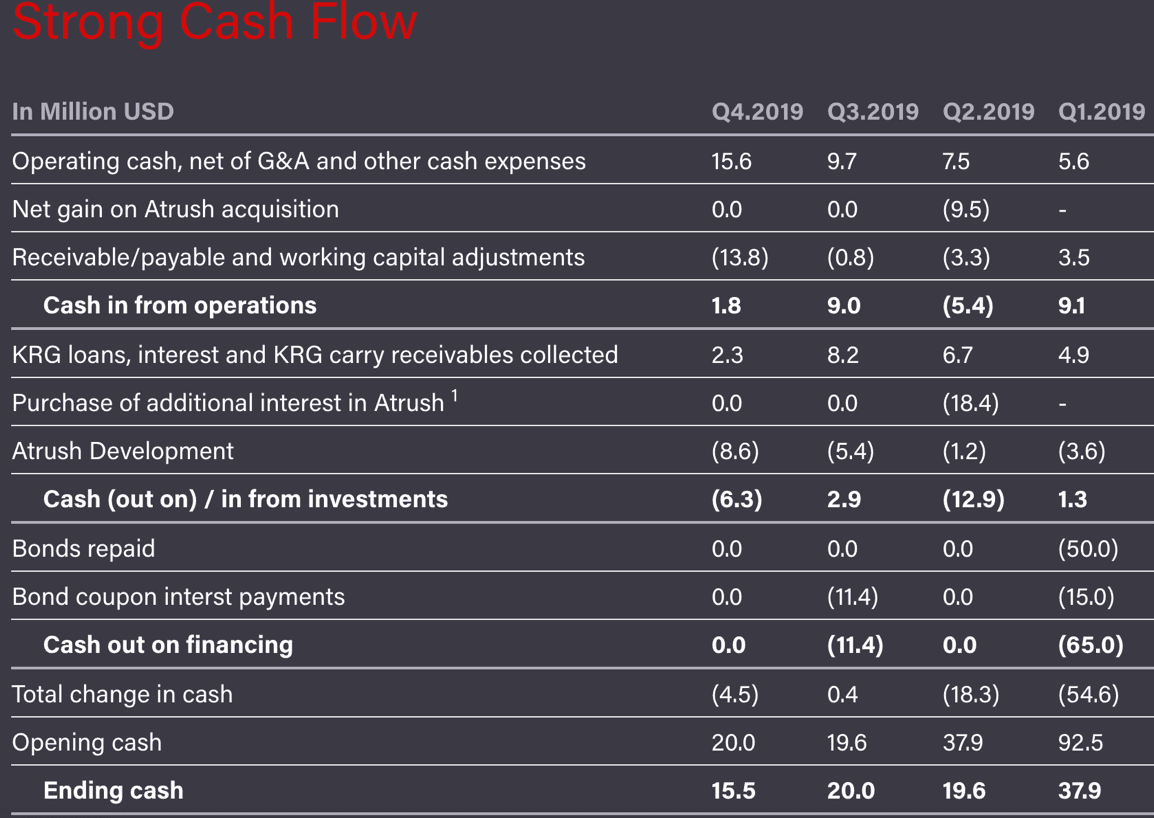 In the second quarter of 2020 average daily production was up from the prior quarter, from 46.7 Mbopd to 46.9 Mbopd, representing the fifth consecutive quarterly production increase, despite the increasingly challenging operating environment resulting from the COVID19 pandemic. In addition, the Company successfully resolved the imminent liquidity shortfall cited in the Company's financial statements for the first quarter of 2020
The auction market has rewarded ShaMaran Petroleum Corp with a 20% higher appraisal of the common stock, this might seem relatively low but uncertainties about the demand for oil as a dark cloud hovers over the industry causing the price of crude oil drops(0.24%)
And Finally, in Third Place
Benz Mining Corp (CVE: BZ)
52 Week H/L: $ 0.77/0.05
Open : $0.7
Close : $0.77
Intraday Price Change: 18%
Day's Volume: 375 Thousand
Daily Average Volume: 150 Thousand
Market Cap: CAD 52 Million
Book Value: CAD 2.5 Billion
Diluted Shares Outstanding: 72 Million
Sales TTM: NA
Benz Mining Corp., a junior mining company, engages in the acquisition, exploration, and exploitation of mineral properties in the Americas. Its flagship project is the Eastmain Gold Mine project located in the James Bay Region, Quebec.
Our Strategy
Strategic Vision:
To become a profitable mining producer and value creation for all stakeholders
Strategic Mission:
To acquire, develop & operate mineral properties in the Americas by integrating mineral deposits, financial resources, and human resources while utilizing sound safety & environmental operating practices.
The above was stated by Benz Mining on their corporate web page. The question on the reader's mind should be how well have operations matched with the corporate vision.
The Key Asset Eastmain Gold Mine Project
The property consists of 152 mineral claims and one industrial lease permit. The property covers approximately 8,014 ha and is under option agreement by Benz Mining Corp.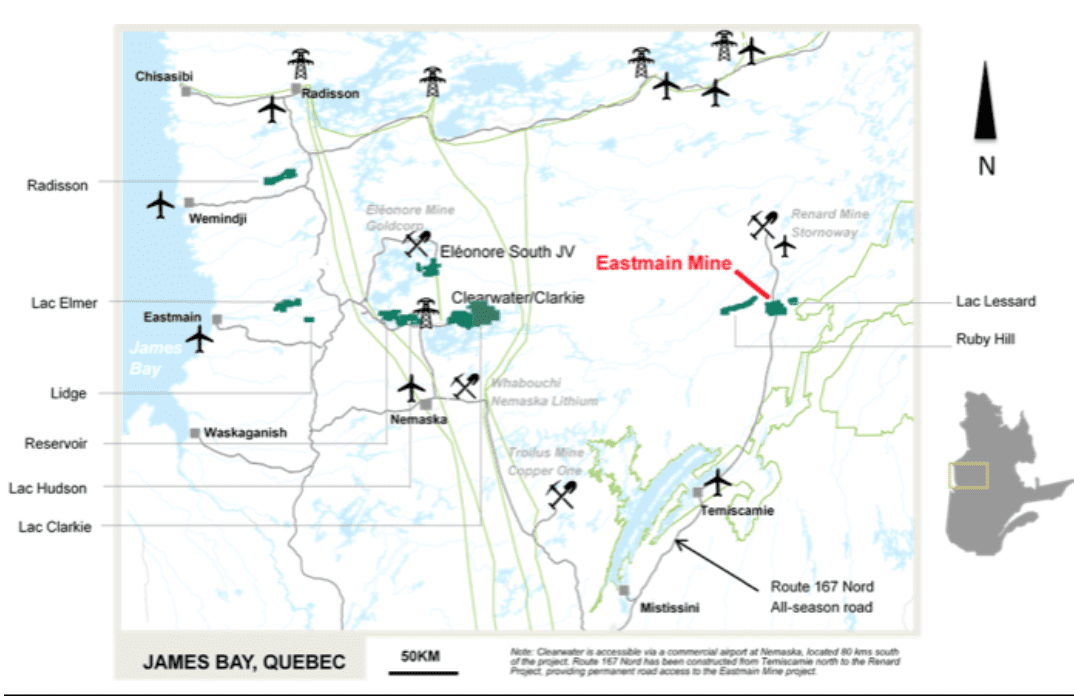 On January 9, 2018, Eastmain issued its NI 43-101 Mineral Resource Estimate for the Eastmain Mine Project. The new Mineral Resource Estimate demonstrated the high average gold grade of the Eastmain Mine mineralization and consistency with historic interpretation and Mineral Resource Estimates.
The new estimate reports increased tonnes and contained gold ounces over the historic estimate, resulting from increased drilling data, a higher gold price (US$1,250), lower cut-off grade, and the inclusion of Mineral Resources from the C Zone.
This valuation of the gold reserves should be noted as the current spot price for Gold is trading at $1,954.70 a 56% premium from the prices used in their consolidated accounts.
As the business is still exploring its main mine it has not generated any business but potentially could benefit from the higher gold spot price.
Operationally the company has relied on deploying capital in productive assets over time to be competitive in the industry and to break even has to sell as much inventory at the current bid prices prevailing in the market and produce at a cost of at least $ 280 – 300 per troy oz.
Management states in their January Report that :
P&E considers that the Eastmain Mine Property contains a significant precious metal and base metal Mineral Resources that is associated with a well-defined mineralized trend. P&E considers that the property has the potential for delineation of additional Mineral Resources and that further exploration is warranted. Benz Exploration staff and management are reviewing the Technical Report recommendations and compiling results from the previous exploration programs along with historic work to define an appropriate work proposal for 2019/2020 years
They believe that with these assumptions in place they should be able to create value for their shareholders and become a profitable business concern. The market seems to agree and has appraised their common stock with an additional 18% in value.
Happy Hunting!