Tocvan Ventures (TOC.C) is a relatively new entry onto the junior exploration stage having IPO'd early last year.
In conducting my due diligence on the company, it immediately became apparent that a tight cap structure is a core value with this crew. The company currently has 17.7 million shares outstanding and a modest market cap of $4.87M based on its recent $0.27 trading range.
Maintaining a tight share structure exposes early shareholders to significantly greater price trajectory if (when) exploration success is realized.
Think Great Bear Resources (GBR.V)…
Great Bear traveled from mere pennies to a twelve dollar bill in a fairly short space of time. How did it achieve this extraordinary feat? Tagging a world-class asset certainly helped. But it also kept its share structure super tight. The fewer the shares outstanding, the bigger bang for the buck when the drill bit hits its mark.
When it comes to raising capital to move a project further along the development curve, I suspect this crew will do so in a responsible manner, that is, not blow its share structure all to hell.
I know what you're thinking: "show me the money". Fair enough.
The acquisition
Tocvan's flagship Pilar Gold Project is located along the historic Sonora gold district within the Sierra Madre Occidental geological province. The project is road accessible and is located roughly 140 kilometers south-east of the city of Hermosillo.
Sonora is a friendly jurisdiction steeped in the mining culture. It's currently credited for nearly 37% of Mexico's annual gold production (the country's largest Au contributor).
Tocvan is earning an initial 51% in Pilar from Colibri Resource Corp (CBI.V) via a series of staged payments—cash and Tocvan common shares—over the course of five years with escalating work commitments as the earn-in period matures ($2M in total).
Colibri Resource Corp. Signs Pilar Gold Property Option Agreement with Tocvan Ventures
Once Tocvan earns its 51%, it has an option to acquire the remaining 49% for $2,000,000 with Colibri maintaining a 2% NSR—Tocvan can claw back 1% of the NSR by paying Cobri $1,000,000.
Colibri obviously believes in the geological merit of Pilar. Though cash poor, it's not letting the project go cheap. It's a good deal for both companies.
The asset
Pilar is an advanced stage exploration asset that has seen multiple phases of work over the past few decades, including extensive trenching, soil sampling,  geophysics, and > 17,000 meters of drilling.
Tocvan management sees multi-million-ounce potential in this asset.
In a recent interview with Proactive, Tocvan CEO Derek Wood is optimistic the required five year $2M work commitment requirement will be satisfied this year, setting the stage for an aggressive 2020 field season (C-19 and travel restrictions may ultimately dictate how things play out).

For shareholders, this is music to the ears. A rapid exploration pace means strong newsflow. Strong (positive) newsflow is the cornerstone of all wealth creation in the junior exploration arena.
CEO Wood: "It's going to be busy. It's going to be fun".
Pilar has been identified as a structurally controlled low sulfidation epithermal gold-silver deposit.
"Hydrothermal fluids carrying gold, silver and other minerals are transported through the pre-existing structures and deposit out of the fluids and become emplaced within the structures and surrounding host rock. Alteration minerals help to identify the location and direction of the structural features containing the gold and silver."
Extending over two concessions (Gaudalupana and La Sonora), there are currently three main zones on the property: the North Hill zone, the Main Zone, and the 4-trench Zone.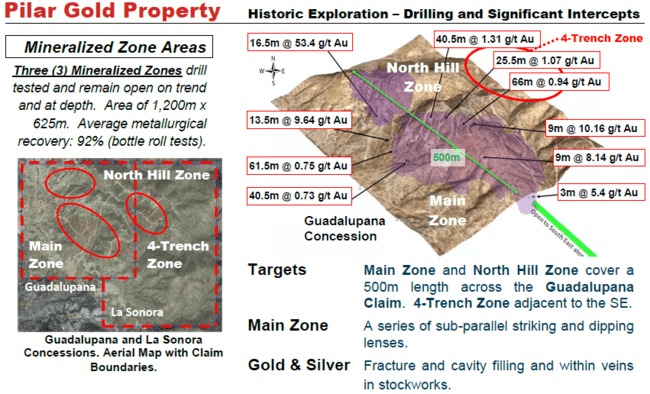 As noted above, the project has seen over 17k meters of drilling, the drill bit tagging a number of high-grade hits over decent widths, but limited to < 125 meters depth.
Highlights from these previous campaigns include:
0.73g/t Au over 40 meters
0.75g/t Au over 61 meters
17.3g/t Au over 1.5 meters
5.27g/t Au over 3 meters
53.47g/t Au & 53.4g/t Ag over 16 meters (BOOM, drop the mic)
9.64g/t Au over 13 meters
10.6g/t Au & 37.8g/t Ag over 9 meters
Highlights from 2,650 meters of surface and trench/channel sampling include:
55g/t Au over 3 meters
28.6g/t Au over 6 meters
3.39 g/t Au over 50 meters
The following 3D map gives you the lay of the subsurface orientation of these historic hits. Note the high-grade intervals, their proximity to one another, and the scale on the bottom left:
Back in January of this year, the company release results from a grab sampling campaign:
Tocvan Announces High-Grade Gold & Silver Surface Mineralization at Two New Showings at Pilar, Extending Known Mineralized Trends: Highlights include 323 g/t Silver & 9.3 g/t Gold
The results, characterized as "very encouraging", point towards the potential for additional mineralization to the east and south-east of previous drilling.
The red ovals on the following map outline the three main zones—North Hill, Main, and 4-Trench. The bright red stars pinpoint the location of these recent surface values. Note the new target areas on the bottom right.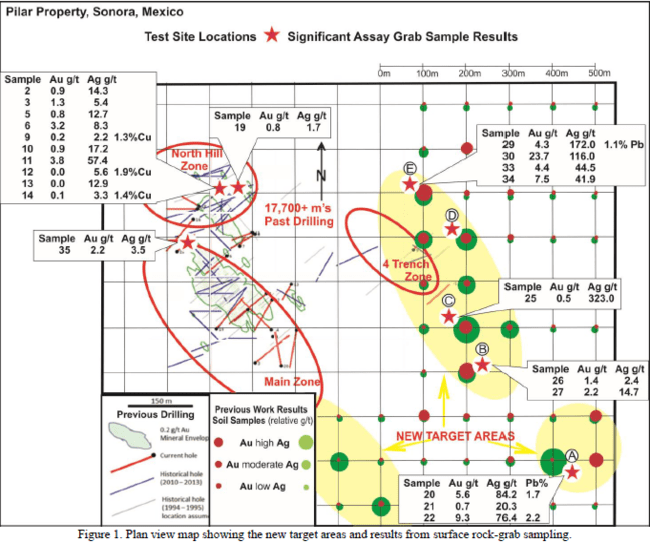 On March 30, the company dropped the following headline…
Tocvan Announces 2020 field program commences at the Pilar Gold-Silver Project in Sonora, Mexico
The objectives of this program:
Expand the known areas of mineralization;
Refine linear structural features that control mineralization emplacement;
Identify new mineralization targets;
 Define targets for drill testing.
This phase of exploration will include multiple-task geophysical survey work, close-spaced soil sampling (previous soil samples were spaced 100 meters apart—call this round infill soil sampling)
"These surveys will be followed with forthcoming additional surveys of structural geology (specialist structural geologist), and XRF survey of samples across the property and of historic drill hole samples held in storage, and make up Phase 1 of 2. The XRF will collect data to identify elements and their amounts. This will assist in identifying alteration minerals and pathfinder elements, knowing the intensity of alteration minerals and their location will help to define linear mineralized structural features that contain gold and silver."
This is called Data Stacking. This is good science.
"In addition, pre-existing data from historic drill holes and the assayed gold and silver results from those holes will be included as part of the collected data to identify the structural features that contain the gold-silver mineralization."
The results from this field campaign will be combined with pre-existing data to help create a structural mineralization model in order to prioritize drill targets for an upcoming drilling campaign.
Drilling is expected in late summer to early fall, but may be delayed due to continued travel restrictions related to the current global health crisis.
Final thoughts
The immediate goal is to rack up an ounce count, starting on the areas with the highest concentration of historic work. After defining a resource, they'll work towards expanding the geological footprint of the epithermal system, using good science to delineate additional resource ounces.
Ultimately, the company will look towards monetizing the project—selling it to a resource hungry predator—giving early shareholders a nice payday.
The share price, after bottoming out in mid-March, has been stair-stepping higher. And for good reason.
END
—Greg Nolan
Full disclosure: Tocvan is an Equity Guru marketing client.