Last week, Canada's Public Health Agency released new COVID-19 data, revealing that long-term care (LTC) and seniors' homes account for an astonishing 79% of Canada's 3,915 corona virus deaths.
Yes, this virus targets the elderly.  But only 9% of seniors live in senior care homes. Among seniors in their 90's, only 44% of them live in care homes.
Statistical evidence suggests that Canadian care homes aren't safe for seniors right now.
"A retirement home in Canada that lost nearly half its residents to coronavirus is scrambling to protect the remaining healthy inhabitants who lived alongside infected neighbours for nearly two weeks," reported The Guardian.
Pinecrest nursing home, a privately run facility in the town of Bobcaygeon, Ontario, has emerged as one of the country's deadliest Covid-19 hotspots.

Twenty-seven of the home's 65 residents have succumbed to the disease, and the spouse of one resident, who often volunteered at the home, has also died.

But it was not until last week – after 16 deaths – that sick residents at the home were finally separated from healthy residents, according to CBC News.
The question – for the elderly and investors in this sector – is: are these problems fixable?
The short answer is yes.
Some of the changes are easy and obvious.  As the outbreak gathered steam, auxiliary unionized care workers in BC were picking up shifts in multiple facilities.  An asymptomatic carrier could quickly pollinate numerous elder care homes.
Vancouver Coastal Health Authority has now banned that practice.
But let's be clear: during a pandemic, a 95-year-old is always going to be vulnerable in a home with other seniors. Removing the 95-year-old isn't always an option.  The resident may be dependent on staff for medication, food, hygiene etc.
Growing old is a messy business.
Institutional care for seniors will never provide perfect solutions.
The challenge is not to make a perfect system, but to mitigate the health risks of long term care, intelligently and ethically.
Speaking at a press conference April, 2020 Prime Minister Justin Trudeau called the situation "unacceptable," saying Canada needs to "do better."
If you believe this situation is salvageable, then now is a good time to look at senior care home stocks – which have hammered in the aftermath of this scandal.
Chartwell Retirement Residences (CSH.UN.T), Extendicare (EXE.T), Sienna Senior Living (SIA.T) are three well-run Canadian companies trading at significant discounts to their Jan 1, 2020 share price.
Chartwell Retirement Residences (CSH.UN.T) is a $1.7 billion real estate trust that owns and operates a range of seniors housing communities.
"It is likely that your parent moved into a retirement residence because you all recognized it is the best place for them to live," stated Chartwell, "Retirement residences are committed to keeping their residents safe and helping them have the best quality of life possible during the pandemic".
"Chartwell White Eagle Long-Term Care Home, near Dowling Avenue and King Street, confirmed 11 residents have now died from COVID-19," reported CTV News on April 26, 2020.
A total of 18 residents and nine staff have tested positive for COVID-19 since an outbreak was declared on April 2, the facility said.
"The restrictions on residence visits during this pandemic will have a negative impact on our occupancy levels," stated Vlad Volodarski, CEO of Chartwell, "as we are not permitting visits by or on behalf of prospective residents".
In the meantime, Chartwell is participating in a new national initiative – CAPES (Canadian Alliance to Protect and Equip Senior Living), which has processed more than 15 million pieces of PPE destined for retirement and long-term care homes across Canada.
Chartwell currently has $338 million of liquidity including over $131 million in cash, and $950 million of unencumbered assets, a conservative capital structure that will allow it to access further debt if needed.  2019 yearly revenue was almost $1 billion.
From Q4, 2019 Investor Presentation.
Extendicare (EXE.T) is a $535 million company that operates or provide contract services to a network of 122 long-term care homes and retirement communities.  The breakdown here is that 69 of them are owned, and 53 are contract services.
"Our 69 long-term care homes and retirement communities, 10 long-term care homes and one retirement community have had one or more positive cases of COVID-19, with a majority of these outbreaks limited to less than 10 residents and/or staff," stated EXE on April 27, 2020, "Two long term care homes previously in outbreak have been declared clear of the virus by public health."
Extendicare reported that "actions required to combat COVID-19 have led to increased costs, primarily in respect of PPE and labour."
The provinces in which we operate have all announced various programs and financial assistance to address these increased costs and other challenges. Long-term care occupancy in virtually all our homes remains above 97%."
"While we are focused on addressing the COVID-19 challenge in the near term, we remain confident in our future," stated Dr. Michael Guerriere, President and CEO of Extendicare.
EXE finances as of April 24, 2020:
$129.8 million of cash and cash equivalents
Access to a further $70.2 million in credit facilities
Q4, debt maturities are $23.5 million of CMHC mortgages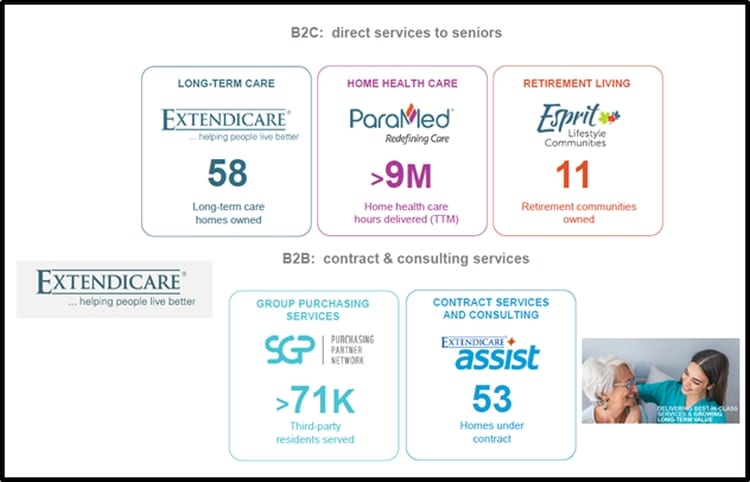 Sienna Senior Living (SIA.T) is an $815 million company that operates 83 seniors' living residences in Canada. Sienna offers "a full range of seniors' living options", including independent living, assisted living, long-term care and specialized services. The company has 12,000 employees.
Sienna has been transparent about instances of corona virus in is various Facilities.
"We are committed to keeping you informed as the situation evolves," stated Sienna, "We want to hear from you, so please share your ideas, questions, or stories of inspiration.  Here is a dedicated email for this purpose: COVID-19@siennaliving.ca.
2019 Sienna Financial and Operating Highlights:
Revenue increased 4.3% to $669.7 million
Total NOI increased by 3.7% to $156.9 million
Average occupancy in Sienna's long-term care portfolio remained high at 98.3%
Average same property occupancy in Retirement was 87.9%
Debt to enterprise value improved by 480 bps to 43.7% year-over-year
Weighted average cost of debt lowered by 30 bps to 3.6% year-over-year
Received a "BBB" investment credit rating, highlighting strong balance sheet
Issued $150 million of series A senior unsecured debentures at an 3.1% per annum for a 5-year term which was used to pay down debt with higher interest rates and created a pool of unencumbered assets.
"Kerry Bowman, a professor of bioethics and global health at the University of Toronto, said there were "profound systemic problems" within Canada's long-term care facilities before the pandemic ever began," stated Global News.
One of the main issues is that long-term care does not fall under the Canada Health Act, which means that "the oversight, the funding, the protocols under the umbrella of the Canada Health Act really have not been a part of long-term care to begin with."
"Anywhere you've got service workers — people doing caring work — that is low pay, low status, and along with that, (provides) lower amounts of training, you've got a recipe for disaster," stated Colin Furness, a University of Toronto health policy expert.
Chartwell Retirement Residences (CSH.UN.T), Extendicare (EXE.T) and Sienna Senior Living (SIA.T) have been knocked off their feet by the current health crisis.
Let's see if they can get back up.
– Lukas Kane