On March 3, 2020 World Class Extractions (PUMP.C) announced that its 50/50 Joint Venture (JV) partner Canntab Therapeutics received its cannabis standard processing and sales for medical purposes licences.
Today's announcement follows an October, 2019 PR that states WCE entered into an agreement with Canntab Therapeutics to set-up, manage and operate a cannabis and hemp extraction and processing facility, which includes the deployment of 2 BOSS CO2 Extraction and Processing Systems at Canntab's licensed facility in Markham, Ontario.
World Class develops, deploys and manages custom-built extraction centers for licensed cannabis and hemp processors, utilizing its custom technology and processes.
Canntab is a late-stage Standard Processing applicant under the Cannabis Act.
Canntab is a Canadian biopharmaceutical company focused on the manufacturing and distribution of a suite of hard pill cannabinoid formulations. It has a product line of THC & CBD and terpenoid blends, including 13+ patents pending in Canada and the U.S.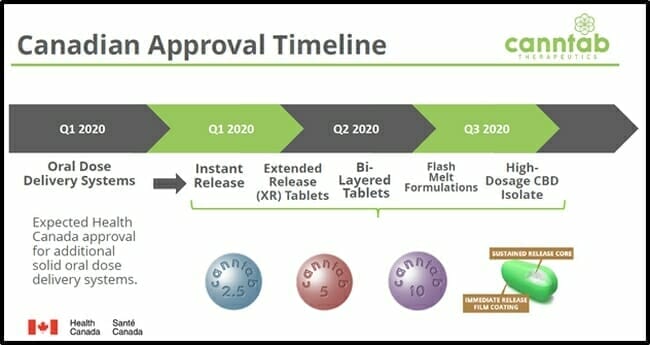 World-Class and Canntab each hold a 50% interest in the JV, which will generate revenue from extraction and processing of cannabis and hemp through its biomass extraction and processing services for third-party license holders.
The Facility has an extraction and processing capacity of up 220 kilos of biomass per day, which could provide approximately 18 kilos of oil from high potency cannabis, depending on the concentration levels of the input biomass.
The net operating income generated from the JV will be paid to World-Class until the systems are fully paid. Thereafter, World Class and Canntab will co-own the machinery and will share the net profit generated from the JV, 50/50.
"Canntab has placed its trust in our technology, people and our breadth of knowledge and experience in the cannabis and hemp extraction and processing space," stated Rosy Mondin, CEO of World-Class when the JV was first announced, "Our World-Class team has spent the last half-decade concentrating on R&D to bring leading technology and solutions to cannabis and hemp oil extraction. The Joint Venture will generate recurring revenue."
World Class and Canntab expect to generate revenue from the extraction and processing of cannabis and hemp supplied by Canntab and other third-parties using World Class's biomass extraction and processing systems.
World Class has begun to deliver the BOSS C02 Extraction Systems along with peripheral equipment to Canntab's Markham facility.  The facility is fully scalable – further BOSS systems are expected to be deployed as demand increases.
"We look forward to supporting Canntab's growth," stated Mondin, "Canntab and World-Class are targeting a multi-billion dollar high-growth market characterized by considerable barriers to entry and increased outsourcing need. Our relationship represents a long-term opportunity, and both Canntab and World Class expect to generate revenue from these operations in 2020."
Last December, Equity Guru principal Chris Parry toured the WCE extractor factory in BC's lower mainland.
"Mondin's team is building out BOSS extraction units for sale, and BEAST extraction units for her own company's use," reported Parry, "What once was a business model aiming at putting one of their machines in every LP is now a company aiming to take all the cheap weed those companies would like extracted, and doing it themselves, in a return for a piece of the action."
There are plans to build a facility that can take anyone's hemp or cannabis, extract it quickly, and even clean up extraction materials that are low quality or dirty. That's a novel play – Chris Parry
"We believe extraction represents a large – if not the largest – growth sector in the industry," states Mondin, "Extraction is the fundamental first step to produce these value-added cannabis/hemp-derivative products – and World-Class is poised to capitalize on this shifting consumer preference."
"Without extraction, cultivators are at risk of watching their inventory degrade and spoil," stated Mondin, "To unlock the value of this biomass and create shelf-stable products, extraction and processing is necessary."
World-Class 2020 objectives:
To design, build, and operate full-scale extraction and processing centres
Create more revenue-sharing partnerships
Develop, produce, and distribute cannabis and hemp concentrates
Create value-added products.
Reduce investment risk
Leverage existing infrastructure and core commercialization that competitors lack
Provide fee-based services including
biomass storage
oil production (biomass preparation and extraction technologies)
crude oil processing and refinement (premium concentrates and isolates, including THC, CBD and full-spectrum oils)
End-product manufacturing (formulation, hardware and packaging).
To date, WCE has announced the deployment of three cannabis processing centres – two in Canada and one in California.
"The agreement with World Class will give Canntab the ability to do extensive work on fractional distillation and isolation for our cutting-edge formulation with individual cannabinoids using chromatography, paving the way for problem-solving medications," stated Jeff Renwick, CEO at Canntab.
Full Disclosure: World Class is an Equity Guru marketing client