The quarterly financials news release just put out by Aurora Cannabis (ACB.T) isn't exactly hype. It reflects a company coming to grips with the fact that it planned for a market that hasn't emerged, that it has been one of the slowest to figure that out, and that there's pain to come.
"Despite delivering modest growth in our core medical and consumer business in Q2, we took immediate and deliberate actions to align our Company to current market conditions," said Michael Singer, Executive Chairman and Interim CEO, Aurora Cannabis. "As announced last week, being a profitable cannabis company for our investors is the singular near-term focus for Aurora and we have begun to implement a business transformation plan where we intend to manage the business with a high degree of fiscal discipline."
That sounds great. 'Rough numbers but we're already making the fixes,' as Equity.Guru predicted a week ago.
We didn't predict this, however:
I'd like to intro you to $ACB President Steve Doblers daughter in Katie Dobler. Her title is Product Education Coordinator. I've talked to many $ACB employees who don't know what she even does expect fly around in private jets going to parties on $ACB shareholders dime #PotStocks pic.twitter.com/t8tILlovlF

— Betting Bruiser (@BettingBruiser) February 12, 2020
Yes, that's an Aurora laptop in the background, on the private jet the President's daughter is enjoying in the executive role she got coming off a three-year job as 'free and easy traveler'.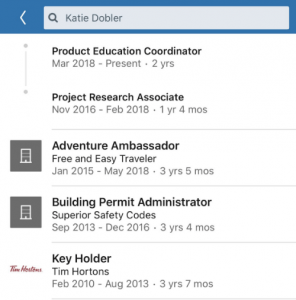 While employees were being laid off last Friday, she was on her IG account banging out pictures of a fancy night out. That account, now switched to private, along with her Twitter account, was a collection of images of Katie jet-setting around the world, presumably on ACB's dime, while, I guess, 'coordinating product education'?
If we're being honest, that plane was probably already going to some location around the globe where ACB does business, whether she was on it or not. Her catching a free trip out of it is less a heavy burden on Aurora's bottom line as it is a supremely gross piece of optics for a company that is burning through hundreds of millions of investor capital.
WTF. My #ACB stocks are down 70% and this chick is flying around on private jets? Ridiculous.

— Gemmeneye (@gemmeneye) February 13, 2020
Let's be honest, if there's a weed company out there somewhere that hasn't slipped the President's son or the Chairman's daughter a cushy gig, frankly, I'm not aware of it. The outrage this tweet has drawn is of a scope far larger than it deserves, mostly because it's a really shitty look while employees are taking their belongings home in cardboard boxes, and undercuts the message ACB is trying to sell to the market, that they've got their finances under control and are doing everything they can to keep them there.
Speaking of finances, let's get to those.
After product returns (of which there's about $10 million worth, current and expected), consumer cannabis revenues were down from $30 million to $22.9 million this quarter, with a roughly 10% price drop thrown in.
Wholesale revs went from $10.3 million last quarter to $2.4 million, and the prices Aurora sold for in the wholesale space dropped a whopping 45%.
Medical cannabis revenues were down 10% and the number of registered patients dropped.
Total net revenues were down from from $75 million to $56 million.
That's HARD DOWN.
A few quarters back, Aurora was projecting quarterly revenues of $100 milli0n.
ACB blames this disparity on slow government roll out of dispensaries (despite its home province of Alberta having several hundred of them) and market conditions that their competitors are all facing, but the simple fact of the matter is ACB is getting around a THIRD of their product returned in real dollar terms. That means they either REALLY suck at growing weed, or they really sucked at figuring out what the market was going to look like when planning their business. Neither is an excuse, and one is a real problem.
That's probably well illustrated by the fact they boast $216 million worth of biological assets currently, which is up from $178 million last quarter. Not only are they getting product back, they have more coming that, realistically, there's no market for.
They also have a bunch of money borrowed, which has weighed heavily on their stock price for some time.
$50 million revolving facility, of which $2 million was drawn as of December 31, 2019
$162 million of fully drawn senior secured term loans
US$345 million of senior unsecured convertible debentures due February 2024
Aurora isn't going to zero, but it is in a situation where it NEEDS to bring in revenue, and hard, because it's not currently covering its costs, let alone its debts.
On that:
Kilograms produced: 30.6k
Kilograms sold: 9.5k
How much does it cost for Aurora to keep the lights on?
Q2 2020 SG&A increased by 23% to $99.9 million from the prior quarter.
Christ on a bike. Where'd all that money go?
The increase was primarily driven by a rise in salaries and benefits due to targeted growth in corporate headcount and annual merit increases, investments in educational marketing campaigns related to the launch of Cannabis 2.0 products, and marketing initiatives related to the launch of the Aurora Drift brand.
'Investments in educational marketing?' I guess you'd need a Product Education Coordinator for all that education..
Those costs are where Aurora hopes/expects to work out their fix.
On February 6, 2020, Aurora announced decisive action effective immediately to reduce SG&A expenses from the Q2 2020 levels, and expects to manage the business with an SG&A expense run-rate of between $40 million to $45 million per quarter exiting Q4 2020 (June 30, 2020).
Taking $50 million per quarter off the SG&A line in four months is going to be a Herculean effort.
One might expect the position of Product Education Coordinator to be one of the first to go.
— Chris Parry
FULL DISCLOSURE: No commercial dog in this fight.