Namaste Technologies (N.C) has been working hard to get Q1 financials together for some time, a task made harder by the fact their previous CEO, a sentient man-bun with arms and legs by the name of Sean Dollinger, ran the company in the manner of a Kowloon brothel.
Namaste, was at one point announcing new acquisitions weekly, usually in all-stock deals, for assets as wide ranging as delivery services, online portals, and ecommerce software.
Those were the salad days – more recently, new management had to write those assets down (and sometimes off) when the auditors showed up and started tapping their feet in frustration.
Today, Namaste's investors signed off on two sets of financials. None of them were great, but only one of them saw a news release. One can only assume the others, which were the worse of the two, were slid out in the hope nobody would read them.
Well, we read them.
Q1 revenue: $4.5 million, down from $5.6 million a year earlier.

Q1 cost of goods: $3.6 million, down from $3.8 million a year earlier.
Hey, that's not bad. A gross profit! Amazing! Maybe they can build on nope they can't, it's all gone to hell, Jesus Christ, please stick forks in my eye.
Q1 general and https://e4njohordzs.exactdn.com/wp-content/uploads/2021/10/tnw8sVO3j-2.pngistration expenses: $11.7 million, up from $5.4 million a year earlier.

Q1 net loss: $10.2 million, up from $3.3 million a year earlier.
Shares out are interesting too, as they're at 308 million, up 50% from a year earlier, courtesy of all those 'amazing' deals for assets that, it turns out, aren't worth anything.
Wait – saying they're not worth 'anything' isn't correct. Why, their operation in New Zealand brought $119k, up from $71k a year earlier.
Progress?
Namaste announced it was going into New Zealand in 2016, so to make so little money from the venture in three years isn't a great look, especially when it was sold like this, by former exec Kory Zelickson:
As well, expansion into new markets: we've really locked down the European market, Australia and New Zealand are the next biggest markets for us that are still growing.
Still growing or nah?
They pulled $141k out of Israel, where they had a deal with Cannbit. Let's see how that's going nope it's not going so hot oh god.

Oh.
Cool.
Well, at least they have the burgeoning US market, where the money is printed with goldleaf in the vape market. We're minting dough in the US, it's amazing!
US revs Q1 2018: $1.14 million.

US revs Q1 2019: $0.14 million.
Brazil though!
They made $600k+ in Q1 in Brazil!
The company has been advised that the National Heath Surveillance Agency (Anvisa) in Brazil has identified irregular on-line advertising of certain tobacco products on a website operated by Namaste and has advised that it is proposing to commence https://e4njohordzs.exactdn.com/wp-content/uploads/2021/10/tnw8sVO3j-2.pngistrative proceedings in relation to same.

In light of this and to ensure continuing compliance and operational efficiency, the company has decided to temporarily suspend the sale of all of its products in Brazil pending a full compliance review with external counsel and other advisers.
The one thing the company ever did well, other than delete the CEO's livestream clips, was raise a shedload of financing when the stock price was high. That's got $60m sitting in their bank account right now, which doesn't suck, especially with the stock down 6x from the financing price.
That said, the company bought back 8% of its shares for $1.11. The price today is $0.55. Oof.
Still, the company agreed a supply deal with Supreme Cannabis (FIRE.T), to supply them a load of product, so business must be okay there, right?
Purchase commitment
CannMart Inc. entered into a definitive supply agreement with 8528934 Canada Ltd. d/b/a 7ACRES ("the seller") dated January 24, 2018 under which it committed to purchase a minimum annual quantity of 1,000 kilograms of premium dried cannabis flower at $6 per gram within the calendar year 2018.

The Company is currently disputing its obligations to the seller under the definitive supply agreement and the amount payable thereunder remains uncertain at this time.
I mean… I can't even.
Pay your damned bills, Namaste.
[deep breath]
Well let's shake that off and move to the financials that count now, the Q2 show, which is so great Namaste used it to throw folks off the scent of Q1. Take it away, Namaste!
Q2 revenue: $4 million, down from $4.5m in Q1

Q2 cost of sales: $3.1 million, down from $3.6m in Q1.
Revenues dropping, but gross profit once again!
Q2 general and https://e4njohordzs.exactdn.com/wp-content/uploads/2021/10/tnw8sVO3j-2.pngistration expenses: $9.8 million, down from $11.1 million in Q1 earlier.

Q2 net loss: $8.6 million, down from $10.2 million in Q1.
Cash is down to $55m. Plenty of runway but the market doesn't like continued losses, especially with dropping sales numbers.
They lost $18.9 million SO FAR in 2019. 
BUT!
They have Cannmart, the Canadian online sales platform that, we were told for several years, would one day be the 'Amazon of cannabis' – none of this matters when, clearly, Cannmart is going gangbusters and blowing weed out all over the country?
Right?
Wrong.
$148k in sales over the six months of 2019 so far, for a $754k loss.
Good grief. This is the jewel in Namaste's crown, the only thing that has really been set in hearts and minds of investors as the excuse for any and all bad deeds performed previously.
"Yeah, it sucks that the CEO was run out of town on a rail for self-dealing, but AT LEAST THEY HAVE CANNMART!"
Cannmart is horseshit.
And Namaste MD, the medical patient platform, is also horseshit, good for $96k in sales and a $562k loss.
Pineapple Express? Choklat?
Even Namaste Vapes, which actually has sales, blows through almost the equivalent in net losses. The Australian vape site *only* loses the equivalent of 15% of its revenues, and that's as good as it gets.
Book it: THERE'S NOTHING OF VALUE IN THIS COMPANY.
And that's a problem because the market cap, even with a share chart that looks like this, is $160 million.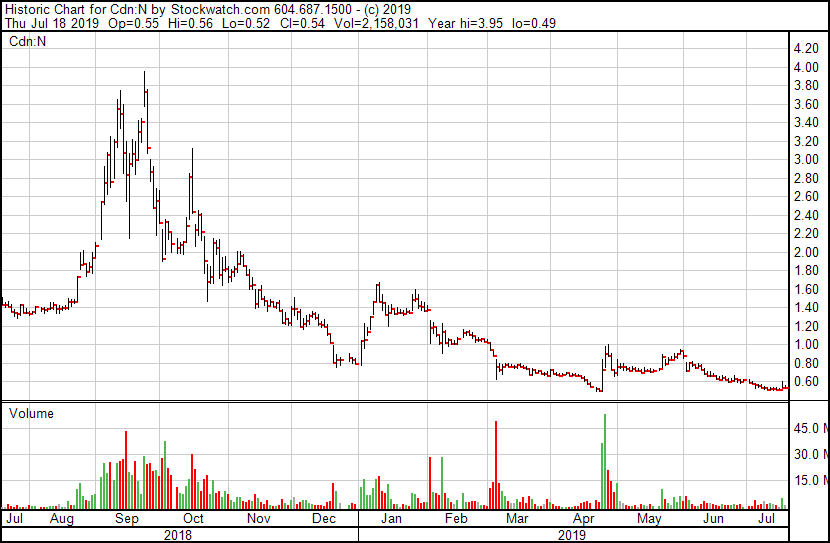 For comparison:
Companies with a smaller market cap than Namaste that actually have assets:

Vivo (VIVO.V) $144m
Harvest One (HVT.V) $134m
Rubicon Organics (ROMJ.C) $110m
Sproutly (SPR.C) $94m
Eve & Co. (EVE.C) $90m
Delta 9 (NINE.V) $85m
Ravenquest (RQB.C) $53m
Invictus MD (GENE.V) $47m
Biome Grow (BIO.C) $37m
Experion (EXP.V) $23m
Pure Global (PURE.V) $15m
For mine, the correct valuation of Namaste should be $55 million: The cash it has left on hand.
That would put it just above GTEC in the list above, and be good for a share price of around $0.20, as opposed to the $0.55 currently.
And that's before we even get into the $90m lawsuit filed against the company for breach of contract, a class action lawsuit in the US over the divestiture of assets to the former CEO and his lie that the company was headed to the Nasdaq, and a putative action in another court in Canada.
On October 22, 2018, a second securities class action was filed in the United States District Court, Central District of California against the Company and certain officers of the Company alleging false or misleading statements in violation of U.S. federal securities laws relating to the Company's December 2017 sale of Dollinger US and the Company's application for listing on the NASDAQ.
The stock promoter class have been banging out pieces minutes after the company dropped its financials, claiming Namaste is set to bounce out of this mess now that the dust has cleared. What a load of bullshit.
Namaste Technologies looks to a brighter future as it aims to be the world's leading cannabis marketplace
For real, Proactive Investors? Really?
"We are, essentially, inventing an industry," interim CEO Meni Morim told Proactive in an interview. "Investors need to have faith and they do. We are currently building something that doesn't exist."
That's true. The problem is, they've been building that thing that doesn't exist, and telling investors it DID exist, for years. Now they're back to 'building'?
The Toronto-based company, which has been described as the "Amazon of cannabis," [oh for fuck's sake] operates the largest global cannabis e-commerce platform [this is not true] with over 30 websites in more than 20 countries under a variety of brands, through its licensed subsidiary CannMart Inc. [which earned, again, $148k last quarter]

That is not to mention, as well, its efforts in artificial intelligence, cannabis strain research and a global telemedicine app, plus sales of medical cannabis from its facility in Toronto.
I can't even with this bullshit. "This is a NEW COMPANY," claims the interim CEO, and yet they're right back to the same bullshit brags they've been tossing about for years, brags that aren't true, brags that are harpooned by their own (late) numbers.
The Amazon of Cannabis! Cutting edge telemedicine! Artificial intelligence!
Here's a concept: Sell some fucking weed already.
A medical patient in greater Toronto could feasibly learn about medical cannabis, schedule an appointment on the same day with a nurse practitioner, and get it delivered to their door by 5 pm, all under the Namaste umbrella.
Yeah! They 'feasibly' could.
But they aren't. And that's why Namaste is trying to wriggle out of its supply deal with Supreme Cannabis. It's why they're shuttering international sites. It's why all of their verticals are losing money – ALL OF THEM.
I started hating on Namaste because their former CEO was, in my opinion, a liar and a self-dealer who saw investors out of their hard-earned cash. Also, because he has a man-bun, but not a jury in the world would convict me on that front.
But, today, I hate Namaste again, because the bullshit they're spinning in the wake of their late financials, and the way they tried to smuggle Q1 in behind Q2, tells me they're still playing stupid games with the truth.
This was the company that told investors, if they held on to their stock while it dropped, they'd throw them a night club party. Today it's clear, they're just a few sexy nurses short of that mindset.
https://equity.guru/2018/05/18/namaste-technologies-n-v-will-buy-beer-dont-sell-stock-blown/
Screw this pack of cheats.
— Chris Parry
FULL DISCLOSURE: Not a client. Supreme, GTEC and Biome are, though.