Supreme Cannabis (FIRE.T) is clearing the final hurdles with Health Canada to make marijuana extracts a reality north of the border, setting the stage for a major production boost in a sub-industry worth billions.
In a Tuesday press release, Supreme said it was on track to meet Health Canada's amended cannabis regulations for edibles, extracts and topicals. The new regulations are aligned with Supreme's product strategy and will allow the company to enter the high-profile extracts market in the near future.
Although Health Canada's new regulations won't be implemented until Oct. 17, 2019, Supreme Cannabis has already made significant investments in the extracts market and is well positioned meet new consumer safety standards.
Health Canada's amendment is surprisingly coherent and transparent (probably because it was driven by an expert task force on cannabis). Basically, the feds say they want to support a diverse cannabis market that will finally offset illegal sales.
To that we say good luck. Legal cannabis products still face a hefty mark up compared to what you can find on the street…or so I hear.
Straight from the horse's mouth:
"In keeping with the federal government's public health approach to the legalization and strict regulation of cannabis, the amended regulations seek to reduce the health risks of these cannabis products. At the same time, the amendments provide for a broad diversity of cannabis products, which will help displace the illegal market."
Dhaliwal: we are prepared
Navdeep Dhaliwal, Supreme Cannabis CEO, says his company is already well ahead of the curve when it comes to thinking about consumer safety in the still-emerging extracts market. It probably helps that Supreme recently signed a major agreement with Pax Labs to sell and supply branded vapes once they become legal in October of this year.
You can read why this is a big deal in Joseph Morton's painstakingly detailed analysis of the technology behind Pax brands, but I'll also leave you with this: Only four licensed producers in this country supply cannabis pods for the PAX vaporizer, and Supreme is one of them (well, its wholly-owned 7ACRES subsidiary is one of them).
PAX has already sold 1.5 million devices around the globe, according to Supreme's press release.
If we use the U.S. market as a test-case for what we can expect in Canada, then at least a third of marijuana industry sales will likely come from extracts, according to Dhaliwal. But as we'll soon find out, that figure is probably a lot higher.
"Supreme Cannabis has positioned brands, secured partnerships and developed inputs to address this meaningful segment of the market and introduce high-quality cannabis products as early as possible," Dhaliwal added.
Extracts explosion is coming
Just how big is Canada's cannabis extracts market? Recent estimates put it at 50% of the overall marijuana industry.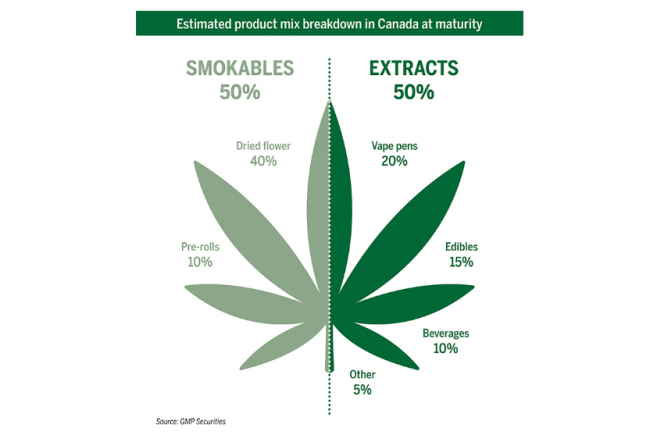 Vape pens will account for 20% of the extracts market, followed by edibles (15%) and beverages (10%), according to research from GMP Securities.
Deloitte says infused cannabis products like edibles will be worth CAD$2.7 billion in Canada, but that only a few companies will reap the rewards initially because of supply shortfalls and license backlogs.
It won't be long before Supreme's partnership with Pax pays dividends. If we assume the GMP and Deloitte figures are accurate, we can expect vape pens to account for more than $500 million in sales each year. Supreme has done its homework and is targeting the most lucrative corners of the extracts market.
Shares of Supreme Cannabis have experienced a beat-down over the past three months, which is not unlike the broader marijuana industry. At CAD$1.55 per share, FIRE could be a steal ahead of the extracts boom.
Keeping an eye on this stock ahead of October legalization is probably worthwhile. And if you value growth opportunities more than your average cup of Tim's, FIRE might be an option worth considering.
— Sam Bourgi
Full Disclosure: Supreme Cannabis is an Equity.Guru marketing client.