According to its latest press release, Hiku (HIKU.C) is "focused on building a portfolio of iconic, engaging cannabis brands, unsurpassed retail experiences, and handcrafted cannabis production."
We wrote about Hiku on the first day it traded (August 9, 2017) – back when it was called "Doja Cannabis".
At that time, the weed sector was cluttered with growing applicants, downstream lab services, clinic franchises and websites selling fluorescent oil vape pens.
There were also a few weed companies trying to figure out how to market cannabis products to recreational users.
For the most part, their efforts were clumsy and unconvincing.
Doja's CEO Trent Kitsch (from a wine growing family) had already scored a branding win in ultra-competitive men's underwear landscape.
In 2006, Kitsch went on a fishing expedition to Alaska, where his balls got stuck to his thighs.  He wondered, "Why isn't men's underwear more comfortable?" A former baseball player, he imagined "an upside-down catcher's mitt".

When he returned home to the Okanagan, BC, he collaborated with a clothes designer to create a "paneled fabric hammock" that separated his testicles from his legs. From this prototype, he built the SAXX Underwear company which he grew and then sold.
After one day as a public company, DOJA traded 767,896 shares, ending with a market cap of $41 million.
Hiku has expressed its branding vision clearly to investors, and the stock price has been rocking.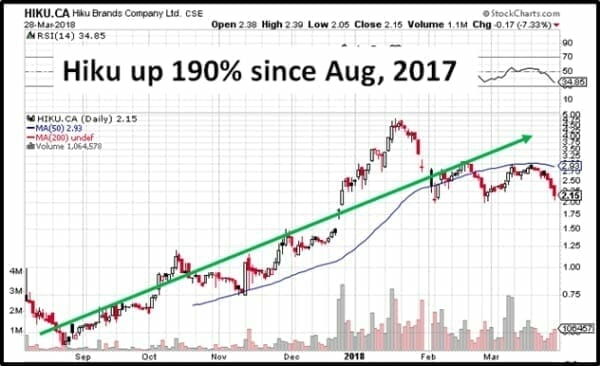 But here's where we got it wrong: we pictured Trent Kitsch in the back room of the family winery with a Foosball table and a cappuccino maker – cracking the whip over a bunch of marketing interns posting madly to Instagram.
But the story scaled up.
Trent Kitsch didn't say, "I'm the guy – follow me".
He said, "The branding opportunity is bigger than me, let's bring on more fire power."
On December 21, 2017, we noted that "Trent Kitsch agreed to a deal with Canada's most recognizable vape brand, Tokyo Smoke.
DOJA proposes ​to ​​acquire ​​all ​​of ​​the ​​issued and ​​outstanding ​​shares ​​in ​​the ​​capital ​​of ​​​Tokyo ​​Smoke. ​​The ​​Merger ​​will create ​​a ​​uniquely ​​positioned ​​cannabis ​​company ​​combining ​​a ​​best-in-class ​​craft ​​cannabis ​​producer ​​with ​​an award-winning ​​lifestyle ​​brand ​​and ​​retail-focused ​​cannabis ​​company."
The combination of Tokyo Smoke and BC-based DOJA brought together two premium lifestyle brands to serve the anticipated recreational cannabis market.
Doja changed its name to Hiku Brands, its ticker symbol to HIKU.C.  The new CEO is Alan Gertner – a strategy and operations guy from Google's Asia division.  Kitsch is now the President of Hiku.
The new hybrid company ramped up hard – releasing wave after wave of news.
On March 28, 2018, "health disruptor" dosist announced plans to collaborate with Hiku, joining forces to provide Canadians with a cutting-edge retail experience and access to dosist's dose-controlled vaporizer and its six targeted formulas.
Named one of Time Magazine's Best Inventions of 2016, dosist is a cannabis-based wellness company.
"Hiku and dosist are committed to helping consumers understand and access the benefits of cannabis in a safe manner," stated Alan Gertner, CEO of Hiku.
On March 21, 2018 Hiku bulked up its team adding, Joe Mimran to its advisory board.  Mr. Mimran is known for creating brands including Joe Fresh, Club Monaco, Alfred Sung and Caban.
Lacey Norton became the VP of Retail.  She headed up North American retail at Kit and Ace, and also The Lab at Lululemon.
Will Stewart joins Hiku as VP of Corporate Communications.  He's a veteran lobbyist and an expert in Canada's legal cannabis space
On March 15, 2018 Hiku began a collaboration with Jackman Reinvention, a "strategic and creative brand consultancy with deep experience in retail execution".
Jackman specialises in "research, analytics, business strategy, brand strategy, customer experience design, and in-market activation.
Hiku is also working with Van der Pop a female-focused cannabis branding company with an "editorial platform, weekly newsletter, social sites, product line and SESSION events.
Last fall, Van der Pop surveyed 1,530 women across North America, collecting information about consumer behavior and attitudes of female cannabis consumers.
Survey take-aways:
For women interested in trying cannabis, 90% claim the desire is for medicinal reasons
70% of women feel a friend's recommendation plays a key role in their purchase decision
42% stated their last cannabis purchase was spontaneous
39% of those who haven't tried cannabis listed not liking the idea of smoking as a primary reason
Only 10% of women cited anti-drug campaigns as a reason for not having tried cannabis.
On March 1, 2018 ,Hiku announced its wholly-owned subsidiary DOJA had completed Health Canada's Pre-Sales License Inspection of the West Kelowna facility.  This is the last step prior to the issuance of a Sales License under the ACMPR.
So, the upstream supply is coming online.
Two weeks early Tokyo Smoke was conditionally awarded one of only four master retail licenses in Manitoba's giving it a provisional green light to operate retail cannabis stores.
This is now a scalable model for expansion.
Hiku plans on participating in future licensing processes across the country under the Tokyo Smoke and DOJA brands and growing its national retail footprint.
"Branding is something all weed CEO's should think about", we wrote on August 9, 2017, "but they often don't – and there's a reason why: branding is an extremely difficult thing to learn".
Good branding means you don't have to get into price wars with competitors, or buy TV ads or lease billboards to sell your weed. 
With Hiku, branding is the story.
As we knew it would be.
We just didn't know it would get this big, this fast.
Full Disclosure: Hiku is an Equity Guru marketing client, and we own stock.