There are a few times in life when the world lets you know exactly what it thinks of you. You're hot.  You're not. You suck.  You don't.  No qualifications, no excuses, no counter-narratives.
A score card gets shoved in your face. The number on the card affects your future.
Trent Kitsch, the CEO of DOJA Cannabis Co. (DOJA.C) is about to have a moment like that.
On August 9, 2017 at 6:30 a.m. Vancouver time, DOJA will debut as a public company, trading on the Canadian Securities Exchange (CSE).
Eight hours later Kitsch will be handed a score card which will read: "After one day of trading, the value of your company is $_____ (58.8 million shares x "closing price".)
Before going public, DOJA completed a 3-cornered amalgamation by acquiring all the rights of legal cannabis producer Northern Lights.  DOJA is a cannabis lifestyle brand aiming to produce premium handcrafted strains in Canada.
Here's what we know about DOJA:  The CEO Trent Kitsch is ballsy and brilliant.
Example? In 2006, Kitsch went on a fishing expedition to Alaska, where his balls got stuck to his thighs.  He wondered, "Why isn't men's underwear more comfortable?" A former baseball player, he imagined "an upside-down catcher's mitt".
When he returned home to the Okanagan, BC, he collaborated with a clothes designer to create a "paneled fabric hammock" that separated his testicles from his legs. From this prototype, he built the SAXX Underwear company which he grew and then sold.
Underwear – weed.  What's the connection?
The connection is branding.  You see, the Kitsch family also operates a wildly successful winery and high-end construction company in Kelowna.
Branding is something all weed CEO's should think about – but they often don't – and there's a reason why: branding is an extremely difficult thing to learn – or even to understand. We have a young thespian friend with 2 million Instagram followers.  Yes, he's talented.  Yes, he's gorgeous.  But exactly how he got 2 million people to hang on his every word – is an unsolved mystery.
Good branding means you don't have to get into price wars with competitors, or buy TV ads or lease billboards to sell your weed.
DOJA's licensed production facility is located in the Okanagan Valley.  In October, 2016 DOJA purchased the land for a 7,100-square foot commercial building.   The company then began a Phase 1 build-out of the production facility capable of producing 660 kilograms ($7.9 million in sales) annually.
Health Canada conducted a Pre-License Inspection of DOJA's West Kelowna facility on May 2nd, 2017.  DOJA's wholly owned subsidiary Northern Lights Marijuana Company received its license to cultivate on June 16th, 2017.
The weed in the Phase 1 building is now planted and it looks like this:
"Going public on the CSE is a great achievement for DOJA," stated Kitsch, "With this larger stage, we now have the ability to reach a global investor base and we look forward to welcoming many new investors that share our vision for the future of cannabis."
It is worth noting that Kitsch's former businesses were in heavily regulated sectors. Yes – cannabis is about to be legal.  But the Canadian government is not going to bring a bag of fertilizer as a house-warming gift, and then turn its back.
Want evidence of Kitsch's savvy with government oversight? Watch him stick-handle Chris Parry's question about DOJA's relationship with Health Canada at 16:15 of this Twitch TV interview.
Sixty percent of DOJA's seed investors are rumoured to be Kelowna locals. That is a de-risking factor.  The Kitsch's are multi-generational royalty in Kelowna.  You can be damn sure the younger Kitsch does not want to be confronted by disgruntled investors while he and his Dad nibble venison carpaccio at Raudz Fine Dining.
"As an authentic premium cannabis lifestyle brand, we have established deep roots locally," confirmed Kitsch, "and we will take the brand beyond the Canadian border."
With $4.5 million cash in hand, DOJA will be able to complete a phase II expansion on their own land.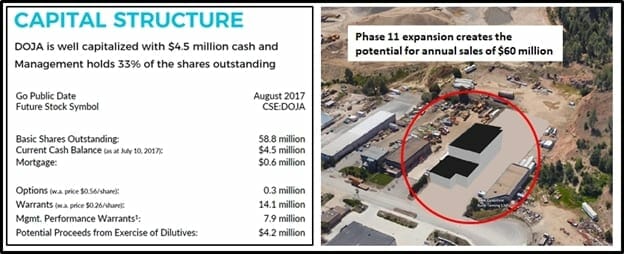 The CSE is a good home for weed companies. A lot of them are "moving" to that exchange.  Last week the CSE published clarifications regarding cannabis companies with assets south of the border.
"Companies with exposure to the U.S. cannabis industry need to provide a complete risk disclosure for investors", stated the CSE "including a comprehensive discussion of the current legal framework."
It's 2 a.m. in Vancouver now.  The air is smoky from wildfires. A tower fan oscillates. Texas blues on the radio. The mind wants coffee, the body – beer.
In the stillness of the night, it's tempting to try to predict DOJA's closing price later today. But as Warren Buffet stated, "We have long felt that the only value of stock forecasters is to make fortune-tellers look good."
The Government of Canada is targeting July 1, 2018 as the official start to a legalized recreational cannabis market. The base retail market is expected to be between $5 and $9 billion from demand of about 650,000 kilograms per year.
At 4:00 p.m. on August 9th, everyone can read Kitsch's scorecard.
He could be the X-factor that's going to send DOJA skyward.
[Editor's Note:  After one day as a public company, DOJA traded 767,896 shares, ending with a market cap of $41 million.]
— Lukas Kane
Full Disclosure:  DOJA is not a client of Equity Guru.
UPDATE: Yes, they are. 🙂

NB: Doja Cannabis ("DOJA") announced a name and symbol change on January 30th, 2018 as a result of its merger with TS Brandco Holdings Inc. ("Tokyo Smoke"). Effective 31 January 2018, the company trades as Hiku Brands under the ticker symbol HIKU.C