While the first snow recently dusted the streets of Vancouver, Sydneysiders have sweltered with temperatures soaring past 43 degrees Celcius (109°F) this past weekend. The financial glitterati are making the most of their last few weeks in the sun with one eye on the phone and the other on the kids.
Bigwigs are slugging it out on the back nine, trading desks are staffed by the mailroom and brokers are trying to grab some downtime at Palm Beach with their families. Meanwhile, the ASX has staged one of its notorious ambushes and weed stocks are flying in both directions.
A few days back we highlighted last weeks wild moves in the weed space. Let's investigate further.
The 10 second read..
Medlab Clinical shareholders be liking 2018 already
BOD Australia inks deal with SGX listed Pharma outfit
Why I'm glad to have sold Creso Pharma
Stranger Things (hint: Nothing to do with Netflix)
---
Medlab Clinical (MDC.ASX) breaks out on license approval
MDC shareholders suffered the breakout blues in 2017 with the stock moving sideways for the entire year.
New year – new luck. Their invitation to the pot party was late but has finally arrived, thankfully.
Today the company announced that they have received the green light from the Victorian State Government to sell and supply cannabis (CBD and/or THC) in Australia.
The market wasted no time in marking the stock up 27%, closing at $1.03. Best. Close. Ever
Back on July 12th, 2017 we took a closer look at MDC and essentially asked, "Is it a good investment?"
The conclusion we reached was:
With a solid market cap and various revenue streams, this is no pie-in-the-sky operation. A convincing break above the recent trading range should usher in further gains in short order.

Add this one to your watchlist if you're interested in the sector.
The stock has now broken out above the aforementioned trading range with conviction.
---
BOD Australia (BDA.ASX) signs exclusive deal with iX Biopharma Ltd
While the newswire is running hot, let's check in with BOD Australia (BDA.ASX).
Under the agreement, Bod Australia will supply iX Biopharma with a range of medicinal cannabis extracts including oils and raw materials. These extracts will be utilised by iX Biopharma to create a unique natural medicine product delivered on iX Biopharma's proprietary WaferiX technology for use in the Company's Phase I Clinical trials.
Singapore based iX Biopharma (IXBIO.SP) describe themselves as "an innovative late-stage specialty pharmaceutical company with expertise in drug delivery and formulation."
The proprietary WaferiX technology of which they speak utilises a sublingual delivery mechanism to increase bio-availability.
Sublingual, from the Latin for "under the tongue", refers to the pharmacological route of administration by which substances diffuse into the blood through tissues under the tongue.
Bit of a mouthful but you get the gist.
So,
CBD wafers Under the tongue Clinical trials coming soon.
Investors likey. The chart, please.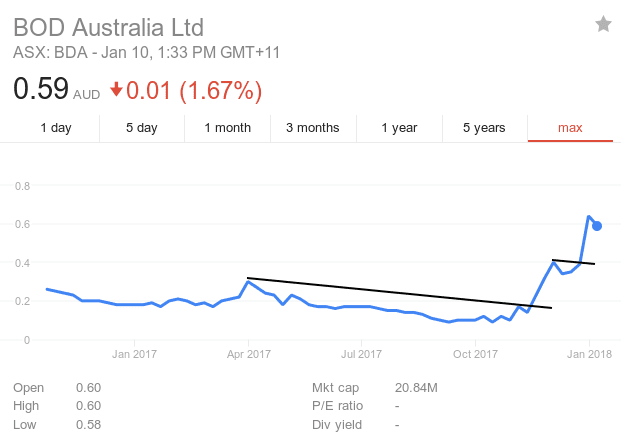 Nice. Some textbook setups there for anyone looking to get long.
---
Why I sold my Creso Pharma (CPH.ASX) yesterday
Here at Equity Guru we don't tell you what to buy or sell, that's your decision. But we believe transparency is critical to our reputation. (The boss demands it!).
Yesterday3 I sold my CPH for $1.03 after holding the position for 6 months with an average cost of $0.55. I'm OK with that, even if the stock takes off again without me on-board.
It was time to ring the cash register on this one, slamming the stop button on the manic escalator which had been going in both directions for the past six weeks. Didn't catch the top (rarely do) but banked a profit and freed up some capital which I feel can be put to better use.
That's never a bad play in our books, in fact, one of the secrets to trading small-caps seems to be to sell into the often frequent price spikes if for no other reason than to take back your bait.
Truth be told, it was far from a graceful exit, but the entry saved me. Read that again.
Buying at the right price is vital!
Reaped a decent profit (87%) and now feel the weight of the world lifted with not having any skin in this name going forward. More on that below.
When I get around to jotting something down in the trading journal it will be this: "Next time you're fist pumping and emailing your trading buddies about a trip to Vegas, think about selling there and then."
I'm not a big believer in paper profits (or losses), which I attribute to my many years trading options (ETOs1)
Cold, hard cash baby! (in a few days, anyway)
I realised I had lost faith in management and the stock in general. That's as good as any reason to sell, but not the whole story. Let's dig deeper.
Here was my thinking:
1. Technically the stock looks fragile. Rallies aren't sticking.
I'm a technician first and foremost. We believe Area 51 and extra-terrestrial life both exist, and most of what you need to know about a stock can be gleaned from a chart (and a few tea leaves.)
Having watched CPH every day (can't help it – Sorry Sekota) I see every rally being sold into, which has led the stock to recently put in a lower high. (A quick primer: An uptrend is a series of higher highs and higher lows whereas a downtrend is a series of lower highs and lower lows.)
If the one dollar mark fails to hold in the next few days the recent lows around $0.80 will likely act as a magnet. As it stands, the signs are ominous for longs.
This has setup an interesting chart pattern known as a fractal. Mandelbrot aside, here's what Investopedia has to say about fractals
When many people think of fractals in the mathematical sense, they think of chaos theory and abstract mathematics. While these concepts do apply to the market (it being a nonlinear, dynamic system), most traders refer to fractals in a more literal sense. That is, as recurring patterns that can predict reversals among larger, more chaotic price movements.
Take a look at the chart below. See the two recent price spikes highlighted in blue? – note the 3-day pattern of an up day (blue) followed by a large trend up day and then completed with a red candle where the stock sells off during the day to finish below the days open.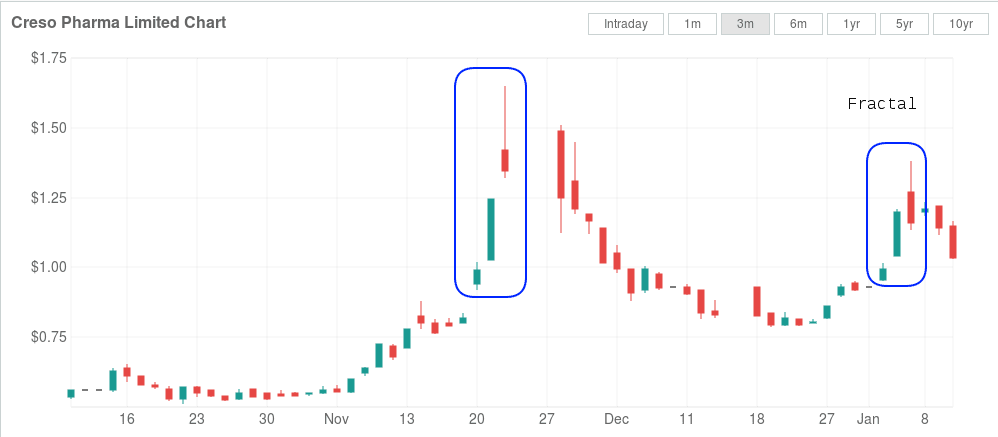 Source: Marketindex
This pattern,which appeared in November, has now repeated itself in the last week – that can signal a change in trend.
The stock is again sitting back where it was ($1.04) before last weeks price spike on the back of the federal governments' announcement of its intention to legalize medicinal cannabis exports.
2. Management's strategy is confusing the market
The seed (to sell) was planted a month ago when I read a comment on Hotcopper (the Aussie bullboard) as follows:
I've already posted the reasons that I disagree with their expansion strategy, so won't repeat it all here. In a nutshell, the best way to grow a new company is to focus on one or two markets and/or products, then springboard into new markets by leveraging that reputation/momentum/experience/network of contacts etc.

The worst way to grow a new company is to try and enter multiple geographic markets with an array of products, many of which have not yet even been created. Hotcopper: FraserJC
Keep in mind this is one persons opinion. Not ours, and you know what they say about opinions, right?
That said, this post encapsulates the major reason I feel CPH will struggle in the foreseeable future – they have deals on so many fronts yet how will these deals ultimately lead to profits?
The market is treating the company like the boy who cried wolf. Each new deal, when announced, is now met with a short price spike that rarely lasts a single trading session, and share rallies seem to last three days at most.
Tolerance can be defined as a person's diminished response to a drug that is the result of repeated use, and it appears the market is no longer tolerating the salvo of market announcements which Creso has released over the past months.
Want an example?
On Dec 18th 2017 after being halted for two days CPH came back online after announcing a Colombian Medicinal Cannabis Acquisition.
Here's how that trading day played out for CPH:
| Date | Close | Change | % Change | Open | High | Low | Volume |
| --- | --- | --- | --- | --- | --- | --- | --- |
| 18 Dec-2017 | $0.825 | -0.005 | -0.60% | $0.93 | $0.93 | $0.825 | 2,461,053 |
A nice pop on the open and sliding down the slope of hope to close on the low.
Slow clap.
3. The capital raising overhang is now a roadblock to higher prices
We covered the recent capital raising in detail and note this marks the third time (including IPO) Creso have asked the faithful to cough up money – a worry if this trend continues into the future.
Furthermore, it was, in our opinion, handled poorly from a shareholders perspective. Recall the stock was halted after closing at $1.34 on 22nd November 2017 (and mysteriously sold off 30c in afternoon trade that day. Hmmm), AUD 15.5m was raised @ $1.10 a share and the price collapsed below this threshold.
The company was then left with the arduous task of convincing retail investors to pay above market prices for stock in the Share Purchase Plan which was put out of its misery shortly before the holiday break, with a total of $358,994 raised. Folks, that's why underwriters exist, who in this case pocketed circa AUD 50K as an additional fee on the shortfall. Booyah!
The share price fell as low as $0.785 before staging a turnaround which culminated in last Fridays ST high of $1.38.
In short, price action which left a lot of people underwater.
Is it any wonder the stock saw selling once the price rose above $1.10? Not really.
How long will it take to clear the overhang where anyone who paid $1.10 or above tries to get out at break even?
No one knows, but it's fair to say there are plenty of shareholders with itchy trigger fingers when the price is north of this mark.
---
Stranger Things
When you've been around financial markets for a while (think decades) certain days stand out more than others.
Today was one such day.
• The news of Kodak soaring on announcing their entry into the cryptocurrency market had a strange whiff about it.
• Then the ASX 200 (XJO) index sold off after a positive lead from US markets. (raises eyebrows).
• Gold is holding nicely above USD 1300. We recently received an email asking if gold is still a viable investment, must get around to answering that soon 🙂
What happens in the next few weeks, as we close out January could well be pivotal.
–// Craig Amos
FULL DISCLOSURE: Having offloaded CPH.ASX the author continues to hold stock in The Hydroponics Company (THC.ASX). No companies mentioned in this article are Equity Guru marketing clients.
---
Footnotes:
1. ETOs (Exchange Traded Options) can't be shoved into the bottom drawer as come expiry day, they're worth something or, in many cases, nothing (Although traders rarely hold bought options until expiry unlike written options)
2. Charts: Google Finance + Marketindex. CPH trade data 18/12/17: Marketindex
3. ASX Trade Date: Wed 10/01/18 ; Settlement 12/01/18