Lancaster Resources (LCR.C) is a junior explorer focusing on transition metals to take advantage of the global shift towards decarbonization and electrification. The goal is to produce climate-positive lithium. The current focus is on its Alkali Flat Project, located in southwestern (and mining friendly) New Mexico, USA, within the Animas Valley.
Today Lancaster Resources announced the successful completion of a pivotal regulatory site visit at its Alkali Flat Lithium Brine Project in New Mexico. The site visit, conducted on November 14, included key staff from the Bureau of Land Management ('BLM') and the Energy, Minerals and Natural Resources Department ('EMNRD').
During the visit, the Lancaster team conducted a thorough walk-through of the proposed drilling locations and geophysical program. The visit provided a valuable opportunity for open discussions regarding the planned drilling activities, access requirements, and the full claim area geophysical work at the site.
A core focus of the discussions was the commitment of Lancaster Resources to minimize the environmental impact of its maiden drilling program and the subsequent full claim area geophysical Magnetotelluric program.
Lancaster Resources is actively working with BLM and EMNRD to establish proper and fit-for-purpose reclamation requirements. The company is fully aware of the need for expediency in its operations and the desire to leave no lasting impact on the environment while working towards obtaining the necessary approvals. Continued engagement with BLM, EMNRD, and all stakeholders is a priority for Lancaster Resources.
This successful site visit marks a significant milestone in the development of the Alkali Flat Lithium Brine Project.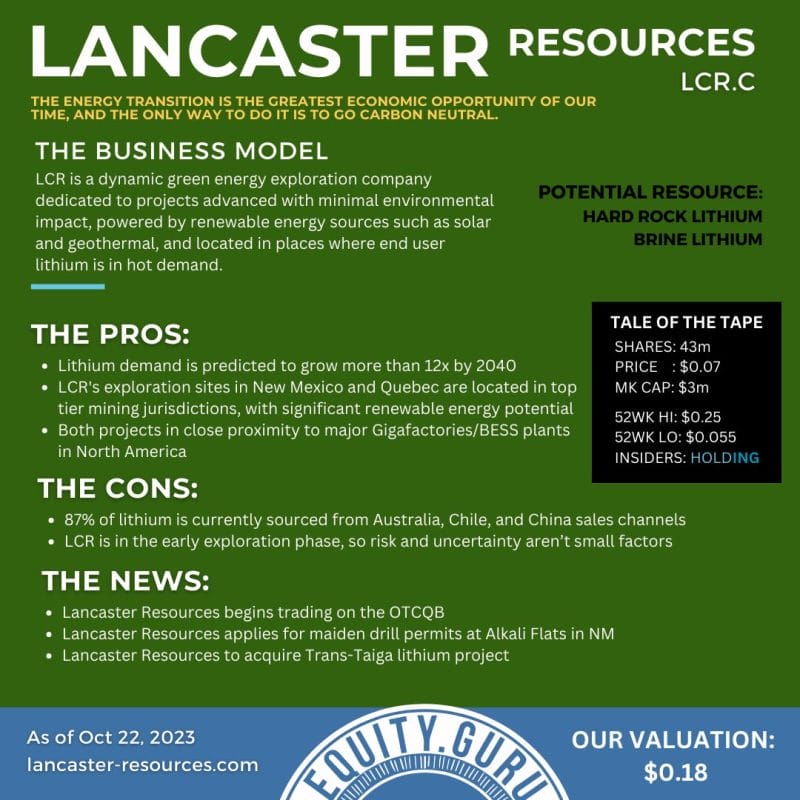 The stock has printed new lows hitting $0.04. From this low, the stock has begun to base and may even be in the early stages of a double bottom reversal pattern.
Selling pressure is showing exhaustion with this range. We also have some large green candles near support. $0.08 is the resistance zone the stock will need to break out of. Then watch for the downward sloping trendline to be taken out.