NioCorp Developments (NB.TO) is developing the Elk Creek Critical Minerals Project in Southeast Nebraska. This mine will produce strategic/critical minerals such as niobium, scandium and titanium. Several rare earths will also be produced from this mine. In fact, Elk Creek is the second largest indicated-or-better rare earth resource in the US.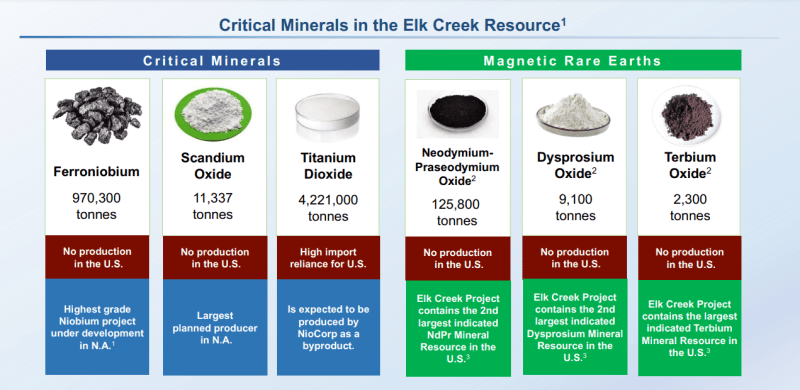 The big upcoming catalyst has been the acquisition of SPAC GX Acquisition Corp (GXII) which will see NioCorp listed on the US Nasdaq exchange and provide access to funds to advance the Elk Creek critical minerals project.
Today, NioCorp announced that it expects to have access to as much as US $71.9 million in net proceeds over the next three years following the completion of the transactions contemplated by the Business Combination Agreement, dated September 25, 2022 among NioCorp, GX Acquisition Corp. II and Big Red Merger Sub Ltd, and two separate financing deals with Yorkville Advisors Global, LP.
The transaction was approved by shareholders on March 15th 2023, and the deal is expected to close on Friday March 17th 2023. NioCorp's common shares are expected to begin trading on the Nasdaq on Tuesday March 21st 2023 under the ticker 'NB'.
NioCorp expects to receive approximately $15.28 million in gross proceeds from the Transaction.  Deal costs are anticipated to be approximately $20.3 million.  NioCorp expects to receive an additional $15.36 million in net proceeds from a separate convertible debt financing with Yorkville, and also expects to have access to up to an additional $61.6 million in net proceeds from a standby equity facility with Yorkville over the next three years, following the expected close of those transactions on Friday.  Total expected net proceeds from the Transaction and the Yorkville Financings are expected to be $71.9 million over the next three years.
"This transaction with GXII delivered to us several important benefits, including a ready pathway to an up-listing to the Nasdaq Stock Market, which is expected to allow additional institutional firms to invest in and trade in our stock for the first time.  Further, it has given NioCorp and the Elk Creek Project a much higher profile among institutional investors looking for promising projects in the critical materials space," said Mark A. Smith, CEO and Executive Chairman of NioCorp.

"While all of us would rather have seen higher proceeds from the GXII transaction, the cash infusion resulting from this deal, along with our financings with Yorkville, is expected allow us to continue to move the Elk Creek Project forward," said Mr. Smith.  "This Project is a strategically vital one for the United States, and we intend to continue to move it forward to full financing and a construction start as rapidly as possible."

Dean Kehler, Co-Chairman and CEO of GXII, said:  "Many new investors, including institutional and other large investment funds, are now expected to look more closely at NioCorp, particularly since the Company's stock is expected to begin trading on Nasdaq.  In my experience, even in volatile markets, hard assets that are expected to be strategic, long-lived, and valuable — such as the Elk Creek Project – are able to attract the capital necessary to unlock their value, both for investors and for the economic and national security of the United States."
The stock has sold off after hitting the major resistance zone at $1.50 and announcing a reverse stock split.
We are now testing an important support zone at the $1.10 level. Not only is it an area which saw a breakout in the recent past, it is close to our trendline, which is also being retested, AND is close to the major psychological $1.00 number. A lot of supportive confluences here.
Bulls should watch for signs of buying here. Ideally, a large green candle, or a candle with a large wick.
With shares to begin trading on the Nasdaq next week, NioCorp's stock will be open to many more investors around the world due to the easy accessibility of US stocks. Institutional investors included, given the US government's plan to kick start and invest in domestic vital projects such as Elk Creek given China's dominance in rare earths.