Skyharbour Resources (SYH.V) has announced that it has commenced its inaugural winter drill program at the 73,294 hectare Russell Lake Uranium Project strategically located in the central core of the Eastern Athabasca basin. A minimum of 10,000 metres of diamond drilling in 18 to 20 drill holes is planned with the campaign being fully funded and permitted.
The drilling crew and geologists are working out of an exploration camp on the Project located on the highway and within 5 kilometres of Denison Mines' Phoenix deposit.
This project is strategically located between Cameco's Key Lake and McArthur River Projects and adjoining Denison's Wheeler River Project to the west and Skyharbour's Moore Uranium Project to the east.
The meaningful exploration here was conducted prior to 2010, but has been the subject of over 95,000 metres of drilling in over 230 holes.
Jordan Trimble, President and CEO of Skyharbour, stated: "The commencement of our first diamond drill program at the Russell Lake Uranium Project is a key milestone for Skyharbour and its shareholders. This fully funded 10,000 m drill campaign will provide ample news flow well into the year as we advance the project using systematic and proven exploration methodologies coupled with new geological models and targeting strategies. We are confident in the discovery potential and exploration upside at Russell Lake given the high-grade mineralization in historical drill holes along with the many highly prospective target areas hosting the geology necessary for high-grade uranium deposition."

"Skyharbour is also excited to have additional news flow and catalysts from its prospect generator business consisting of seven partner companies advancing some of our other projects throughout the Athabasca Basin. Over the next year, the Company is anticipating the largest combined drilling and exploration programs at its primary projects of Russell and Moore, as well as at its partner-funded projects of East Preston, Hook Lake, Mann Lake, Yurchison, South Falcon East, Wallee and Usam."
At Russell Lake, Skyharbour's first phase of drilling will consist of 3,000 metres to follow up on notable historic exploration and findings, but will also test additional targets which have the potential to generate a new discovery. This phase of drilling will test previous identified prospective areas, including those which host high-grade uranium mineralization in historical drill holes. The Graying Zone is of particular interest, where drilling encountered an 800 m long discontinuous zone of uranium mineralization in a ~2,200 m section of thrust-faulted conductive basement rocks up to 100 m thick. Simple translation: an area which has the potential for high-grade uranium and a discovery.
The first phase will then be followed up by other phases of drilling totaling 10,000 metres in 18-20 drill holes. Skyharbour has released the drill program drill targets: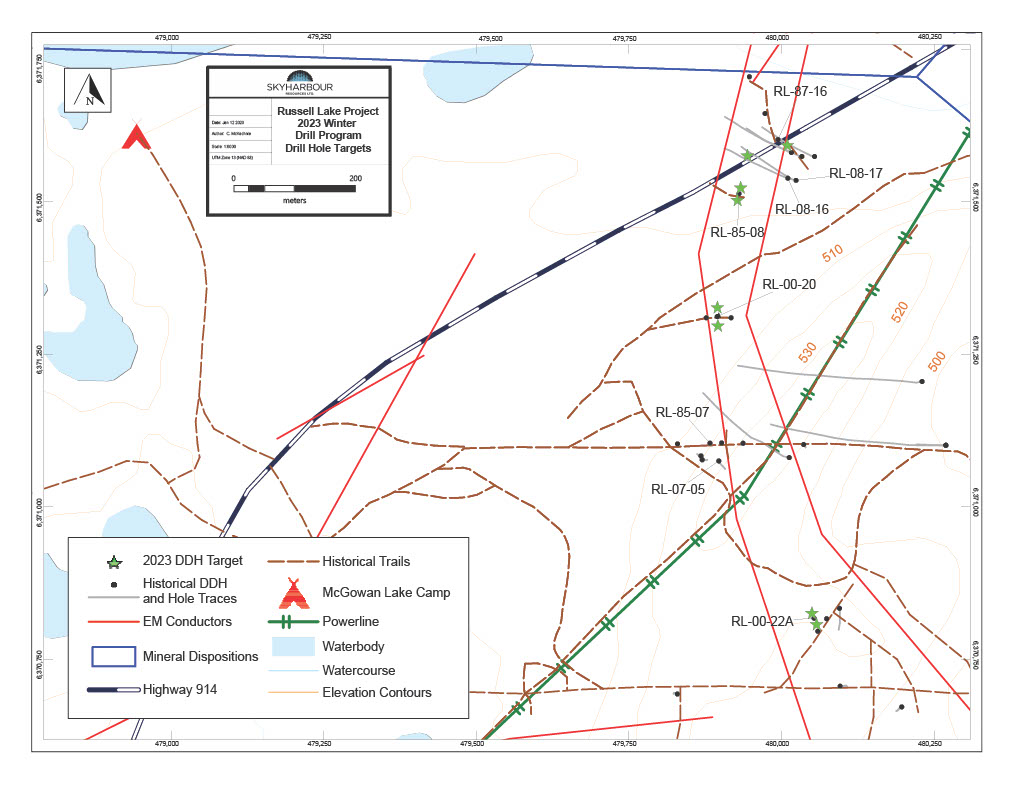 These targets have been inspired by Condor Consulting's geophysical and geological compilation and interpretation work. Historical data is being re-examined using modern processing and modeling techniques in order to generate and optimize regional drill targets for future drill programs on the property. Condor's extensive knowledge of the uranium deposits of the Athabasca Basin, world-wide experience, broad client base and advanced technical expertise make them the logical candidate to adequately assess the extensive collection of geophysical data on the property.
I recently did a technical video on Skyharbour. You can view it here:
The stock is currently up over 1.19% with over 49,000 shares traded.
More importantly, one of the technical criteria I laid in my video is on the verge of triggering. The stock has developed a pattern known as the double bottom very close to a major support level of $0.325. In recent days, we attempted to break above the neckline resistance of this double bottom pattern at $0.425. You can see that we are testing this resistance right now.
The trigger of this double bottom pattern requires a strong daily candle close over this resistance level. What comes next? Well, the double bottom pattern is a reversal pattern, so traders and investors should expect a new uptrend. A move up to the next resistance zone at the $0.60 zone.
The stock has very nice technicals which are supported with fundamental news. This drill program will result in more press releases and hence catalysts for the stock this year.