Skyharbour Resources (SYH.V) is a $50 million company that controls 15 uranium and thorium exploration projects in Canada's famed Athabasca Basin. Ten of the projects are drill-ready, covering over 450,000 hectares of land.
Today, Skyharbour announced plans for a multi-phased drill campaign at its recently optioned 73,294 hectare Russell Lake Uranium Project located in the Eastern Athabasca Basin. 10,000 metres of diamond drilling is to be completed over three phases by September of next year. This drill campaign is fully funded.
Jordan Trimble, President and CEO of Skyharbour, stated: "We are very excited to be announcing plans for our multi-phased, 10,000 m drill campaign at the Russell Lake Uranium Project. This is a key milestone for Skyharbour and will provide consistent news flow for the next year. Uranium properties with the pedigree and potential of Russell Lake are rare given the high-grade mineralization in historical drill holes coupled with the many highly prospective exploration targets that offer the potential to generate new discoveries scattered across the large project area."

"Furthermore, Skyharbour continues to grow its prospect generator business with several new partner companies optioning the South Falcon East, Wallee and Usam Projects. Over the next year, the Company is anticipating the largest combined drilling and exploration campaigns at its core projects of Russell and Moore, as well as at its partner-funded projects of East Preston, Hook Lake, Mann Lake, Yurchison, South Falcon East, Wallee and Usam."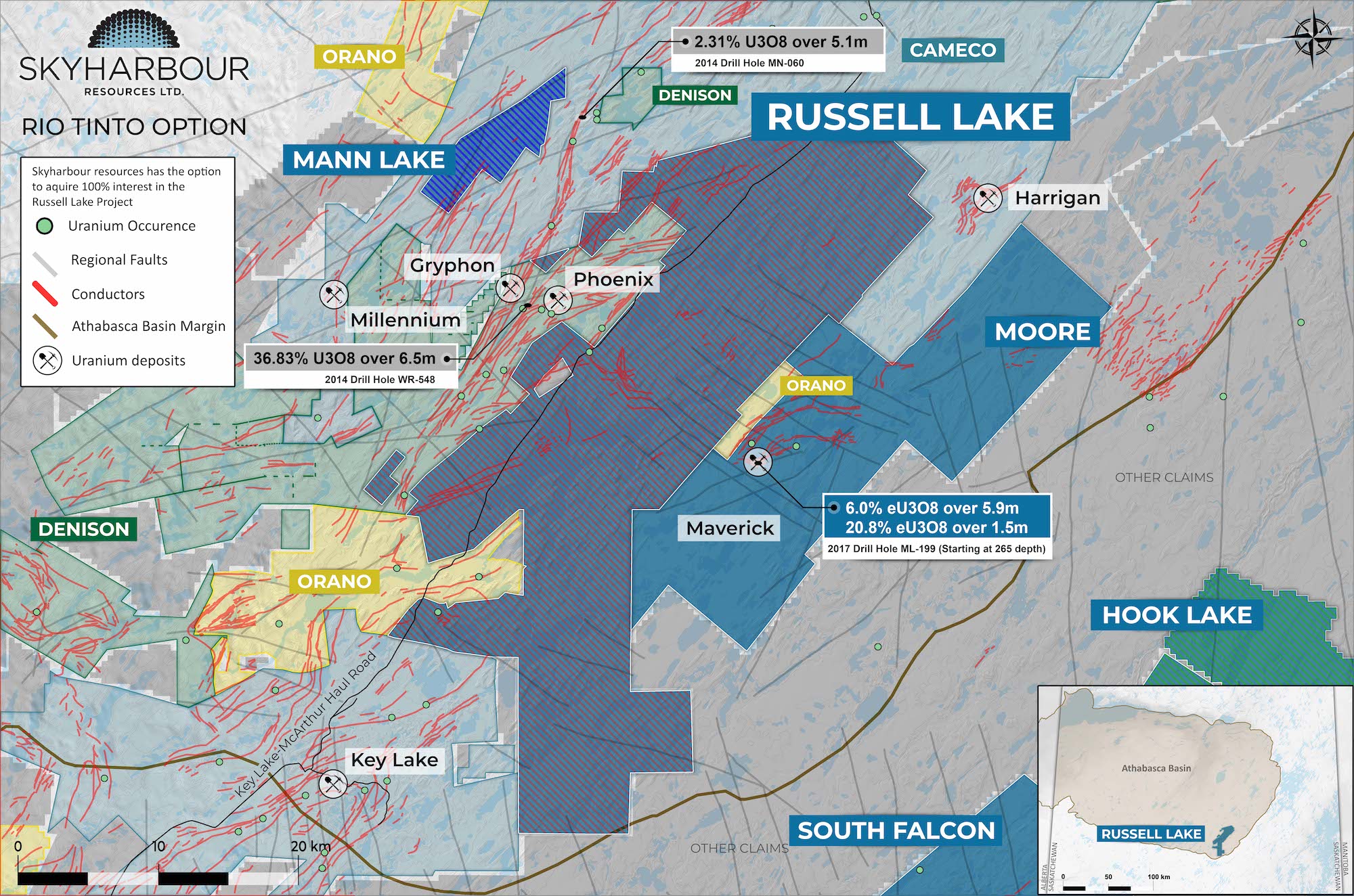 On May 19, 2022 Skyharbour announced that it has entered into an Option Agreement with Rio Tinto Exploration to acquire up to 100% of the Russell Lake Uranium Project which comprises 26 claims covering 73,294 hectares of prospective exploration ground strategically situated between the Company's Moore Uranium project (to the east) and Denison Mines' Wheeler River project (to the west). Skyharbour has the option to acquire an initial 51% and up to 100% of Rio Tinto's 73,294 ha Russell Lake Uranium Property strategically located in the central core of the Eastern Athabasca Basin of northern Saskatchewan.
The first 3,000 metre drill program will follow up on historic exploration as well as test targets with the potential for a new discovery. Previously identified target areas, some of which host high-grade uranium mineralization in historical drill holes, will be tested. An area known as the Grayling Zone is highly prospective.
After extensive compilation and review of the relevant exploration data, special attention was given to the structural setting of the geological, geochemical and geophysical data at the Grayling Zone for exploration purposes.  Wide spaced drilling revealed an 800 metre long discontinuous zone of uranium mineralization. The Grayling Zone also shares similar geological structure to Denison's adjacent Wheeler River Project and Skyharbour's adjacent flagship Moore Uranium Project.
Skyharbour Resources is the topic for our featured content here at Equity Guru. For more information on the company, check out my piece here.
And be sure to check out what the Investor Roundtable had to say about Skyharbour Resources: