Royal Helium Ltd. (RHC.V) one of the largest helium leaseholders in Canada, is up double digits on news of a new long term supply agreement. This agreement is with a major North American space launch company for the supply of helium. Initial deliveries under the supply agreement will begin in 2023.
Royal Helium also announced that supply and construction contracts for its initial processing facilities are currently being awarded in the same press release. Two initial facilities will be constructed. The first in Steveville, Alberta and the second at Climax, Saskatchewan.  The combined throughput capacity of the plants will be 20,000 mcf/day (20 million cubic feet per day gas input).
Andrew Davidson, President and CEO, Royal Helium comments, "We would like to thank our new partner for their substantial commitment to Royal Helium and Royal's low carbon helium production programs. Royal aims to be a leading, greener source of helium for the aerospace, high tech, medical, and manufacturing industries worldwide".
Recently on Equity Guru, Royal Helium was featured in our top Canadian helium stocks articles. We are bullish on helium due to the supply and demand constraints and imbalances.
You can hear our thoughts on Helium, and specifically Western Canada helium plays, in our investor roundtable:
Royal Helium itself has been making headlines in the Summer. Firstly, Royal Helium celebrated the close of the deal to acquire Imperial Helium. The Arrangement was approved at the special meeting of Imperial shareholders held on July 12, 2022 and by the Supreme Court of British Columbia on July 15, 2022. It was approved by shareholders of Imperial.
Mr. Andrew Davidson, President and CEO of Royal states, "We are very happy to have this transaction completed and we thank the shareholders of Imperial for voting in favour by such an overwhelming margin. With the transaction completed, we can now shift our full focus to commercializing the Climax and now Steveville helium fields."
The transaction closure adds near-production helium assets to Royal's portfolio of more than 1.0 million acres of prospective helium land in southwestern and south-east Saskatchewan that Royal controls.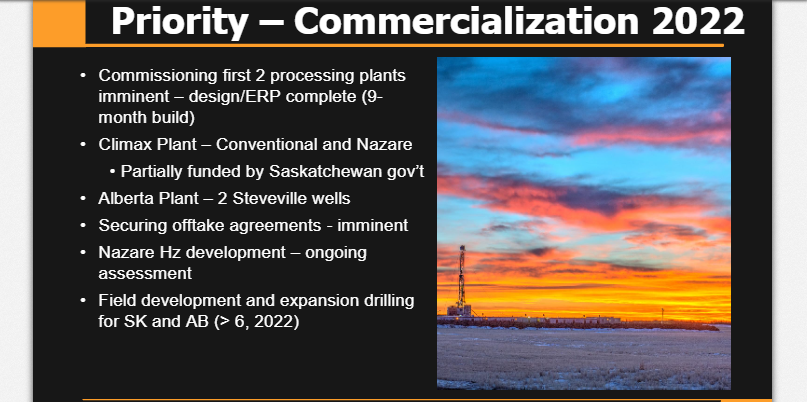 Before the announcement of this long term supply agreement, Royal Helium announced results from a recent sampling at the company's Climax project in Saskatchewan. Climax is one of ten main blocks in Royal's 348,908 hectares of prospective helium rights across Southern Saskatchewan.
Sample results from Climax included 84.9 mg/l lithium found in the underlying brine within the zone.
As such, Royal has provided notice to the Province of Saskatchewan that it intends to acquire lithium mineral rights with the aim of advancing a lithium brine project alongside the continuing helium development operations.
Andrew Davidson, company president and CEO, commented, "In the Climax-1 well, drilled in January, 2021, one of the zones that we tested showed significant inflows of brine water and gas. Samples of both were taken and sent to lab for assay, returning elevated levels of helium and significant concentrations of lithium in brine. With recorded lithium grades of 84.9 milligrams/litre, combined with flow rates in the range of 1.85 MMCF [million cubic feet] per day equivalent, Climax is set to not only become a cash generative helium play, but also now presents potential additional value to stakeholders with a lithium exploration and development project."
Today's news on announcing a long term supply agreement is better appreciated when one knows the current state of the helium market.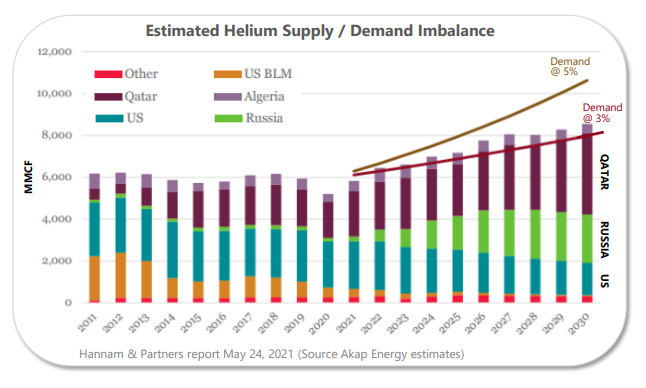 In a recent article, I went over the current fundamentals and why helium is one of the top commodity performers of 2022. Helium prices are blowing up as a helium shortage is developing given the current situation of rising costs and supply disruptions.
Phil Kornbuth, President of Kornbluth Helium Consulting, says 4 of the 5 major helium suppliers have implemented "formal allocations". Translation – they're basically triaging existing customers.  A company that is buying helium is getting somewhere between 45% and 65% of its historical volume depending on who their supplier is. Mr. Kornbuth also said that everything that could go wrong for helium has gone wrong in he first half of the year. War is one thing, but there have also been random fires and maintenance shutdowns.
Helium has many important applications. One intriguing thing for investors is the fact that helium cannot be substituted for many of these applications. These applications include helium being used to cool magnets in MRI machines and in manufacturing semiconductor chips. And yes, helium is also used in industries such as aerospace, fiber optics and welding.
The stock popped double digits on the news today with 3,241,869 shares traded at time of writing. The stock opened with a gap up at $0.42 and hit highs of $0.49.
From a technical perspective, the stock is breaking above a resistance zone I highlighted to readers. A new uptrend is beginning.
In terms of technical criteria, we have a resistance breakout, a cross over a moving average and a break above a downtrend line. Everything points at more highs. From a technical perspective, the breakout and uptrend can sustain momentum as long as price remains above $0.40. This $0.40 zone is the major support, or price floor, that bulls want to watch. To the upside, I would watch a break above $0.50 which is near recent resistance, and is a major psychological price level.
Big news for Royal Helium and the markets have reacted positively to the news. In terms of fundamentals, this long term supply agreement could be one of many given the current imbalances in the helium market. Royal Helium is positioned well in this current environment. Facilities are being built, and exploration and sampling will provide more catalysts for the stock. In terms of technicals, we have a bullish breakout.