Tiidal gaming is an esports and gaming platform company focused on owning and operating synergistic businesses focused on media and technology in the gaming ecosystem. Tiidal is focused on enabling competitive gaming and building the future of game-based entertainment. The company focuses on media and entertainment as they believe the key to success is engagement; both of their media and technology operations focus on increasing positive fan and consumer engagement and 10-X'ing the esports experience.
Tiidal has two wholly owned subsidiaries: Sportsflare and Lazarus.
Lazarus is (was) their media branch and a very successful Esports team.  Lazarus Esports is Canada's first established esports team and #1 ranked by historical winnings in Canada. Lazarus Esports is focused on developing the global gaming market and building authentic communities while supporting professional gamers and content creators at the highest level for greater success to be a bridge to the next generation of fan and consumer.
However, in a recent corporate strategic review of the company's direction and in an effort of maximize shareholder value, the board has determined it is in the best interests of the company to focus its efforts and resources exclusively on Sportsflare, and is embarking on the process of divesting its competitive esports team assets.
The sole business will be Sportsflare, and the company will be changing the company's name from Tiidal Gaming to "Sportsflare Ltd" once approved by shareholders. The name change is expected to be considered and approved by shareholders at Tiidal's next annual general and special meeting in Q4 2022.
"We have decided to put our undivided attention behind Sportsflare given the opportunity at hand and the amazing progress we have made with our esports betting products during the year," said Tom Hearne, CEO of Tiidal Gaming. "As we continue to scale, our focus will be to not only grow our technology portfolio but also, expand the distribution of our solutions to a wider audience globally in order to strengthen our footprint in the fast-growing esports industry."
Tiidal's technology side of things is branded as Sportsflare, creating new betting experiences for the esports era. Tiidal has a suite of unique betting products:
Personally, I find the Bet-on-yourself product as the most unique. In a gaming environment where there are so many highly skilled players, betting on yourself is one way for casual gamers to wager on their favorite games. It's hard to win in Fortnite for a casual player like me. I would rather bet on being a survivor in the top 10 or maybe how many players I take out.
Maybe you want to be a professional esports player? This is a great technology for serious players to set goals and develop as a professional player. It is cross platform for PC, Xbox and Playstation. Great because this means me and my friends can place bets regardless of the gaming platform. Nowadays many console gamers play with/against those on PC.
Here is a sample of the type of bets you would be able to put using Bet-on-yourself: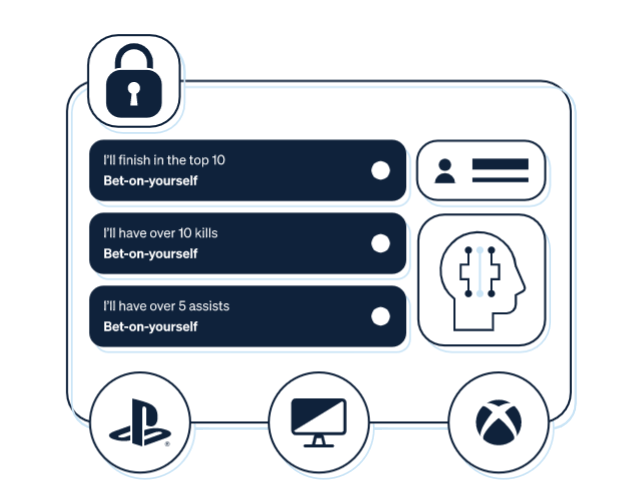 Tiidal's Bet-on-yourself technology integrates with Fortnite and Call of Duty Warzone. Fortnite accounts for 90% of bets, while Warzone accounts for 10%. Other games such as League of Legends, Dota 2 and Valorant are coming soon.
 Tiidal released its latest end-to-end eSports betting solution, featuring first-of-a-kind technology. Tiidal's eSports 3.0 will enable bettors to make flash bets on some of the most popular esports titles including League of Legends and Dota 2.
"Currently, we see a major disconnect between bettings odds and data streams in the industry. Esports 3.0 helps sportsbooks overcome this problem and as a result, puts Sportsflare in a unique position to capitalize on new opportunities," commented Max Polaczuk, Chief Technology Officer of Tiidal Gaming.
Our own Kieran Robertson explained flash bets in his Tiidal article:
So, what are flash bets? According to Tiidal, flash bets will allow bettors to place wagers on in-game outcomes, numerous times within a single match. In other words, rapid-fire betting. With this in mind, Tiidal's latest innovation will further strengthen the Company's position in the eSports betting market. Keep in mind that the global eSports betting market was valued at USD$66.98 billion in 2020.
On July 6th 2022, Tiidal Gaming entered into a licensing agreement with Bayes Esports Solutions GmbH, a leading data provide in the global esports industry in Germany.
Bayes Esports offers real time live data for titles such as League of Legends, Counter Strike, and Dota 2. They have developed BEDEX, the central hub for esports data, collecting and distributing official data from live esports events to bookmakers, broadcasting teams, esports organizations and media. Tiidal's Sportsflare will use live data from Bayes Esports for the development of the company's suite of esports odds products including Betbuilder, pre-match/in-play odds, and player proposition markets.
"We are pleased to sign a licensing agreement with Bayes Esports," said Max Polaczuk, Chief Technology Officer of Tiidal Gaming. "Odds providers often rely on unofficial and unreliable data scraping and we aim to fill that void through this agreement. Given the robustness of Bayes Esports' data, we will be able to provide sportsbooks with an enhanced end-to-end offering that is integrated with high quality data, which enables us to offer a more competitive product. We look forward to working with Bayes Esports and integrating their esports data with our odds offerings."
The stock has held up well given the major sell offs we have seen in global stock markets. During the major sell off, Tiidal has remained within a range between $0.07 as support and $0.125 as resistance. A range after a downtrend is positive as it indicates exhaustion of selling pressure.
Now, we need a technical break above $0.125 to begin a new uptrend. Notice I have drawn out a downtrend line as well. It would be another bullish confluence if we see this trendline be taken out. It would mean the end of the current downtrend.
But of course we NEED a catalyst to confirm this breakout. What could that be? Perhaps the market loves the rebrand and shift in strategic direction? But I think there is another major fundamental catalyst for the stock.
Ontario has become the first Canadian province to open a legal private online gambling market. As of April 4th 2022, People in Ontario can wager on casino games, sporting events and other gambling activities on apps and websites approved by the regulator. Ontario is the big market now, and companies are ramping up the advertising to grab a share of Canada's largest province. Sources estimate the Ontario market could be worth up to $800 million annually.
Tiidal is looking to be one of the companies with an iGaming license to operate in Ontario. Tiidal Gaming Canada applied to the Alcohol and Gaming Commission of Ontario (the "AGCO") to obtain the Gaming Related Supplier – Manufacturers License. The License will enable Sportsflare, the Company's wholly-owned technology division, to supply AGCO approved sportsbooks with its advanced artificial intelligence (AI) powered esports betting solutions.
When this news originally came out, CEO Tom Hearne had this to say:
"With the Ontario iGaming market set to launch in roughly one month, we intend to gain an early-mover advantage by becoming a fully registered gaming-related supplier in Canada's most populous province and what is expected to be one of the top markets in North America," said Tom Hearne, CEO of Tiidal Gaming. "Our technology is currently integrated with dozens of sportsbooks globally and has received significant traction from esports bettors. As a result, we plan to introduce our cutting-edge betting products to the Ontario marketplace in order to expand and advance our presence within the North American betting industry."
Now we just wait for news that the license has been approved and obtained by Tiidal Gaming. This could be the upcoming catalyst that gets Tiidal Gaming stock to breakout.