My agriculture sector roundup readers know that I have covered many mainstream articles warning about food shortages that could be global. Yes, Russia and Ukraine are large exporters of wheat and other agricultural commodities, but the ones who will be getting hit hard are the nations which import the majority of their foodstuffs from Ukraine.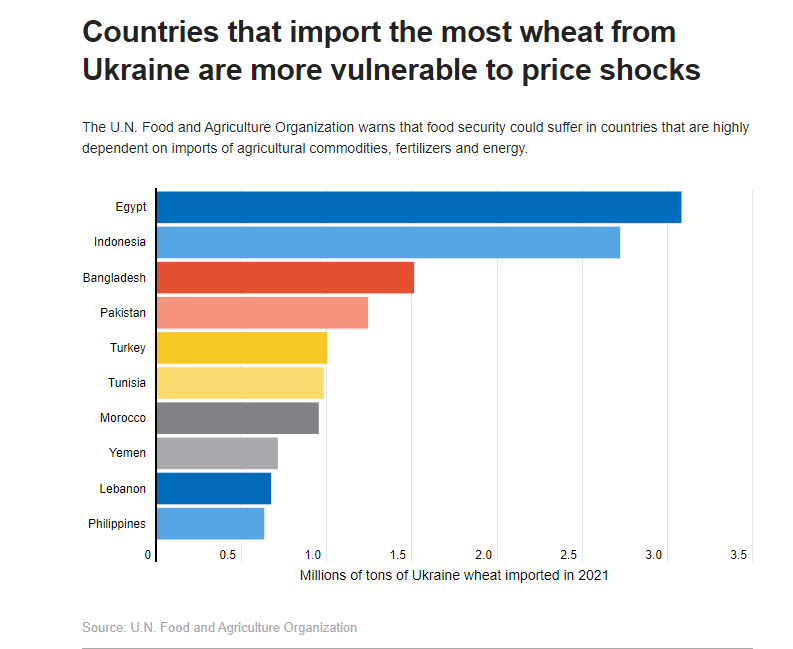 As you can see it looks like food shortages will be an issue for the people in Africa, the Middle East and some parts of Asia.
Luckily for the rest of the world, there are still other major producers of the crop. But, if you are a big fan of sunflower seeds, then you will feel the pain: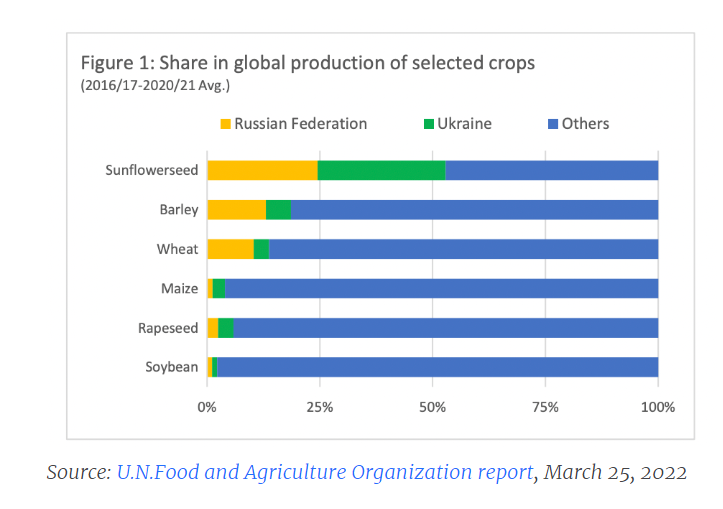 Russia's attack on Ukraine has battered Ukraine's ability to plant, harvest and ship its goods. The season for harvesting wheat is fast approaching. The window to plant corn is closing. Russia can plant and harvest, but it faces international sanctions, which has raised uncertainty over the availability of its products in the global market. Anything that tightens supply leads to higher prices.
The good news? Analysts believe that wealthier nations and major exporting nations such as the US are far less vulnerable to food supply disruptions.
Food inflation will continue to rise adjusting to market prices. Food prices in the U.S. are rising at historic rates, while prices for commodities like wheat and corn are at their highest levels in a decade. The U.S. Department of Agriculture predicts that food-at-home prices will see an increase of up to 4% by the end of 2022.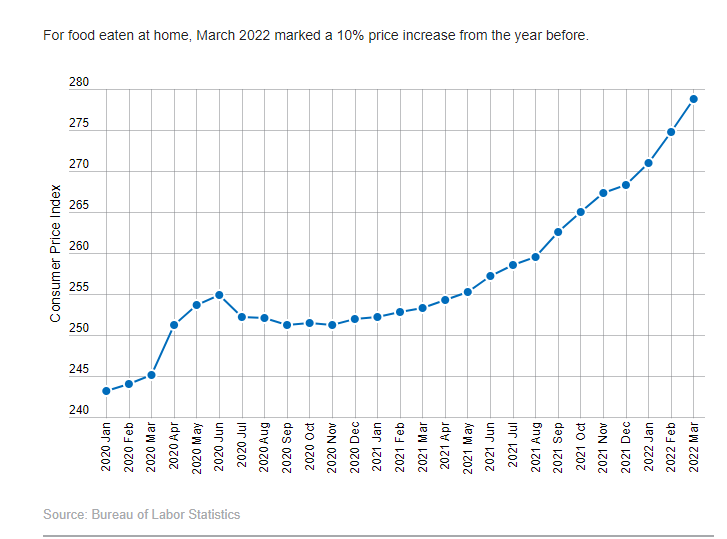 "It's particularly severe because we are just coming out of a recovery from a two-and-a-half-year pandemic that had severe implications on the prices of goods and services as well as the price of commodities," according to Johanna Mendelson-Forman, adjunct professor at the American University in the School of International Service.

"It's important to realize that the U.S. doesn't import very much from Ukraine," explained Joseph Glauber, a senior research fellow at the International Food Policy Research Institute.

"We may see some shelves that are empty for various kinds of food products like we have for a while now as we recover from the pandemic," said Scott Irwin, chair of agricultural marketing at the University of Illinois Urbana-Champaign. "But I can say with some real confidence that in the United States, the average consumer is not going to see a shortage of bread because of what's going on in Ukraine."

"The U.S. food system has a good level of self-sufficiency, so currently, it is hard to imagine empty shelves in grocery stores," said Ohio State University agricultural economist Seungki Lee.
There you have it from the experts. Higher food prices. But no food shortages in the United States.
But I would still say that there are dangers. Yes the US grows a lot of crops, but freak weather incidents impacting yields is another factor. And we have seen this before in Iowa. In this case, we need to watch developments in major producing regions such as Brazil, Argentina, the US, Canada and Australia.
Rising food prices also have to do with bad yield. Bad weather hurt harvests in South America and the midwest. Wages in the food sector went up. A host of supply-chain problems from packaging to transportation led to higher costs.
The rising cost of energy has lifted food prices for two reasons. With global supply lines, higher costs for moving goods pushes up food prices. But a rise in natural gas in particular plays a special role in agriculture. It is a key ingredient in making nitrogen-based fertilizer. This remains another point of danger. Is there going to be a fertilizer/potash shortage? Many analysts claim that we are forgetting about this aspect, and are only focusing on Russia's energy card.
Whatever the case, rising food prices and potential shortages/disruptions will be beneficial for agriculture stocks. The COW ETF just recently printed new record highs, and you see this on many other ag ETFs and major companies like John Deere and Nutrien. This is where my agriculture sector roundup comes in handy as I cover the weekly moves in smaller cap agriculture plays.
Here are major headlines covered this week:
MustGrow forms exclusive global partnership
Verde Agritech releases market study and provides update on pre-feasibility study
Bee Vectoring announces higher US grower sales
Water Ways to deliver irrigation project
Farmers Edge welcomes Maple Leaf Food's investment in regenerative agriculture
AgriFORCE and major patent news
MustGrow (MGRO.CN)
MustGrow is an agriculture biotech company focused on providing natural science-based biological solutions for high value crops, including fruits and vegetables and other industries. MustGrow has designed and owns a US EPA-approved natural solution that uses the mustard seed's natural defence mechanism to protect plants from pests and diseases. Over 110 independent tests have been completed, validating MustGrow's safe and effective signature technologies.
The company made splashes when it announced an exclusive agreement with Japanese giant Sumitomo corporation. Now MustGrow is announcing an exclusive partnership with Janssen PMP, a division of Janssen Pharmaceutica. The agreement is an exclusive evaluation and option agreement to test and develop MustGrow's biological mustard plant-based technologies for certain postharvest food preservation storage applications globally.
"Being able to control postharvest pathogens with an effective natural volatile such as MustGrow's mustard-based technologies could be an important market development. Decay control remains a necessity on many fruits and vegetables globally to reduce waste and to support fresh produce trading locally and internationally," said Geoffroy de Chabot-Tramecourt, Director R&D and Business Development at Janssen PMP.

"Food preservation is a critical global issue. We believe that using our technology as a postharvest treatment in fruits and vegetables may be beneficial to help secure an environmentally sustainable and less wasteful food supply. We are very excited to work with Janssen PMP as they bring more than 50 years of relevant market experience. We anticipate that working together to advance our technology, not only in research and development, but also in potential commercial applications, will assist with driving our strategic path forward," MustGrow CEO Corey Giasson remarked.
Not only does Janssen PMP have exclusive rights to test MustGrow's mustard-based technologies for postharvest storage preservation, but the agreement also specifies that Janssen PMP will fund and drive all application testing and development work.
MustGrow remains in a range between $3.15 and $4.00 to the upside. We have attempted to breakout above $4.00 recently but to no avail. Instead, we ranged for three weeks and it looks like we are breaking down and rejecting resistance. I will keep an eye on $3.50, but the stock could see a drop back to support at $3.15.
Verde Agritech (NPK.TO)
Verde is an agricultural technology company that produces fertilizers in Brazil. The stock has been one of our best picks when we called the breakout above $1.90 last year.
Verde concluded the market study that will underpin the preparation of a new pre-feasibility study that was announced on Match 1st 2021.
The Study calculated the potential Brazilian agricultural market for potash, sulphur, and the micronutrients zinc, boron, copper and manganese. Sulphur and Micronutrients are added to Verde's multinutrient potassium fertilizer K Forte to produce BAKS®, a product launched by the Company on December 15, 2020, which has a higher selling point. The additional elements contained in BAKS® allow Verde to meet the specific demands of different crops and soil conditions, thereby boosting the overall Brazilian market serviceable by the Company's products.
For more information, data and the hard numbers about the results of the pre-feasibility distinct production scenarios, check out the press release here.
The last time we looked at the Verde chart, we were watching the resistance rejection at $9.50. However, we reversed and ended up closing above recent highs. Verde printed new all time record highs just short of $11.50. What next? Well the uptrend continues. I would watch to see how $10 acts as support as it is a psychological important number. Then we have our support come in at just under $9.50.
Bee Vectoring (BEE.CN)
Bee Vectoring is an agriculture technology company that has pioneered a natural precision agriculture system that replaces chemical pesticides and wasteful plant protection product spray applications by delivering biological pesticide alternatives to crops using commercially grown bees. BVT's award-winning technology, precision vectoring, is completely harmless to bees and allows minute amounts of naturally-derived pesticides (called biologicals) to be delivered directly to blooms, providing improved crop protection and yield results than traditional chemical pesticides – and improving the health of the soil, the microbiome and the environment.
I recently wrote an article on why I believe this is one of the most innovative companies in the agtech space.
Bee Vectoring announced higher US grower sales and updated shareholders on positive progress. In just seven months into the fiscal year, the Company has invoiced growers in the Southeast region and secured commitments in the Northeast, Midwest, and Pacific Northwest – already increasing total sales year-over-year by 18%.
"We've already increased sales year-over-year and are committed to growing them even further before each region's blooming period," said Ian Collinson, Sales Manager at BVT. "This includes activity for additional acres that our Pacific Coast sales team is working aggressively to secure. This region is responsible for the production of one-third of all blueberries grown in the United States and we are in active discussions with some of the USA's largest berry growers. This, in the long run, represents a bigger opportunity for us compared to the Southeast."

"Farmers are being squeezed harder than ever and they have had to make tough choices on which products to invest in to help their crops thrive this year," said Ashish Malik, CEO of BVT. "Already achieving year-over-year sales increases for BVT, with several months still to go, is a testament to the strength and efficacy of our natural precision agriculture system and proprietary Clonostachys rosea CR-7 (CR-7) biological fungicide."

"Increasing share of planted acres in such a challenging environment, which can periodically occur in agricultural markets, means that increasingly, more growers are seeing the value in our technology. We look forward to continued growth in 2022 and are even more excited about BVT's opportunities in a more normalized business environment," continued Mr. Malik.
Unfortunately, Bee Vectoring confirmed a breakdown. We closed below the major $0.225 support to print new all time record lows. What would get me bullish? If we see the stock reverse and regain $0.225 which would confirm a fake out breakdown. Alternatively, we may need to wait for a range after further downside in order to confirm the selling pressure has subsided. Hopefully we get scenario number 1, but that $0.225 is now a key resistance level regardless.
Water Ways Technologies (WWT.V)
Water Ways Technologies is a global provider of Israeli-based agriculture technology, providing water irrigation solutions to agricultural producers. The company focuses on developing solutions with commercial applications in the micro and precision irrigation segments of the overall market. At present, WWT's main revenue streams are derived from the following business units: (i) Projects Business Unit; and (ii) Component and Equipment Sales Unit.
Speaking about revenues, the most recent news announces a new purchase order to install a smart turnkey blueberries irrigation project in Mexico.  The project is expected to be delivered and installed during Q3 of 2022. The total value of the order is approximately C$425,000. The order followed the successful implementation of several blueberries irrigation projects in China and Mexico. The Company expects to recognize revenues from the project during Q3 of 2022.
The stock remains in between our $0.275 support and $0.35 resistance. Recently, we saw a nice range and bounce develop at the support zone of $0.275. What I am a bit worried about is the potential of a broad technical reversal pattern known as the head and shoulders. Nothing to be worried about for now unless we reverse and get a close below $0.275.
Farmers Edge (FDGE.TO)
Farmers Edge is a global leader in digital agriculture, revolutionizing the industry with a broad portfolio of proprietary technological innovations, spanning hardware, software, and services. Powered by a unique combination of connected field sensors, artificial intelligence, big data analytics, and agronomic expertise, the Company's digital platform turns data into actions and intelligent insights, delivering value to all stakeholders of the agricultural ecosystem.
A big Canadian ag company, Maple Leaf Foods, has invested in regenerative agriculture carbon offsets.
Farmers Edge is focused on introducing an innovative carbon program that rewards farm operations for their land stewardship, resulting in the generation of high-quality carbon offsets. Using Farmers Edge unique digital infrastructure, encompassing site-specific sensors, AI-driven software (FarmCommand®), precision agronomy services, and boots-on-the-ground data validation, farmers can seamlessly access a 360-degree view of their carbon footprint and verifiable carbon reductions, completely traceable back to the individual acre where it was generated.
"We understand a low-carbon future can only be achieved when we collaborate and align our individual goals for the greater good," says Wade Barnes, Farmers Edge Founder and CEO. "Maple Leaf Foods is a leader in its field and shares our deep commitment to sustainability. Together, we're creating opportunities to support Canadian farmers and reinvest in agriculture. When a consumer makes a choice from the grocery shelf, we want them to feel confident in knowing where their food comes from and the steps that farmers are taking to produce more sustainable, lower-carbon products. At the same time, farmers can get rewarded and recognized for the regenerative farming practice changes they make to protect natural resources and advance sustainability across their operation."

"As the first major carbon neutral food company in the world, Maple Leaf Foods is excited about the work Farmers Edge is doing on regenerative farming practices with Canadian grain farmers," says Tim Faveri, Vice President, Sustainability and Shared Value at Maple Leaf Foods. "Farmers Edge Smart Carbon program is important for Canadian agriculture, and we look forward to evolving and supporting the program in the future."
Nothing much to add on the chart that I have not said in previous agriculture sector roundups. The stock remains in a range, and recently, we have seen volume dry up. Quite low. Investors and traders just need to wait for the break of $3.80 for upside momentum.
AgriFORCE (AGRI)
AgriFORCE is an agtech company focused on the development and acquisition of crop production know-how and intellectual property augmented by advanced AgTech facilities and solutions. Looking to serve the global market, the Company's current focus is on North America, Europe and Asia.
News out this week announced the company has received a notice of allowance from the Canadian Intellectual Property Office for its patent application titled, "Structures for Growing Plants".
The allowed patent application for AgriFORCE GrowHouse has 20 claims for different inventive features relating to structures for growing plants. This encompasses innovative design elements of the GrowHouse structure and operational systems, such as transmissive panels that maximize the full light spectrum; automation; Internet-of-Things (IoT) technologies to artificial intelligence (AI); enhanced insulation for maximizing energy efficiency; and a sealed positive pressure environment that provides optimally managed crop cultivation.
Troy McClellan, President of AgriFORCE Solutions, commented: "This allowed patent is significant to our business as it further validates the uniqueness of our IP around the AgriFORCE GrowHouse. It is encouraging to see that all of the claims made in the AgriFORCE GrowHouse patent application have been acknowledged and subsequently allowed, without exception, which is rare for complex applications such as ours. The GrowHouse design is the culmination of years of development, which we believe represents the next generation of indoor growing for high value crops. Our revolutionary facility design harnesses the power of the sun, while providing precise and consistent growth cycles. The combination of our unique structure, energy efficient design, and automated growing system, can be utilized in virtually any climate to realize higher quality and higher yield crops."
Now AgriFORCE has another patent for automated growing systems.
This is a stock that has had big moves. Moves which did not hold nor sustain any momentum. We have always pulled back as investors take profits. Now, we are retesting a major support zone. An area that has once been resistance is now support.
It will be interesting to see if buyers step in here because of the range developing. If we remain above support and then breakout above $2.70, we have a nice breakout pattern to work with. Still some resistance at $3.00 and $3.50 to take out though.
EarthRenew (ERTH.CN)
No news on EarthRenew but I wanted to highlight the chart. This setup was given to my readers here on Equity Guru where I called it one of the best ag setups on the market after breaking out at $0.20. It met all my technical criteria and continues its uptrend. We recently took out recent highs, and the stock is currently pulling back to retest what was once resistance now as support. We are still aiming for targets above $0.50, but this stock is one of our best agriculture picks for the year!