i3 Interactive (BETS.C) is a global online and mobile gaming company focused on the fantasy sports gambling market in India (pop. 1.37 billion). BETS has created a heavily-trafficked mobile gaming platform for global sports fans.
On December 2, 2021, i3 confirmed its objective "to create an ecosystem of players engaged in online skill-based gaming entertainment engaging and incentivising them across a multitude of gaming products.
Investments Highlights:
BLITZPOKER – 51% year-on-year growth in gross gaming revenue and 205,000 new players within the last 12 months.
BLITZPOOLS – which has exceeded 4,000,000 players, which helps reduce the cost of acquisition per player based on cross selling to BLITZPOKER and other more profitable products offered by i3.
LOI to invest an initial $5 million in an unnamed "target company".
The "target company" turned out to be Baazi Games, one of India's biggest and best online gaming destinations, with an ecosystem that caters to gamers of fantasy sports, poker, rummy, and a host of other skill-based games both for real money as well as in a free and social environment.
On December 21, 2021 i3 Interactive confirmed that it purchased 5% of Baazi Games for USD $5 million. i3 was eyeballing a bigger stake in Baazi, but the valuation of the target company grew so fast both parties agreed to leave it at 5%.
Owning a piece of Baazi makes sense, because i3's business objectives are aligned with Baazi's.
"Baazi currently has over 10 million active users across its products, and it offers players a unique experience across Baazi's suite of products with unparalleled loyalty programs and user experience," states BETS, "Baazi has one of the biggest and best prize pools in all of India.
The PR alludes to "potential future partnerships with the Baazi team and suite of products."
"Baazi acquires players cheaply and cross-sells them back and forth and keep them within a contained ecosystem," i3 CEO Troy Grant told Equity Guru, "Right now, you've got players that play poker at one brand, rummy at another, and chess at another."
"Baazi is doing a good job of keeping it under one roof, by offering better loyalty rewards and better customer service," added Grant, "Baazi's valuation doubled since we made our initial investment."
"We have grown our user base by over 50% this year to over 11 million users," Varun Ganjoo, Baazi Games founder told Mykhel on December 31, 2021, "2022 will also be a year of major user expansion and we aim to grow by over 100%.
Baazi Games will be hosting the National Poker Series in India. The June 2021 National Poker Series had 83,000 entries across 64 tournaments.
"This series is all about establishing poker as a sport in India while unveiling the hidden poker talent this country has to offer," stated Baazi.
In "Fantasy Sports" participants build imaginary teams made up of real-life players.
"You compete based on the statistical performance of the players you've selected," explains Sprout Social, "If you pick Cam Newton, and he scores a touchdown, your fantasy team earns points".
Fantasy sports gaming is synergistic with pro sports leagues because it gives fans a real-life (financial) stake in the outcome of the games.
"The global fantasy sports market size was valued at USD $18.6 Billion in 2019," states Valuates Reports, "and is expected to reach USD $48.6 Billion by 2027."
The Indian Federation of Sports Gaming (IFSG) projects the user base of fantasy sports players at over 100 million. "This would still be just 30% of online sports fans in India," states IPSG.
The global trend is towards regulation and taxation.
For example, Canada's, Bill C-218 passed a second reading in the House of Commons, which would legalise single-events sports gambling.
"Betting and gambling is regulated at a state level in India," reports Gambling Insider, "The last couple of months have seen different state governments and courts mulling the way forward for this fast-growing sector."
An Indian High Court recognised that the 1887 Gujarat Prevention of Gambling Act – which prohibits gambling in 'common gaming houses', does not extend to fantasy sports bets wagered on computers or cell phones".
"Indian people just really love to gamble," confirms iwmbuzz, "But they don't have the traditional casinos."
Even in jurisdictions that have casinos, the trend from brick & mortar gambling venues to on-line began four years ago.
"What we're looking to do is build an ecosystem of active players in India," stated i3 CEO Troy Grant, "Right now, we have 4.5 million active players in our data base. It's making money. Which is good, but its not our end goal."
"In India, gambling is a way of life. There's always a game, always money on the table. There is a federal posture, and the attitudes vary state by state, but gambling and being Indian go hand in hand.
We are in an interstitial phase in the Indian gaming market, where you can grow and make money, but a federally regulated gambling industry in India would dramatically catalyse revenue growth and valuations at i3 Interactive.
India is, by and large, following the U.S. path to legalisation, only it's happening much faster. With the blue print set for companies acquiring players in fantasy gaming and other online games of skill while preparing for a regulated market.
We expect to have 7 million active Fantasy gaming players by the end of 2022.
There is large unregulated gambling market in India. From the government point of view, that is lost revenue. Most industry observers feel federal legalisation is inevitable, and when it comes, we are well set up to move our players into that space." – End of Grant
"We've done three deals in India to date, in a relatively short window," stated Grant, "A poker acquisition, which was inexpensive. We acquired the company for a million dollars, a small company. It became Blitz Poker We also acquired the skill-based fantasy gaming market company, Livepools, that i3 rebranded as BLITZPOOLS. And we purchased the aforementioned stake in Baazi".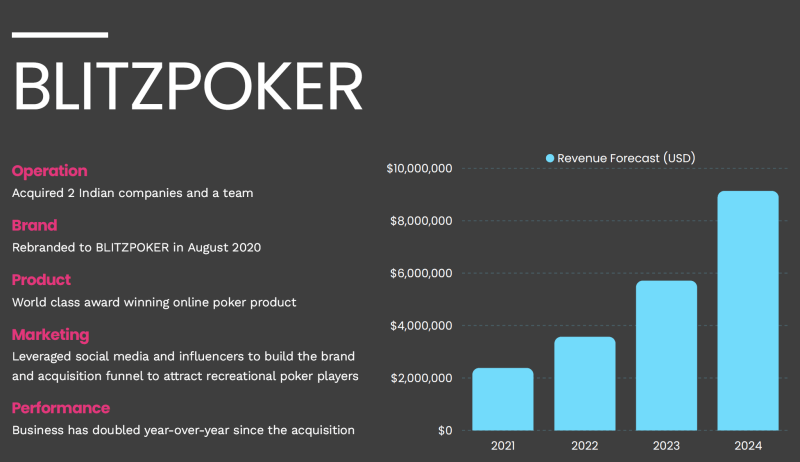 "In the U.S, it can cost $1,000 to acquire a single casino player, we are acquiring players for less than a quarter, sometime 5 cents," stated Grant, "Not all of them come in and spend money. They might play the free pools, but most of these players are involved in online gaming."
"This is our masterplan: to build a gaming ecosystem in India, bringing players into the top of the funnel in the cheapest way possible.
We take that player from fantasy, move them over to poker at a fraction of the normal cost of acquiring a poker player.
It's almost a grocery store model. You put your bread and milk (low margins) at the back, sell your chocolate bars and magazines (high margins) at the cash register. As long as you are providing value to your customer, the ecosystem will be healthy." – End of Grant.
I3 and its former CEO experienced a fundamental disconnect in company strategy, resulting in a parting of ways and mutual lawsuits. I3 is confident in its legal position and has built a team designed to deliver value to shareholders.
i3 Interactive shares are now trading at .13, the company has a market cap of $29 million.
"It's hard to overstate the potential of the Indian market," concluded Grant, "We are focused there because of the parabolic growth of the industry. As we execute out objectives in India, we a building a technological foundation from which to enter markets in the west."
Full Disclosure: i3 Interactive is an Equity Guru marketing client.