There goes energy! Regular readers have been kept in the loop regarding Oil. Have been bullish throughout the year due to Macro reasons…more on that soon. But recently, I notified readers about the flag pattern and its breakout. Oil price has hit and surpassed my resistance zone mentioned in that article. This means one thing: Oil Breakout.
Energy has been hot. The technicals have been indicating higher prices for months, but recent headlines covered by the mainstream financial media has to do with the energy crisis in Europe and China. In the case of China, energy companies have been given the order to 'secure supplies at all costs'.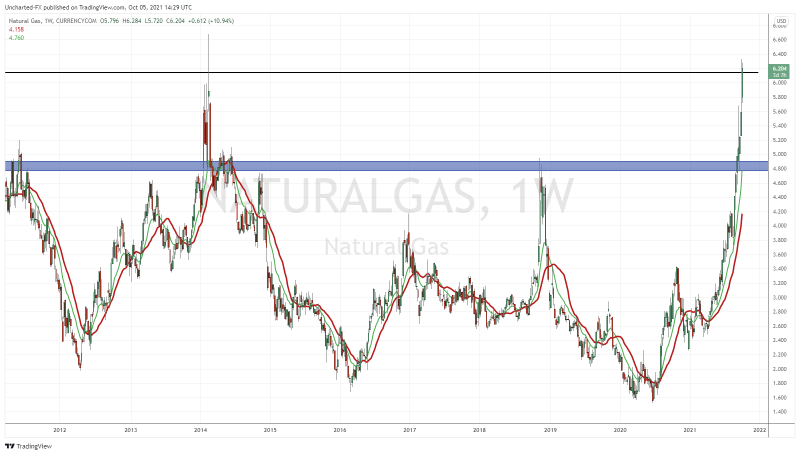 Natural Gas was up another 6% this morning. Actually, Natural Gas is hitting prices not seen since 2014! There were issues regarding supply shortages in Europe, driving prices higher as cold weather approaches. It seems this has been alleviated as Russian Gas is filling the Nord Stream 2 pipeline and making its way to Europe. Russia and Gazprom came out the real winners here. Russian gas is cheaper for the Europeans than American Liquefied Natural Gas (LNG).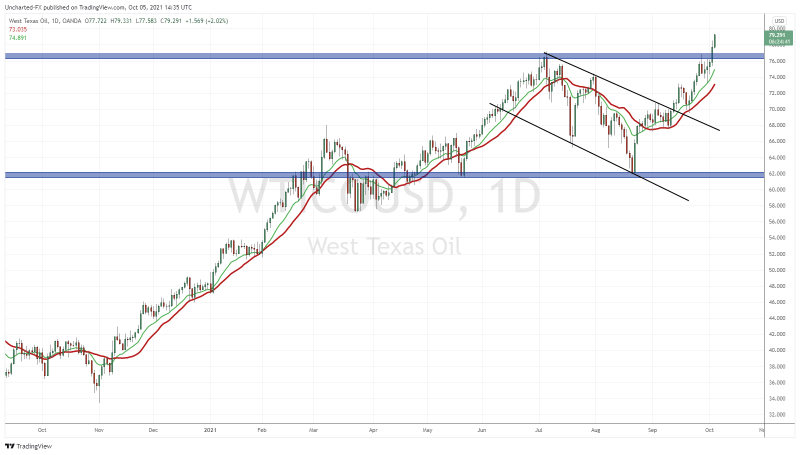 Now Oil is joining in on the party. The close above $76 was an important resistance breakout. Going forward, what was once resistance now becomes new support, or price floor. If you are not in Oil just yet, I would enter a small position now, wait for the pullback (which yes, could happen after Oil pops a bit higher) and then enter a full allocation once the retest confirms that buyers have jumped in.
Where to next? Let's zoom out: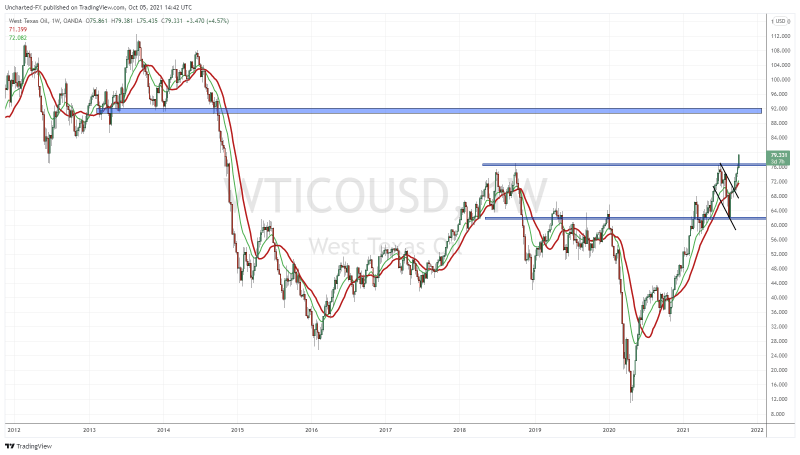 Seems like those Wall Street Banks forecasting $90-$100 a barrel oil for 2021 might be correct (for once). I see some resistance around $85, but the $92 zone is a major flip zone.
Great for Oil traders, commodity houses, Oil rich nations, and if you hold any of these stocks: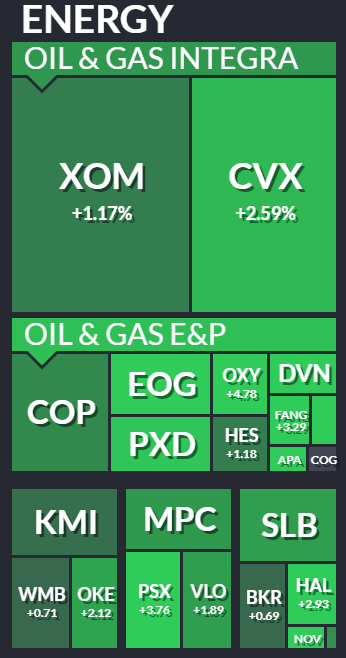 If you are part of the middle class…it sucks. Not only will we be paying more for gas at the pumps, but for natural gas to heat our homes this Fall and Winter. Remember the Federal Reserve saying inflation will be transitory? Doesn't look like it. Treasury Secretary Janet Yellen also agrees that inflation will stay higher for the upcoming months…and then inflationary pressures will magically let up.
Adds an interesting dilemma for the Fed. Keynesian economics is all about raising interest rates to squash inflationary pressures. Markets might be spooked if these inflationary pressures continue to rise without the Fed acting. But the Fed maintains this inflation is transitory. If inflationary pressures keep rising, will the market still believe the Fed? I am getting ahead of myself, but this is something we will be talking about in a few months time.
So we know Oil has broken out, what does this mean for other markets?
Petro currencies like the Russian Rouble, the Norwegian Krone and the Canadian Dollar will appreciate.
The Loonie has been appreciating against the US Dollar and is looking to head back to $1.25. If we break that level, a longer term move to $1.20 is in the cards. We have broken below my moving average so this will be interesting. Especially since the US Dollar could be bouncing off support.
My followers also know when Oil goes up so do the banks. Why? Remember when Oil fell hard back in 2014? Governments were forced to either deal with a large unemployment crisis, or plead with the banks to bail and lend to Oil companies to keep operations going and people employed. They did the second. Canadian Western Bank here in Canada is also a good example.