Many refer to Copper as Dr. Copper, as prices can be read as a proxy for global economic health. The base metal is used in everything from infrastructure, to appliances and yes, even in Electric Vehicles.
Recently, rising prices are signaling an economic recovery from the pandemic. It began with China, but now it seems the rest of the world is catching up as Copper prints 10 year highs.
But there are other bullish factors to discuss.
I remember attending my very first Vancouver Resource Investment Conference back in 2015, and then attending regularly afterwards. The electrification of the economy was even making some heads turn back then. Copper being the base metal of choice for this new economy.
I attended a Sprott Natural Resource Symposium. It was a steep price for me back then, but the cost of admission was well worth the information I received. I got even more excited on the base metal back then. Most of the things I have learned, are now playing out now.
Infrastructure and economic growth/recovery is the base case for being bullish Copper, but I want to introduce two more out of the box catalysts. Well okay, maybe just one is out of the box.
Many of you are familiar with Copper being the green energy play. With President Biden's Green Energy Revolution, Copper will benefit. My views are a tad different. I think green energy is coming, but they will be the new infrastructure play to boost the economy like the infrastructure projects during and after the Great Recession. Government's will need to increase taxes due to all the money they have spent for programs during the pandemic. Best way to do so is with green taxes. People will pay this regardless even if it means they go negative for the month. Government will then say this money will be used to fund green projects which will create more jobs which will be great for the economy.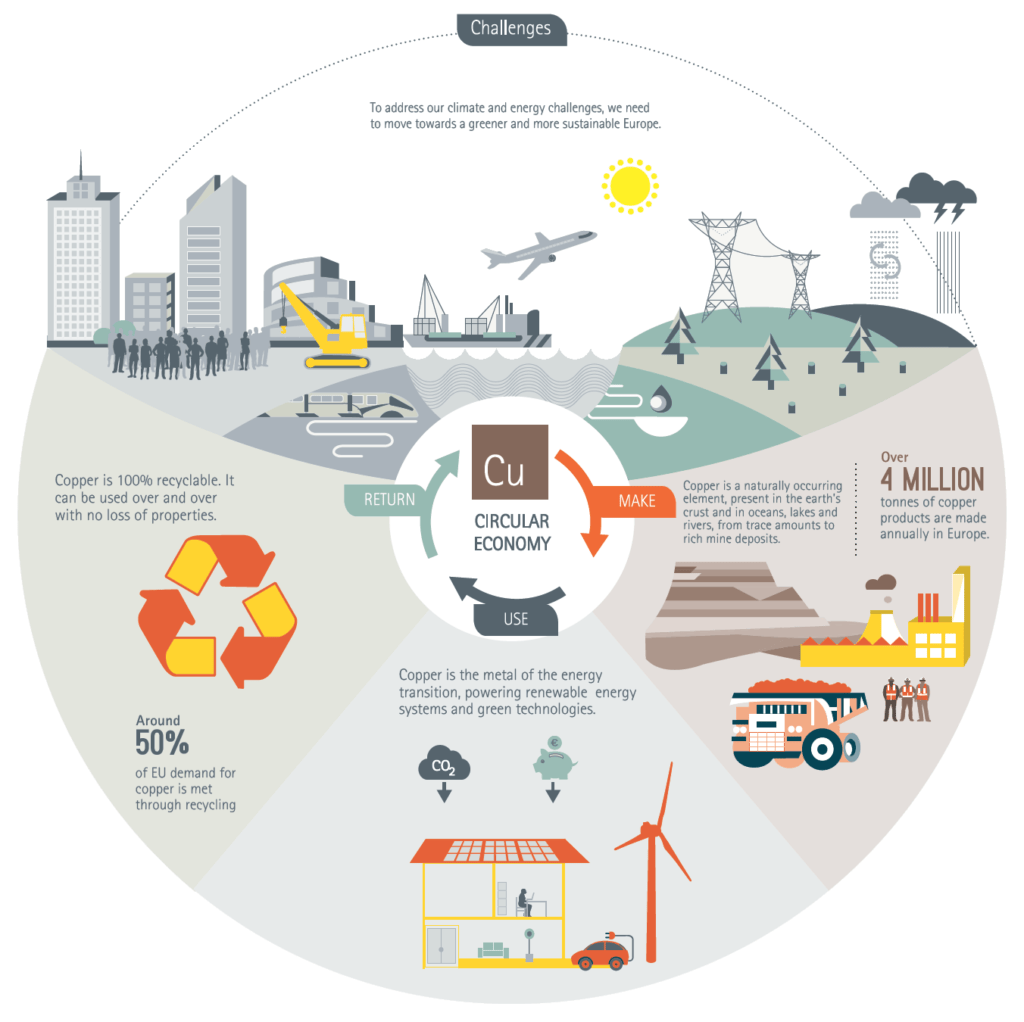 I am actually excited for Copper killing bacteria on touch. A few years ago, at the Sprott Conference, one speaker opened my eyes to the reality of copper being used for health. People following Ayurvedic principles have been drinking water out of copper pitchers and cups, heck even one mining executive I spoke to believes this, hence why he only drinks Moscow Mule's in Copper mugs.
Anyways, the speaker at the conference was highlighting how new hospitals in East Asia and the Middle East are using copper door knobs and copper hospital beds. Most deaths in hospitals occur because of bacteria due to uncleanliness. Copper kills microbes on contact. He said that in a few years time, North American hospitals will do the same seeing a major demand for Copper.
With the pandemic, Copper for killing microbes is gaining traction. Teck Resources has been creating videos highlighting how important copper will be in a post pandemic world. Just recently they have announced pilot programs in Vancouver to use copper in public places including:
Testing copper products on more train cars and buses;
Testing over a longer amount of time to analyze varied conditions;
Focused tests on the products that were most effective in our transit environment;
Public engagement to measure copper's impact on customer confidence.
These are some bullish cases, but add a strike in Chile, where a lot of copper is produced, and things look bullish for Dr. Copper factoring supply and demand principles.
Technical Tactics
The big winner in the past few months has been Freeport-McMoran:
And when I mean big winner, I mean a 500% plus move from the lows from March 2020 to today. Record highs are at the $62.50, meaning FCX has more room to move especially if Copper breaks out into all time record highs.
But I know a lot of you want to make gainzzz. Junior Miners can do this. Enter Nevada Copper.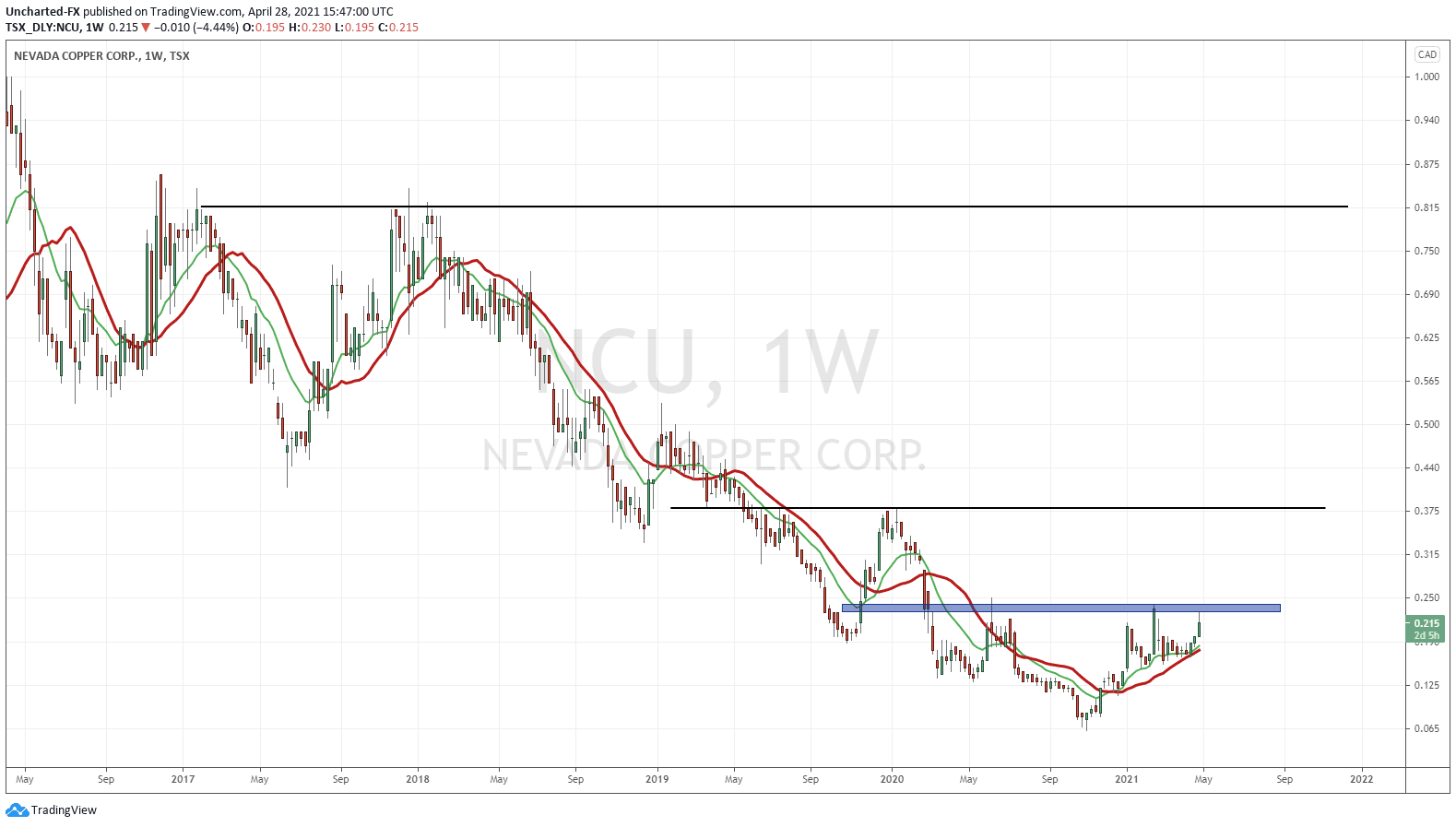 Nevada Copper is aiming to be a mid tier copper producer in a great mining jurisdiction. The mine is now at the production stage. Their latest updates regarding operations can be read here.
The company is also cashed up with a financing for gross proceeds around $38 million.
But as my readers and Discord Trading Room members know, I am all about the charts and technicals. The weekly chart of Nevada Copper has me smiling. Do you see it? Our favorite reversal pattern being printed on the longer term weekly chart. The inverse head and shoulders. The same pattern we have used to lock in gains in all kinds of assets, not just stocks.
The trigger here is a weekly candle close. We want to see a break and close above $0.25 on a Friday to end the trading week. There is some resistance at $0.37, but if Copper continues its momentum, we can move much higher.
I remain bullish on the base metal and commodities going forward. Green energy and the economic recovery is what most of the market is thinking, but I think the run into commodities due to inflation, and the killing microbes aspect remain the more exciting prospects.