Cybin (CYBN.NE) announced that they will be using Alcohol Use Disorder (AUD) as the initial target indication for their proprietary psychedelic molecule, CYB003.
"AUD is a chronic relapsing brain disorder characterized by an impaired ability to stop or control alcohol use despite adverse social, occupational, or health consequences." According to the Diagnostic and Statistical Manual of Mental Disorders (DSM) 5, if you meet 2 of their 11 criteria you can be considered to have AUD, although the disorder ranges from mild to severe. Over 5% of the adult US population suffer from AUD, including 9.2 million men and 5.3 million women.
Focusing on alcoholism is an interesting approach for Cybin. Most psychedelic companies tend to focus on treatment-resistant depression or anxiety, but AUD has clear diagnostic criteria and can be considered to have been "improved" without having been "cured", which provides Cybin the opportunity to conduct complex scientific and informative research that has the possibility for degrees of success.
"The evidence of increased alcohol use during this ongoing pandemic is startling. For so many individuals and families, Alcohol Use Disorder can be disruptive, even devastating. We are optimistic that CYB003 could have the potential to improve the lives of AUD sufferers and their loved ones by providing a durable respite from alcohol dependence and the potential to overcome this often-crippling disease," stated Doug Drysdale, Cybin's Chief Executive Officer.
In their press release, Cybin expressed confidence CYB003 could be an ideal investigational new drug (IND) candidate for a future AUD clinical trial once further pre-clinical data has been collected. CYB003 emerged as one of Cybin's two top IND candidates after a number of pre-clinical studies.
CYB003 is ingested using orally disintegration tablet (ODT) technology, allowing it to be https://e4njohordzs.exactdn.com/wp-content/uploads/2021/10/tnw8sVO3j-2.pngistered easily in controlled doses that allow for pre-gastric delivery. Cybin has entered into a drug development agreement with Catalent, allowing them to use Catalent's proprietary Zydis ODT technology.
Today's announcement comes less than a week after CYBN announced they had successfully demonstrated proof of concept. They have been expanding their scientific team in anticipation of clinical trials.
Alex Belser, who Cybin recently promoted to Chief Clinical Officer and who was made chair of Cybin's clinical advisory board, has experience with research examining the use of psilocybin for the treatment of AUD. While acting as a researcher at New York University, Belser was Co-Primary Investigator of the NYU Psilocybin Alcohol Dependence Qualitative Study, in which psilocybin treatment was developed and studied as an intervention for refractory alcoholism.
Psilocybin has successfully been used to help treat alcoholism, so this line of inquiry could be very promising for Cybin.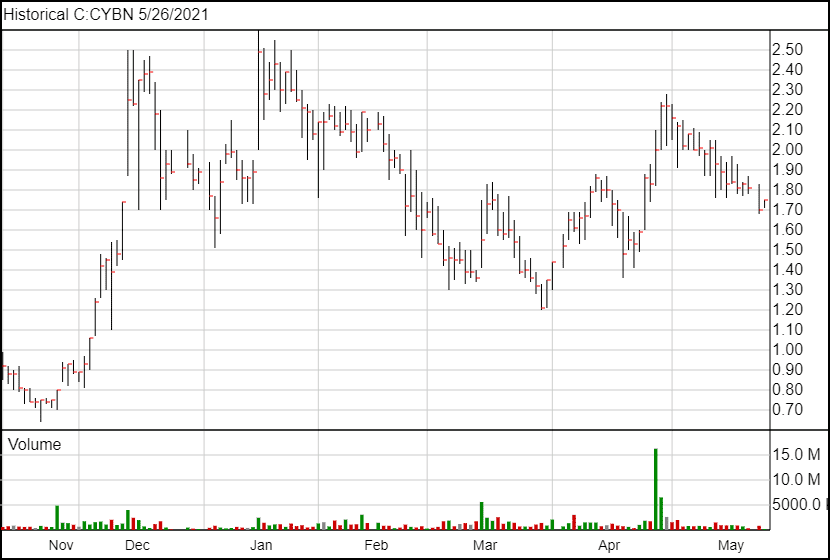 Following the news, Cybin's share price is up 16 cents and is currently trading at $1.75.
Full disclosure: Cybin is an Equity Guru marketing client.