Avanti Energy (AVN.V) has acquired over 6,000 acres under licenses from the government of Alberta. The acquired property is highly prospective for helium and contains wells originally drilled for oil and natural gas.
"Following a methodical and detailed review by our experienced technical team, we are excited to add this highly prospective property in Alberta to our current portfolio of helium projects…High nitrogen content is advantageous over wells with high hydrocarbons as the nitrogen can be safely vented to the atmosphere after the 1% to 2% helium content is removed…We are using a targeted approach to delineate and prioritize highly prospective areas for drilling. Additionally, we are continuing to employ our unique approach and selection methodology to evaluate and prioritize multiple helium assets across Western Canada and the United States," said Company consulting geologist Genga Nadaraju.
The expansive property features previously abandoned natural gas wells originally drilled by a Canadian major oil and gas company. These wells showed 2.8% helium and 96% nitrogen in the Cambrian, and 0.3% helium and up to 98% nitrogen in the Devonian. If you're new to the resource scene then terms like "Cambrian" and "Devonian" may sound foreign to you. However, these terms are associated with geological intervals, intervals assigned by geologists to segment Earth's history. Long story short, Earth's rock composition has been divided and labeled depending on era of formation. Cambrian and Devonian zones are areas of rock from hundreds of millions of years ago.
With that brief geology lesson out of the way, the property's offsetting wells show multiple tests in Cambrian and Devonian intervals with up to 1.79% helium and 83-93% nitrogen content. Additionally, Drill stem tests (DSTs) in wells in and around the property indicate reservoir quality rock in the Cambrian and Ordovician zones. So what does all this gibberish mean? Compared to commercially viable grades of helium ranging from 0.3% to 1%, the helium found on Avanti Energy's acquired property is of higher grade at over 2%. Moreover, the property shows promise for potential viable helium reserves.
"We are very pleased to have acquired these licenses in Alberta. Alberta is a great address and the environment is ripe for a resurgence of the helium industry in the province…With Canada recently adding helium to its critical mineral list in 2021, it is vital that we continue with our acquisition strategy and build a targeted project portfolio with known helium showings and strong potential for economic development and production," said Rob Gamley, President & CEO of Avanti.
Currently, Western Canada stands at the forefront of brining the helium industry's resurgence to fruition. With this in mind, Avanti Energy's acquisition of a helium rich property in Alberta is quite a boon for the Company. Avanti Energy's stock has grown rapidly in the last three months and shows no signs of slowing down. Keep in mind, there is also a growing demand for helium in the medical field for the cooling of superconductive magnets used in MRI and NMR machines. With the most recent helium shortage coming to an end, Avanti Energy is in an excellent position to meet the increasing demand for the coveted material.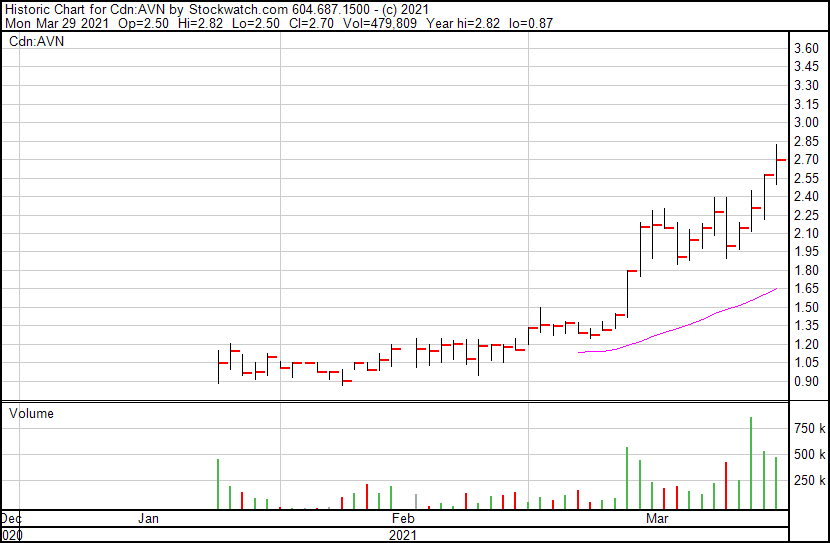 Avanti Energy's stock price opened at $2.50 and quickly reached a high of $2.82 following the news. The stock price currently sits at $2.70.