DMG Blockchain Solutions (DMGI.V) is partnering with Argo Blockchain (LSE: ARB) to create Terra Pool, the world's first Bitcoin mining pool powered by clean energy.
As founding shareholders and partners, DMG and Argo have entered into a Memorandum of Understanding to establish Terra Pool. This is a cooperative effort to create a Bitcoin mining pool that is powered exclusively by clean energy. To begin with, Terra will only mine using DMG and Argo's computer power, which runs on hydro-electric energy.
DMG and Argo hope to get other bitcoin miners on board who share the goal of creating a green bitcoin mine and aim to provide them with strong incentives and an accessible platform.
"DMG's increased innovative strength and continued focus on eco-friendly Bitcoin mining has the opportunity to drive transformations in how the Bitcoin mining community acts towards a climate-conscious future. DMG's ongoing commitment to clean energy-based capital deployment is a key industry development," stated Dan Reitzik, CEO of DMG. "DMG's ongoing commitment to clean energy-based capital deployment is a key industry development. We believe this is an opportunity for continued growth as we develop a better understanding of climate-friendly operations while simultaneously integrating the newest and most innovative blockchain technologies."
Every couple of months a new article comes out in which Bitcoin has overtaken an increasingly large country in energy use, with last month's energy milestone being that Bitcoin uses more energy than Argentina, according to the BBC.
Bitcoin is coming for you next, Norway.
As bitcoin becomes more popular and as its price increases, mining Bitcoin will become more lucrative for its energy use, meaning the cost of the energy needed to mine Bitcoin will become a less important factor in the cost-benefit analysis of mining BTC.
The struggle between environmental activists and Bitcoin has already begun. As younger generations increasingly view protecting the climate as an important political issue, this will put them more at odds with BTC, which is a problem for Bitcoin, a currency that generally appeals to younger people.
Terra Pools is an important solution to a growing problem. If people know their BTC is being mined in an environmentally sustainable fashion, this will put their climate concerns at ease.
"Addressing climate change is a priority for Argo and partnering with DMG to create the first 'green' Bitcoin mining pool is an important step towards protecting our planet now and for generations to come," commented Peter Wall, Chief Executive of Argo Blockchain. Wall added that he was "hopeful" other companies would follow suit.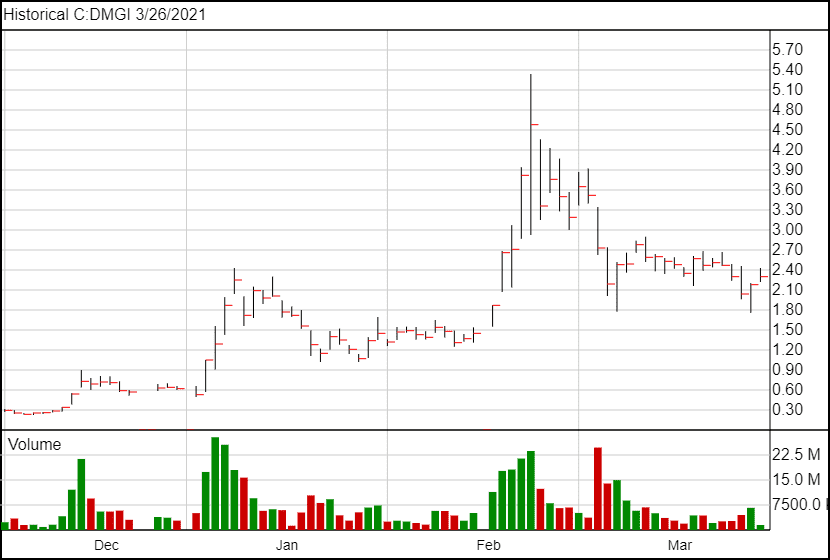 Following the news, DMGI.V rose 9 cents, reaching $2.27 per share.