Graph Blockchain (GBLC.C) appointed Paul Faber, a director of the company, to the position of chief executive officer on Friday, and by Monday he'd started with a bang by exercising share options and adding $866,000 to his company's balance sheet.
Not bad for the first week at a new job. Normally, a rousing round of board-member musical chairs is hardly noteworthy, but this is the fourth time this company has gone through their top C-suite members since they cut the umbilical cord with Datametrex AI (DM.V) a little over two years ago.
"These management changes are aligned with the Company's strategy to focus on cryptocurrency and drive growth in both revenue in the altcoin space and share price," said Andrew Ryu, outgoing CEO and new executive chairman of Graph Blockchain in a press release.
The previous times the company vacated their top-spot, it was because the company was adrift and in dire straights financially. Now it's different—a former equity guru client, Graph has run a strange course from Smart City blockchain support in South Korea, to chief beef tracking blockchain support, E-sports play, to a psilocybin e-commerce angle, and now into altcoins. Arguably, altcoins make the most sense as they're the closest to Graph's core technology and could provide a stable financial base while they try to get more high-paying blockchain clients.
From the chart, it would seem the plenty of folks agree: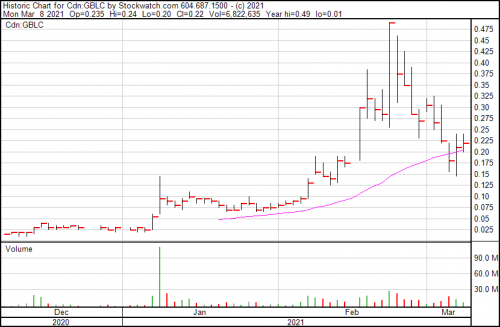 The dip over the past month may be strong, but this company is showing more positive momentum in the first few months of 2021 then they did throughout 2019, when they were treading water at a $0.02 stock that traders wouldn't even consider using for toilet paper. This is a definitive turnaround and you may be looking at the opening pages of a Cinderella story here.
The company calls itself a blockchain development company. They specialize in high performance blockchain solutions including graphic data analysis and consulting services, as well as data mining analysis using databases and speed enhancements for blockchain for both the private and public sector. What they really are is a catch-all blockchain-based company that's spent the past two years swimming out of their depth and trying desperately to find a handhold onto anything that will help them stay afloat. Their recent acquisitions, including Babbage Mining, might be what they're looking for.
"I am thrilled to take on the CEO role at Graph Blockchain. I am excited on the new direction of Graph and recent acquisition of Babbage Ming Corp. and the restructuring of the company to focus on crypto revenue. I believe this transition should demonstrate to the markets that Graph is focused on being dominant player in this emerging space as point of stake miner," said Paul Haber, CEO of Graph Blockchain
What they're looking to become is the first publicly trading altcoin Proof of Stake miner, which will bring in revenue for the company while offering exposure to several top digital assets by market cap. It's a fairly common idea being executed at a much higher level by companies like Grayscale Investments, and their subsidiaries, the most well known being Grayscale Bitcoin Trust (GBTC.Q). In this case, instead of Bitcoin, with its heavy mining pricetag, it'd be a lucrative proof of stake coin like Cardano, Cosmos, Tezos, Stellar Lumens, NEO or Dash, and if Graph is smart, Ethereum, whenever Vitalik Buterin gets off his ass and finishes his ETH 2.0 project.
If there's a downside to the idea of dealing in only altcoins it's that the company would need to choose their coins wisely. Most of the Proof of Stake coins you could theoretically invest in aren't cash cows. Cardano, for example, is fifth largest by market cap but worth only $1.12 per coin. Even such, it could be an interesting avenue for growth and development and provide a necessary safety net if their pursuit of blockchain contracts dries up again.
The company intends to use the extra cash they've raised to buy more altcoins.
—Joseph Morton