Mydecine (MYCO.C), an upcoming biopharma and life sciences company advocating for the therapeutic use of psychedelic mushrooms, has successfully completed the world's first legal international export of psilocybin mushrooms. This marks a momentous day for both Mydecine and the future of nature-sourced psilocybin as a mainstream medicine.
In December 2020, the company completed its first commercial harvest of psilocybin mushrooms at a private facility in Jamaica specializing in mycology and cultivation. The first shipment of the 20 kilograms (44lbs) harvest has just recently been received by Mydecine's Canadian Good Manufacturing Practice facility (CGMP). The facility possesses a Health Canada Schedule 1 Dealer's License which permits a variety of activities such as the legal import/export of active psychedelic medicinal compounds.
"This milestone is significant to our 2021 goals as we are now able to access a quality source of much needed product for both our own research purposes, as well as provide CGMP naturally-derived psilocybin to sell and transfer to other licensed research facilities around the globe. Our team has spent significant time working with various government agencies to create and develop sound protocols to ensure a smooth flow of biomass that is in full compliance with all federal laws. This is the first and only solidified commercial supply chain of psilocybin mushrooms and we believe this supply chain will open up many doors to potentially collaborate and participate in initiatives that we find potentially promising," said Joshua Bartch, CEO and Chairman of Mydecine
With the ambitious goal of establishing a fully vertical and uninterrupted global supply chain, Mydecine is committed to the distribution of quality psilocybin mushrooms. The company's naturally sourced psilocybin is both less expensive and more efficient compared to synthetic versions making it a desirable alternative for commercial sale and research.
"In the most potent psychedelic mushrooms, psilocybin is typically only around 1% of its total mass. This means that as much as 99% of the mushroom is composed of vegetative matter plus other potential active medicinal compounds. At our lab, we have already discovered multiple other active compounds separate from psilocybin and psilocin from just our initial psychedelic mushroom analysis. Based upon our preliminary studies, we believe that this could have more effective results than just single-molecule synthetic psilocybin," said Damon Michaels, Mydecine's Co-Founder and Chief Operating Officer
By pairing the holistic use of psilocybin mushrooms with modern technology, Mydecine hopes to shatter the stigma surrounding the medicinal use of psychedelics. In doing so, the company aims to streamline the use of medicinal mushrooms in a therapeutic setting.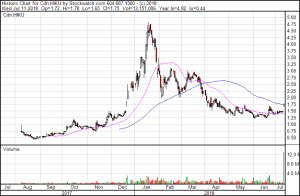 The news had no notable impact on the company's stock price.