Psychedelics are on fire. A shroom boom.
Over on our Equity Guru Discord Trading Room, and the Vishal & co Friday live shows, we have been saying that psychedelics might be the real winner on the decriminalization play. Why? Much cheaper than most of their Cannabis peers. Also people like Kevin O'Leary and Joe Rogan have touted psychedelics and their bright futures. Their main point is that micro dosing allows one to still function normally, ie can still drive a car and go to work etc.
My readers know me as a technical analyst, and the psychedelic charts have been hinting to big moves. Yes, the fundamentals were bright, but the charts still adhered to market structure. We just needed that breakout, perhaps with fundamental news as confirmation and to provide momentum, for the party to really get going. Plenty of Canadian traders already dubbing this our cannabis 2.0 mania. I believe things could be different due to the fact that interest rates are lower and the general macro environment. In this hunt for yield which is causing money to flow into stocks, things that are deemed undervalued and cheap will be making unbelievable moves. Not to mention that there are more younger/millenial traders out there now. The Robinhood and Wall Street Bets crew. Once they pile in…well we know what happens *cough Tesla cough*.
So let's start with the favorite amongst the shroom stocks: MindMed (MMED).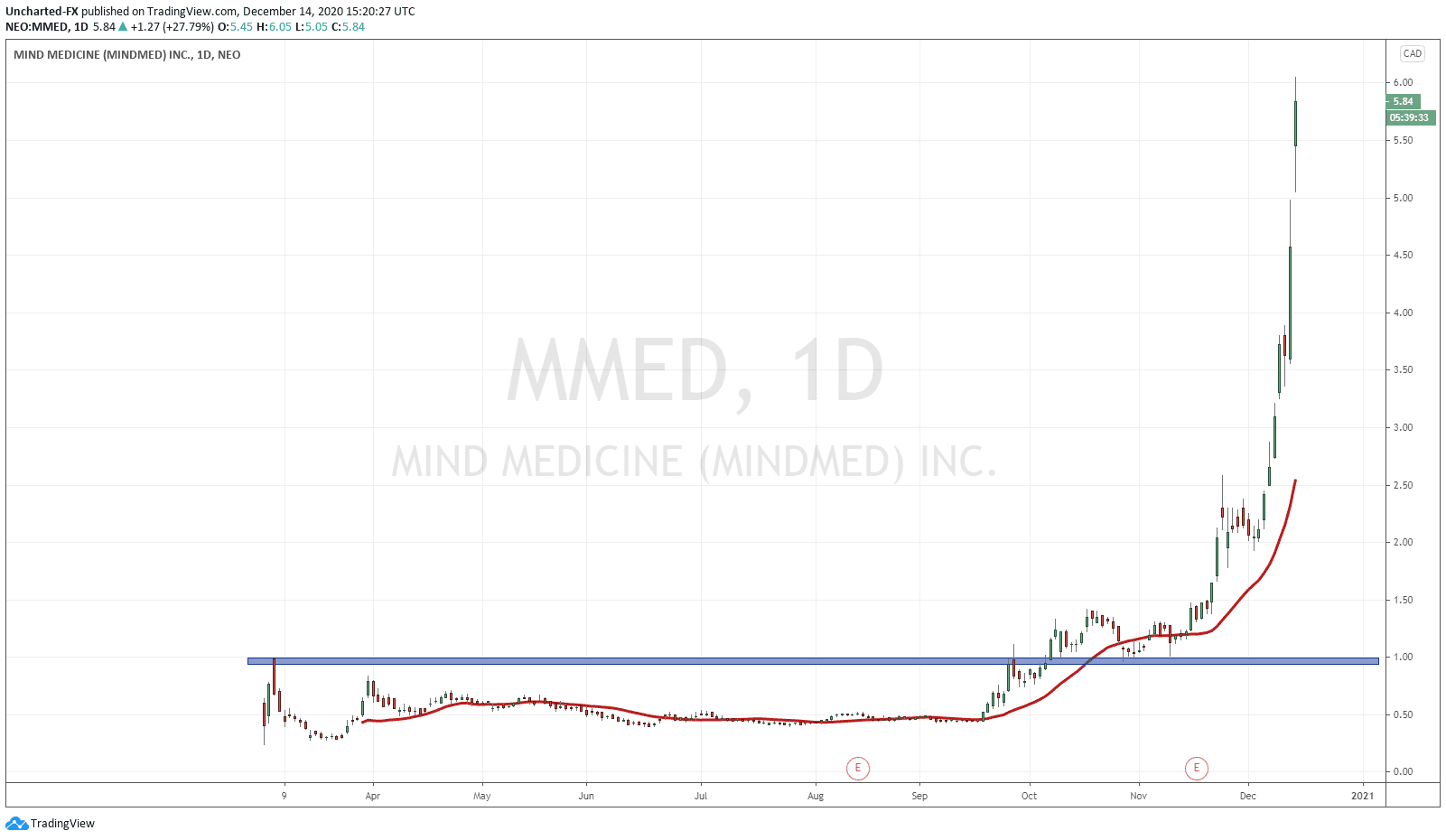 MindMed is the stock most of my friends associate with psychedelics. Why? Kevin O'Leary. On his Youtube channel, and probably other social media and tv spots, O'Leary has been telling his followers why he is investing in shroom stocks. MindMed being the one he names.
The stock has now surged over 50% for the month and has put its market cap over 1 Billion!
Just last week, MindMed announced an upsized financing of CAD 34.5 Million, which means the gross proceeds since founding now totals CAD 121.4 Million. Cash strapped and capable of using that money to provide more catalysts for the stock to pop.
Missed out on MindMed? No worries, here are a few more set ups I have been following.
Numinus Wellness (NUMI) is another monster mover. Note the blue arrow around the 0.30 cents zone. This is where our inverse head and shoulders reversal pattern was triggered. I spoke about this on a Market Moment post in October, and was a trade posted on our Discord Trading Room.
On Friday, Numinus was testing our resistance zone at 1.50. Today's price action gapped up much higher. Technically, 1.50 is now the new support (price floor), meaning price can pull back to retest this zone, but we remain in an uptrend as long as price remains above 1.50 on candle closes.
Zooming out on the chart, there is a resistance level at around the $2.00 zone, where price is currently testing. But since there has only been one touch, I rate it as interim resistance. The real major resistance is still far away. We are looking at around the $4.00 zone. It is a major flip zone (where price has been both support and resistance).
Their recent news on MDMA-assisted psychotherapy trial for PTSD patients was covered by Chris Parry.
Just a reminder, Chris spoke about why he was bullish on Shrooms at the Vancouver Resource Investment Conference in January 2020. If talking about shrooms at a precious metals conference is not an indication of being super bullish, then I don't know what is.
Red Light Holland (TRIP) is one of our biggest winners. This was mentioned to our followers and readers with the double bottom breakout pattern confirmation. Once we broke out above 0.125 (the arrow), the pattern was triggered. Price has now broken above the resistance at 0.25 and price is making new highs. Technically, we are in an uptrend as long as price remains above 0.25 on the candle close. Remember, it is possible and perfectly normal for price to pull back to retest 0.25 before continuing the uptrend.
Red Light Holland is getting some great publicity through a logo redesign contest with Canadian comedian Russell Peters and model Khloë Terae.
Recently, the company also announced a joint venture in Brazil with Disruptive Pharma with the intent to cultivate, manufacture, and commercialize magic truffles for the Brazilian Market, a nation with a population of over 200 million people.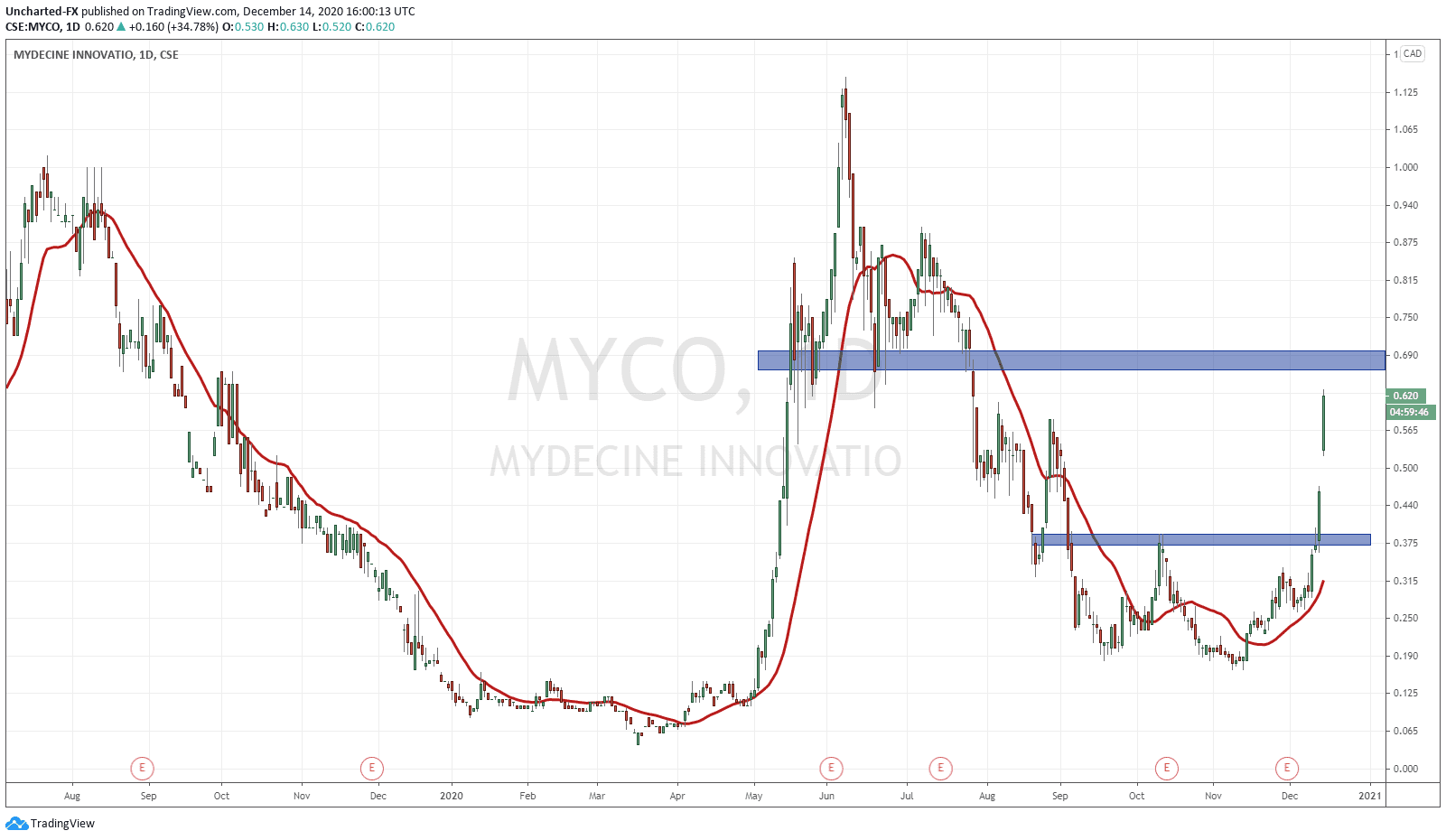 Last but certainly not least, Mydecine Innovations (MYCO).
This was brought to my attention by a member of our Trading Group last week. Before the breakout.
Similar to TRIP as MYCO displays the double bottom reversal pattern. Price found support at 0.19, and the pattern was triggered on Friday with a break above 0.375. Big pop so far.
Technically, the 0.69-70 zone is resistance. If that breaks, we can see the 0.90 zone. Similar to all the other charts mentioned: we remain in an uptrend as long as price stays above 0.375. Price can pullback to retest this zone which is normal price action and market structure.
Their latest news is a partnership with Microdose Psychedelic Insights to present a video on the Renaissance of Psychedelics.
This space will be exciting to watch, and the shroom boom has room to grow.