Mydecine Innovations Group (MYCO.C) announced that they have received approval from Health Canada to significantly expand their cultivation capacity at their Canadian Current Good Manufacturing Practice (cGMP) facility at Applied Pharmaceutical Innovation (API).
With the new approval from Health Canada, Mydecine will begin construction of expanded cultivation facilities in an effort to scale their psilocybin supply for internal clinical research and for industry partners. Increased cultivation capacity will allow MYCO to better study the medical utility of natural psilocybin and psilocybin-like compounds, as well as test their efficacy in treating mental health challenges like PTSD or addiction.
"Nature has produced a diversity of psilocybin producing fungi, all with their own unique chemistry and much of this diversity remains unstudied or undiscovered. The expansion of our cultivation capabilities will give us a unique lens into better understanding this incredible diversity and how it may be utilized in a therapeutic setting. It will also enhance our ability to produce pharmaceutical grade psilocybin at scale and increase our capacity to support our novel drug candidates like MYCO-001 and study its production in nature," stated Rob Roscow, Chief Science Officer at Mydecine. "Clinical use of natural extracts has seen a recent surge of commercial interest and success and expanding our capabilities to study the cultivation of a multitude of psilocybin producing mushrooms enables incredible intellectual property value and puts us on track for further discoveries of novel molecules and tryptamines."
Mydecine's approval from Health Canada for expansion adds to the long list of things they're already allowed to do. Along with their cGMP-certified manufacturing facility, they are also allowed to cultivate psilocybin mushrooms, extract/isolate, and analyze active mushroom compounds, all with government approval. They are even allowed to import and export psilocybin mushrooms. This level of approval from Health Canada provides Mydecine with a lot of leeway over how to conduct their research and business.
They also have a "state-of-the-art" facility in Denver, CO, that focuses on genetic research for scaling commercial cultivation of rare, non-psychedelic, medicinal mushrooms. Their partnership with API also provides them access to a network of over 30 pharmaceutical scientists, clinicians, regulatory, patent, and market experts.
"Through our partnership with Mydecine, we've built a world class drug discovery and development platform that has positioned the Company for long-term success in its efforts to discover and better understand novel psychedelic molecules," remarked API CEO Andrew MacIsaac. "Once completed, the expanded facility will have the capability to cultivate various mushrooms in quantities needed for the expanding clinical trial production needs of Mydecine as well as serve as the one of world's broadest libraries of legally imported psilocybin producing mushrooms under a controlled substance. Tying this with our significant capacity and research infrastructure and you've arguably got the most well equipped companies in the space to truly move the field forward."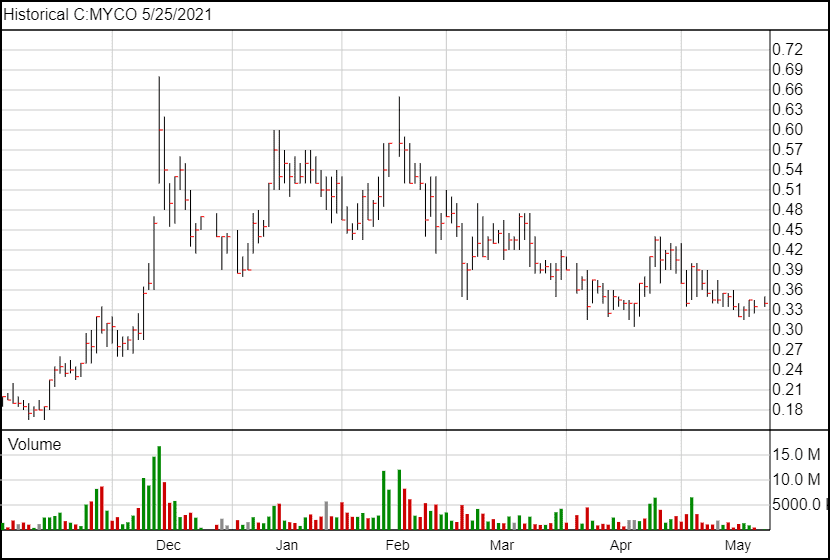 Following today's news, MYCO's share price is up half a cent, and is currently trading at $0.34.