On May 20, 2020 Predictmedix (PMED.C) cut a deal with Juiceworks Exhibits –  a company that "creates brand experiences" for leading companies across North America with operations both in Canada and the USA.
PMED's business objective: deploy artificial intelligence (AI) to disrupt impairment testing and healthcare.
Three weeks ago, Predictmedix filed a Patent Application in the U.S. for its AI-driven rapid screening system for infectious diseases.
Last week, Predictmedix appointed Kapil Raval to be the Chairman of its Advisory Board. Kapil is currently a director at the $1.4 trillion Microsoft (MSFT.NASDAQ).
In the last four weeks, Predictmedix has announced two partnerships with multi-billion companies.
Today's announced deal with Juiceworks gives PMED a substantial footprint in North America.
"Juiceworks" – stay with me – does not make juice.
It manufactures and installs commercial/retail space pop-up shops, custom exhibits/event fabrication, experiential marketing, mobile marketing initiatives, museums and general contracting for events.
Juiceworks is not publicly traded, so we don't have access to their yearly revenues.
But this is not a Mom-&-Pop operation.
The "About Us" page, lists 20 designers, installers, marketers etc.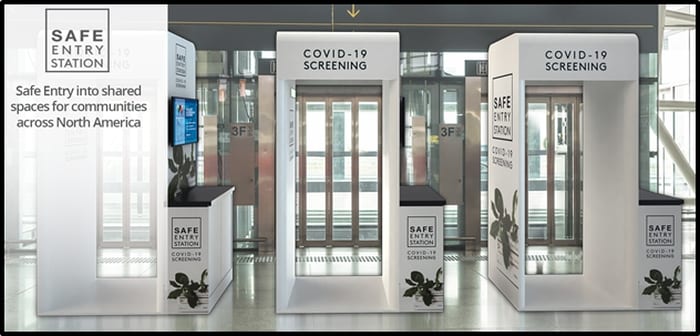 Utilizing Predictmedix COVID-19 mass screening technology, Juiceworks is offering safe indoor/outdoor entry solutions using custom-fabricated temporary structures.
All of the entry solutions being sold by Juiceworks across North America will be retrofitted with Predictmedix technology for COVID-19 mass screening.
Predictmedix will deployed a software as a service (SaaS) model whereby for every camera or scanner installation, there will be an upfront customization fee followed by a monthly subscription fee model based on the number of screenings contributing to recurring revenue on a monthly basis. The contract is a multi year contract which can be extended up to 3 years.
"Predictmedix' best-in-class screening technology pairs perfectly with our ability to custom-fabricate quickly and efficiently," states Jonathan Auger, CEO of Juiceworks Exhibits, "This affords us the opportunity to make a truly meaningful contribution in assisting communities throughout North America looking to safely re-ignite".
We like Auger's use of the word, "re-ignite".
In Vancouver, things are "catching-fire-again".
Clothing shops, restaurants and bars are cautiously opening, with restaurant patrons scattered around outdoor patios in the evenings.
In BC, we have had 2,446 total confirmed cases of COVID-19, 146 deaths, but only two new cases in the last 48 hours.
But re-ignition comes with risks.
Experts who have studied this virus and past pandemics believe, almost universally, that the first wave was just the beginning of COVID-19, in Canada and around the world," stated The National Post, "They expect the disease to be part of our lives for at least the next 18-24 months".
"You have folks thinking, okay, we did it, we're done. Let's get back to regular life," stated Dr. David Fisman, an infectious diseases specialist at the University of Toronto. "The problem is the virus is still here."
Given that the global economic cost of COVID-19 is estimated above $40 trillion, and businesses insure against "alien abduction" and "death by poltergeists" – it seems a safe bet that the detection of infectious diseases is a business-model with a long term time horizon.
"Juiceworks' large and diverse client base spreads across the US and Canada and along with their market share in the convention industry, can lead to significant revenue growth for Predictmedix," stated Dr. Rahul Kushwah, COO of Predictmedix.  "Not just for COVID-19 mass screening but also for impairment detection technology."
In this excellent Proactive Investor interview, Kushwah lays it out:
Our sales team is working around the clock to monetize and implement our technology into the North American community.

– Dr. Rahul Kushwah, COO of Predictmedix.
Utilizing Predictmedix COVID-19 screening technology, Juiceworks will offer safe indoor/outdoor entry solutions using temporary structure solutions.
Outdoor entries include:
contactless doors
UV lamps for sterilization of personal items
air conditioning
safe air ventilation
Indoor entry solutions offer a non-invasive footprint which can be quickly assembled in lobbies before occupants proceed further into the building.
Full Disclosure: Predictmedix is an Equity Guru marketing client.