Curaleaf (CURA.C) closed their amended acquisition of the Cura Partners, owner of the Select brand, in an all-stock transaction.
The company originally signed a definitive agreement on May 1, 2019, to acquire all of Select's business, including their manufacturing, processing, distribution, marketing and retailing operations and all adult-use and medical cannabis products, including their IP, for 95,555,556 shares. But because the market is the way it is, the merger has been reduced to 55,000,000 shares, with the remaining shares going towards Select equity holders when Curaleaf hits their 2020 revenue targets.
"The amended terms of the acquisition that we have agreed to with Select reflect our commitment to executing a prudent investment strategy that is in the best interests of our shareholders. We remain extremely confident in the strength and operations of the Select business and of the long-term prospects of the cannabis sector as a whole. We look forward to bringing our companies together to lead this industry as it continues to mature and grow," said Joseph Lusardi, Curaleaf.
It caused quite the stir when it was first announced. A billion dollar cannabis deal signifying the binding of a premier cannabis brand with one of the largest MSO's in the United States. But that was announced back in May, before the cannabis market collapse. You can't really blame Curaleaf or Cura for this, either. There was no way either company could predict that a billion dollars in outstanding warrants were going to blow up Canopy Growth's (WEED.T) face, followed by scandal after scandal, culminating in the charts of most cannabis companies to take on a ski-slope like trajectory.
And actually, it's not that bad of a deal when considering how some other major players in the industry are faring.
Let's have a look:
First, there's Canopy. Still reeling from losses. Their market cap shredded to $9.3 billion from the $40 billion range.
Aurora Cannabis (ACB.T), following suit after suffering shortfalls and offloading underperforming assets.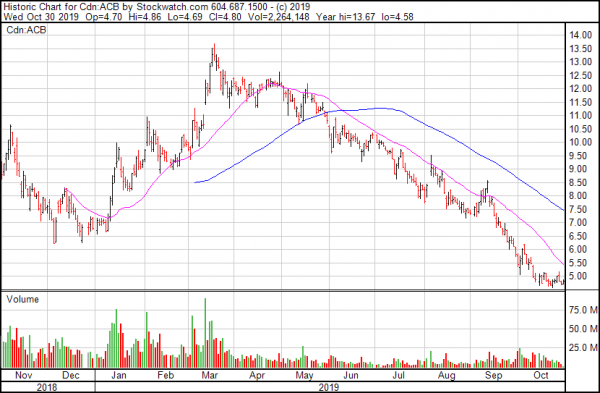 But Curaleaf, in comparison, is still out there and making deals. Portland, Oregon-based Select sells its THC products in more than 900 retailers across the country. The merger brings together Curaleaf's retail locations, vertical integration, brand, and strong market presence along the east coast, and combines them with Select's west coast presence, wholesale model and lifestyle brand.
Curaleaf also has agreed to shuffle their board around to allow for two new members.
Cameron Forni, Select's founder, will join Curaleaf as the president of Selection and sit on the board. Forni was honoured as one of the most 100 most influential people in cannabis by High Times Magazine in 2018 and 2019, and as one of the 40 under 40 to watch by Marijuana Venture Magazine in 2018. He serves presently on the advisory board for the L.A. Cannabis Task Force. Forni helped build Select's award winning culture and also led the company to a place on Oregon Business Magazine's list of 100 best companies to work for in both 2018 and 2019.
Also, Select's chief marketing officer, Jason White, will be joining Curaleaf. He's retaining his title as chief marketing officer and bringing with him a portfolio based around developing culture-shaping ideas. Before working for Select, he was the global head of marketing for Beats by Dr. Dre, the headphone and speaker maker acquired by Apple in 2014.
—Joseph Morton