Pasha Brands (CRFT.C) has only been public for 4 days.
On April 30, 2019 – when it was still a private company – it signed a Letter of Intent (L.O.I) to acquire Medcann – a fully licensed, Health Canada approved facility "to process, cultivate and sell medical cannabis under the Cannabis Act regulations."
L.O.Is – written on soft napkins – are handy for mopping up wine spills or blowing your nose into.
But that deal just got consummated.
Late Wednesday, CRFT announced that it has formerly acquired Medcann.
This acquisition will allow CRFT's 100% owned subsidiary BC Craft Supply Co. to accelerate its pace of growth in Canada's new craft cannabis sector.
BC Craft acts as a service provider to small farmers under the newly created Health Canada licence category known as Micro Cultivator. In exchange for a cannabis supply agreement with a micro cultivator, BC Craft assists the applicant in receiving its licence with Health Canada and provides a whole host of services ranging from quality assurance to the marketing of its cannabis products in Canada's provincial and territorial markets.
With approximately 10,000 square feet of space, on an acre of land on Vancouver Island, Medcann was granted its processing, cultivation and sales licence by Health Canada in March 2019.
Pasha aims to connect a galaxy of Canadian craft cannabis growers with government approved manufacturers, branders and retailers.
Given that 90% of the weed sold in Canada still comes from the black market, this is a solid business plan.
In British Columbia, for example, there is an army of talented micro-cultivators (often single-family operators) who are tired of going to PTA meetings and lying about their profession.
Pasha plans to bring them in, out of the cold.
"We support our clients through the transition into the new, legal market so that they can stay focused on the growth of their company and get onto the market with the best possible price for their product," states Pasha on page 15 of the SCE Form 2A Listing statement, downloaded from Sedar and available for your viewing here.
Medcann provides Pasha with an immediate pathway to bring craft cannabis products to market under Health Canada's new micro-cultivation licence category.
The Medcann facility will test, process and package high quality craft flower, and package this flower for distribution throughout Canada. In addition to flower sales, it is expected that Medcann will process cannabis for Canada's emerging oil market through an extraction lab to be developed at the facility. Pasha currently owns nine prohibition-era cannabis brands which Canadians were purchasing in the pre-legalization era. As regulations permit, Pasha will distribute product under these leading brands throughout Canada.
If you still drink Budweiser or Molson beer, you may not full grasp the Pasha mission.
In the last half-decade, the craft brewery industry staged a freakishly successful anti-corporate assault on an adult-beverage industry that – for decades – got away with selling over-priced fermented piss.
Those days are gone.
In the last 5 years, the number of new craft breweries and microbreweries in Canada has increased 200% to about 800.
Craft beer drinkers – like cannabis consumers – crave new experiences: Milk Stout; White Chocolate Moo-hoo; Monday Night Slap Fight; Mama's Little Yelper, etc.  Craft beer drinkers demand artisanal premium-quality products.
We think cannabis consumers are going to make the same demands.
They wanna buy product from their neighbours.
And they wanna hear the stories that come with it.
This is not a small trend. In the U.S., 2018 craft beer sales increased 7% to $27 billion, and now account for more than 24% of the $111 billion U.S. beer market.  Meanwhile, sales of fermented piss (Budweiser, Molson) dropped 1%.
Given the endemic counter-culture instincts of younger cannabis consumers, we anticipate a similar trend away from corporate brands towards small, hand-made, high-quality agricultural products.
Of course, a great concept does not necessarily become a great business.
Pasha's former CEO, Patrick Brauckmann, broke down Pasha's projected economics in this conversation with Equity Guru's Chris Parry.
Basically: Pasha pays the micro-cultivators $4,000 kg ($4/gram), wholesales the flower for about $7.50/gram, retails the product for $12-16 gram."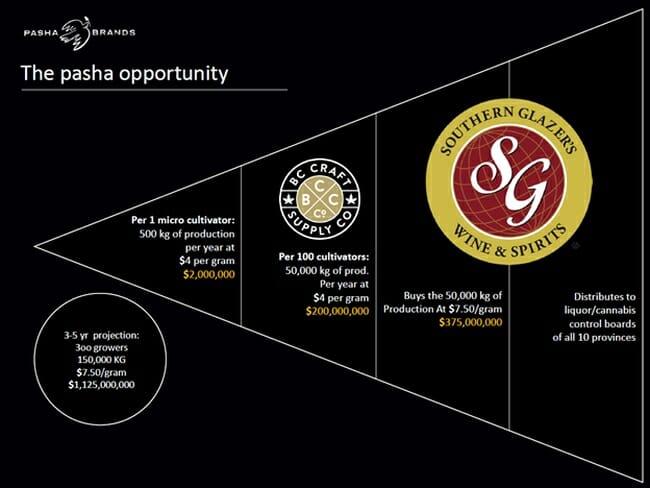 re: the Medcann deal: the shares will be released from the pooling arrangement over a period of 18 months, with 25% of the shares released immediately upon completion of the acquisition, and the balance released in six equal tranches every three months thereafter. In the event the volume weighted average closing price of the Pasha common shares is less than $0.72 in the twenty trading days prior to the expiry of the pooling arrangement, the shareholders of Medcann will be entitled to receive additional Consideration Shares to guarantee the value of the consideration they receive.

Following completion of the acquisition, Medcann will also hold the right to acquire the property on which its facility is located in consideration for a further cash payment of $1,200,000. The property is currently subject to a lease arrangement which permits the operation of the facility.
Pasha also just announced the appointment of Jason Longden to the position of CEO.
Longden is a food industry vet with expertise in operating Health Canada approved facilities and managing complex supply chains.
"I'm thrilled to have been given the opportunity to lead this dynamic organization and its highly experienced management team at such an important time for the industry," stated Longden. "Much has been done to establish Pasha as the craft cannabis leader in Canada, now we will be looking to do so internationally."
Longden was the C.O.O of Silver Hills Bakery—a family-owned company with 300 employees that produces One Degree Organic Foods and Squirrelly Bread.
We spoke to Brauckmann early this morning, and he said, "Londgen takes it do another level."
There is a growing supply gap for cannabis in Canada as licensed producers are unable to meet consumer demand. Through BC Craft, Pasha will focus on bringing micro-cultivators into the market. The micro-cultivation licensing program allows for the processing of approximately 500 kilograms of dried flower per year, per micro cultivator.

More than just a viable solution for closing the supply gap, this provides consumers with high-quality craft cannabis products that are differentiated from others in the space. Under the micro-cultivation program, the BC Craft network will look to add and assist hundreds of producers. For every 100 micro-cultivators BC Craft secures, up to 50,000 kilograms of world-class craft cannabis could be available to the market via Canada's regulated supply chain.
"Pasha Brands is taking a hard run at bridging the gap between 'government weed' and 'weed from a guy' by reaching out to those prohibition brands and growers that built up a connection to their audience, and helping them transition to the white hat market," wrote Equity Guru's Chris Parry.
"If they can pull that off," added Parry, "It'll be a fuckin' barnburner."
Editor's note: after the announcement of the Medcann acquisition, this article was updated and amended from an earlier version.
Full Disclosure:  Pasha Brands is an Equity Guru marketing client, and we own the stock.