Normally, weak U.S. housing data will perk up gold prices.
On July 18, 2018, the U.S. Commerce Department revealed that housing starts state-side fell 12% to 1.17 million units in June.
Despite this – gold is stuck in a 3-month downtrend, as investors remain stubbornly transfixed on the surging U.S. dollar.
Is gold truly dead?
If so, which of Elisabeth Kübler-Ross' 5 stages are grief are we now experiencing?
Denial – "Deep state manipulation!" "It's not real!".
Anger –"Why me?" "Who is to blame?"
Bargaining –"If gold goes to $2,000/ounce, I promise to stop vaping."
Depression –"My stack of American Gold Eagles makes me cry, why go on?"
Acceptance – "It's going to be okay – at least I own weed stocks".
After sober reflection, we have self-identified micro-traces of the last 4 stages of grief.
But it's 98% denial.
And we're not the only people who can not – or will not – accept the untimely death of gold.
Rob McEwen, chairman and CEO of McEwen Mining (MUX.NYSE) thinks gold still has a heartbeat.
McEwen pointed out that while gold futures have been pummelled, the junior mining ETF (GDXJ:NYSE Arca) has been mostly holding its own.
"Gold investors are frustrated with the market, but I think generalists are starting to see value in mining stocks," McEwen stated in a recent Kitco Gold interview. "At some point, investors are going to start asking themselves where the earnings growth will come from and that will be from commodities. Now is the time to buy because there is real value in the market."
One of those "value stocks" is an African gold developer Nexus Gold (NXS.V) that recently executed a 10-1 roll-back (share consolidation) – and then proceeded to chug higher.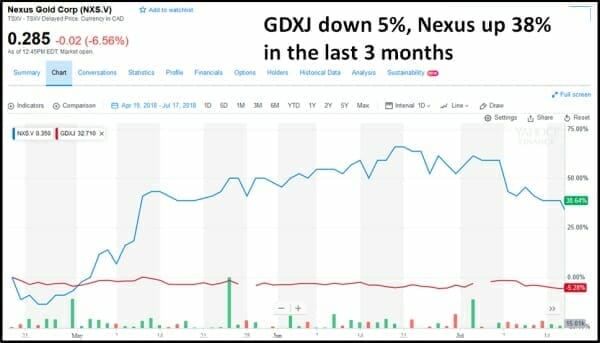 On July 18, 2018 Belgravia Capital announced that they had purchased a 7% stake in Nexus Gold.
"Belgravia has acquired 2,807,000 shares of Nexus Gold Corp. representing approximately 7% of the company," stated the press release, "Nexus Gold is operating three gold exploration projects in Burkina Faso, West Africa."
3 gold projects in Burkina Faso:
The 178-sq km Niangouela gold concession where the company has delineated a 1km quartz vein and shear strike. Eight of the first nine diamond drill holes on the property returned positive gold results, highlighted by a 4.85m intercept of 26.69 g/t.
The 38.8-sq km Bouboulou gold concession with historical drill results including 40m of 1.54 g/t. The property contains three distinct gold trends, each extending 5000 metres (5km) in length.
The 250-sq km Rakounga gold concession contiguous to Bouboulou property, contains many artisanal mines.
A week earlier, Nexus Gold announced that it has retained Trapeze Capital to provide market-making services, following the rules of the TSX Venture Exchange.
According in Investopedia, a market maker helps keep the financial markets liquid, by "buying and selling quotations for a guaranteed number of shares. Once an order is received from a buyer, the market maker immediately sells from its own holdings or inventory of those shares to complete the order."
Market makers tend to increase liquidity, bringing in new shareholders.
We first wrote about NXS on March 7, 2017 commenting on a shiny drill program.
Nexus hit gold on eight of nine holes, with four of those being classed as 'significant'. The best intercept was 4.85 metres of 26.69 grams per tonne. That's almost an ounce per tonne across an almost 15-foot section at a depth of about 165 feet.
Nexus recently announced that Alex Klenman has been appointed the new CEO, and that J. Ian Stalker is joining the board of directors.
According to the press release, "Mr. Stalker has more than 40 years of development and operational mining experience in countries around the world, including over a decade working in West Africa."
Stalker is a beast, as you'll see, in this Metal News interview.
The World Gold Council (WGC) recently published Q1, 2018 data:  "Gold demand of 973.5t was the lowest Q1 since 2008. Jewelry demand was steady at 487.7t. Growth in China and the US compensated for weaker Indian demand. Central banks bought 116.5t of gold (+42% y-o-y). Technology demand grew 4% y-o-y to 82.1t. Mine production was fractionally higher at 770t".
"Over the next 17 years, 170 million people will enter the middle classes every year from emerging markets, mostly in Asia," stated the WGC.
Burgeoning middle class = new disposable income.
It's no secret that China and India love gold.
"I think there needs to be some consolidation within the mining sector," stated McEwen, "A company with one project is going to struggle to be profitable. Strategically grouping two or three projects together makes sense and will create a lot more value for investors."
Nexus Gold is a penny stock, in an underexplored African gold belt, with good drill results and super-star management.
18 months ago, the NXS stock price was 1,000% higher than it is now.
For the last 3 months, as bullion has sunk, NXS has been buoyant.
On July 18, 2018, August gold futures finished at $1,223 an ounce, down 0.25% on the day.
Nexus is trading at .30 with a market cap of $10.4 million.
Full Disclosure:  NXS is an Equity Guru marketing client, and we own stock.