On May 17, 2018 DMG Blockchain (DMGI.V) announced that its Blockchain Forensics & Analytics Group has nailed down contracts from several international auditing and consulting firms.
DMG uses artificial intelligence (AI) and machine learning (ML) technology to monitor cryptocurrency exchanges, examining the currency flow through the blockchain in order to establish the "provenance and destination of crypto wallet funds."
Got that?
If not, you have company.
Despite an avalanche of significant news [more on that later], the investment community has given DMG a frosty reception.
DMG  provides analytics support for the Bitcoin and Ethereum blockchains (including ERC20 tokens and ICOs), and over the course of the next year DMG plans to support analytics for Litecoin, Bitcoin Cash, Ripple and Stellar as well.
The Blockchain and Forensics Group is currently working in China, Panama and Japan, assisting clients with "potentially non-compliant transactions."
A February 2018 academic paper, Fraud Risk Assessment Within Blockchain Transactions, by Pierre-O. Goffard, of the Department of Statistics at the University of California – reveals the scope of fraudulent and non-compliant blockchain transactions.
A lot of the paper looks like this:
But the conclusion is easier to grasp:
Empirical evidence shows that BTCs miners behave strategically by gathering in pools. "Selfish mining" is a strategy that can be used by a minority pool to obtain more revenue. The key idea is for the pool of selfish miners to keep its discovered blocks private while honest nodes continue to mine on the public chain.
Selfish Mining is one of a myriad of fraud and compliance issues that sits in DMG's domain.  These are big problems.  Whatever company solves them will make big coin.
"We have the tools for real-time analytics," stated Simon Padgett, DMG's Director of Forensic Services.  "We were recently appointed by MNP, a major auditing firm, to assist with an urgent blockchain audit verification requirement on a very tight deadline."
At Equity Guru, we often criticize companies for a dearth of news. DMG has the opposite problem. The flow of significant news is so heavy that it starts to wash over you.
May 7, 2018, DMG announced the launch of its 'BitScore' cryptocurrency deposit and withdrawal risk-scoring web API for Anti-Money Laundering (AML) and anti-fraud compliance.
Customers can submit a cryptocurrency source or destination address to the BitScore API, and the algorithm returns a risk score evaluating the source of funds sent to that address, or if that address has sent funds to other high-risk parties such as known hacks, dark markets, or money laundering services.
On April 26, 2018 DMG announced that it has signed an L.O.I with Blackchain to license DMG's Prometheus technology for deployment as part of BlackChain's P2P Lending Platform.
Under the proposed license, BlackChain will retain exclusive rights for use of the technology for P2P Lending. DMG will be entitled to a royalty on commercial revenues generated by Blackchain using the technology.
On April 04, 2018 DMG announced that it is contributing core code to a protocol known as Lightning, which can increase blockchain transaction throughput and make the Bitcoin network more scalable.
The code that DMG is developing for Lightning is called atomic cross-chain swaps, which allows Bitcoin-related businesses to speed blockchain processes such as real-time payouts.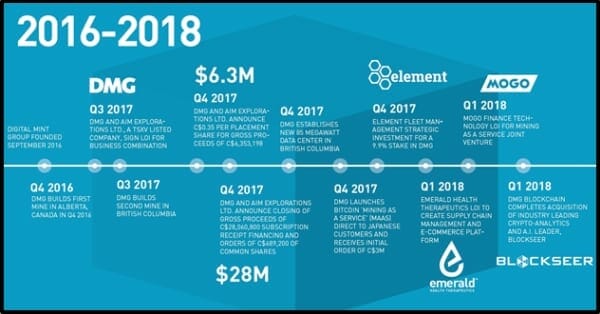 On March 27, 2018 DMG summarized the following achievements & operational Highlights
2,650 Mining Rigs Sold: MaaS allocated 4 megawatts of power sold out
Power Update: DMG expects an additional 40 megawatts ready for mid-2018
Bitcoin Mining: Launching what could be the largest industrial bitcoin mining complex in North America with power capacity of up to 85 megawatts
Blockseer and AI: Carefully managed M&A plan underway with the acquisition of leading Silicon Valley-based artificial intelligence (AI) and Blockchain company, Blockseer
Key partnerships that can be catalysts for growth and margin expansion (Bitmasters, Foreside Financial, Mogo, Emerald Health Therapeutics, Element Fleet Management, D-Link, Primary Engineering and CannaChain)
More than $35 million raised in 2017 with institutional ownership of more than 20%
Analyst Daniel Kim of Paradigm Capital recently gave DMG a "Buy" rating with $1.50 12-month target price – a 400% increase on the current price.
"DMG's diversified business strategy gives it a revenue mix advantage over pure-play miners who are solely dependent on the price of Bitcoin," stated Kim. "The company's goal is to become the blockchain domain expert across multiple industries and it is very cleverly and quickly leveraging relationships with world-class companies."
Noting DMG's focus on the massive Japanese market, Kim believes that "DMG will emerge as a disruptive innovator and will provide investors with outsized returns," producing revenue of $10.7 million this year, and $58.9 million in 2019.
"Our Blockchain Forensics & Analytics Group is trusted by major law enforcement and U.S. Federal Government agencies, as well as international auditing firms," said Dan Reitzik, DMG CEO – referring to the latest news – "We believe deeply in the economic value of blockchain technology, and we are proud to be bringing a new level of trust and risk management to help the ecosystem mature."
This geeky company is providing cool solutions to the blockchain industry.
DMG is trading at .37 with a $34 million market cap.
Full Disclosure:  DMG Blockchain is an Equity Guru marketing client, and we own stock.