This has been a week of spit takes. We're all rich in 2018, especially if we've been putting money into the weed sector in 2017.
Especially if you've been putting money into things Equity.Guru has been telling you about.
Let's showcase 'em:
DOJA CANNABIS (DOJA.C) $0.45 –> $2.66
DOJA's crew were too young, too pretty, too small, and yet here they are, banging out a new deal with Tokyo Smoke, Canada's most renowned vape store, creating a cross pollinated lifestyle brand that threatens to punch way above its weight class.
We had CEO Trent Kitsch on our livestream in mid 2017 and he said he was going to do exactly what he's done.
Watch Interview: DOJA Marijuana CEO Trent Kitsch (SG.V) from EquityDotGuru on www.twitch.tv
Long time readers may recall the deal that brought DOJA to the markets nearly didn't happen, in part because the valuation was considered too high. So Trent retooled, got his inspection date, and came out with a lower valuation that quickly accelerated.
His clan bought its own stock on the public market on a dip into the $0.50's which we mentioned at the time as being smart play. They're up five times on their money six months later.
LIFESTYLE DELIVERY SYSTEMS (LDS.C) $0.50 –> $1.29
The producers of CannaStrips took their time getting to the starting line, and dealt with a city/county permitting dispute last month that some were touting as the company's end.
But LDS did the work of getting California regulated before the new recreational regulations were actually a go, so the last week of December saw some crazy buying.
We absolutely tore LDS a new one in 2016 for promises not kept.
We held the CEO to the fire in early 2017 and told him he needed to achieve certain milestones in 2017, and he did.
In 2018? It appears this might be an interesting time.
LDS CEO Brad Eckenwiler used our Twitch livestream to show investors his machinery actually in place in mid-2017, which flattened out a continued downward trend and saw renewed interest from which the company raised a bunch of money, and has launched from at year end.
Watch Interview: Lifestyle Delivery Systems (LDS.C) CEO Brad Eckenweiler from EquityDotGuru on www.twitch.tv
TINLEY BEVERAGE COMPANY (TNY.C) $0.30 –> $1.89
Christ on a bike.
We thought Tinley was crazy when it was around $0.80 a few weeks ago and suggested it might be a good point to take some profits. We hope you ignored us.
Long time readers who bought stock at $0.30 (or even recent readers, as you could have got it for that in October) are wondering what cut of steak to purchase a truckload of at this point.
Tinley is running on hot for several reasons – it's a California play, smartly, and it's an alcohol play, smartly, and it's been talking about releasing its THC cocktail SKUs right about now for a few months.
This stock has been primed for a big spike for 2018 by design, and though we struggle with the $137 million market cap, nobody is looking at market caps in weed anymore.
And any deal with a boozeco will see that share price launch into greater heights.
Well played, Tinley.
CEO Jeff Maser talked to our livestream eight months ago and laid out his whole plan, which he's achieved in no uncertain terms.
Watch Interview: Tinley Beverage Company (TNY C) Jeff Maser CEO from EquityDotGuru on www.twitch.tv
QUADRON CANNATECH (QCC.V) $0.20 –> $0.91
Nobody saw this one coming but we LOVED the idea of someone putting some real engineering into cannabis extraction rigs, and perhaps bringing LPs a turnkey solution they could use in return for a royalty.
QCC CEO Rosy Mondin has gone well beyond that, with side hustles that are bringing in nice revenue, deals with academia that will bear fruit in ways we don't even know yet, a continued consultation with government regulators and lawmakers that puts her in everyone's good books and cocktail invite list, and that damn cannabis extraction unit is NICE.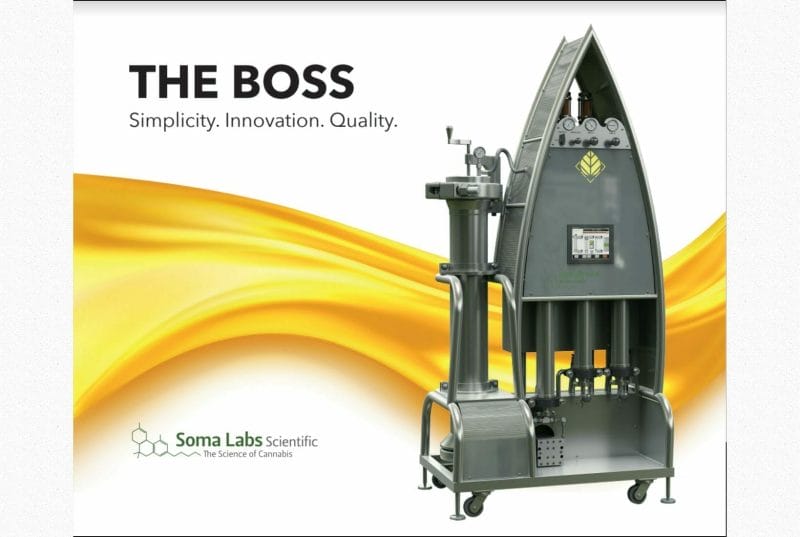 I talked to Rosy right before Christmas and suggested she should go raise some money and make bigger moves. She's just announced a $5m bought deal financing. The bigger moves are now in reach.
GOLDEN LEAF HOLDINGS (GLH.C): $0.90 –> $1.34 –> $0.16 –> $0.51
So I talked about GLH when it went public back in late 2015, before Equity.Guru was even a thing, back when I was running editorial at Stockhouse. It was a gimme at the time, doubling revenue every month, selling out of its entire stock of cannabis oil products, rolling with gorgeous packaging, and restricted in its earning potential only by the industry shortage of extraction machines.
Then they brought on a CEO who used to run Mars Canada and got the food industry and got the weed industry and looked like he was a stone cold killer.
And then the problems began.
If you'd given GLH's reins to me, I would have moved heaven and earth to fill a room with extraction machines. And that's it. That's all the business needed.
But then CEO Don Robinson wanted to build for the eventual takeover of the weed industry by Big Food, so he brought on managers and sales teams and took leases out on office space and expanded warehouses and SKUs and the cart was sitting waiting for the horse as it bolted across county lines.
GLH took on toxic amounts of debt, ran up expenses before revenues could catch them, and when it inevitably got stuck up in the dumb moves of state regulators who, in their efforts to fix the Oregon weed industry instead hamstrung it, the company had no runway to allow for delays in production and sales.
So it took on more debt. At lower share prices.
And since the CEO had come in at around a buck for a high six-figure amount of money, he wasn't about to roll things back. Or, like, go easily.
This is all hindsight being 20/20. At the time, Robinson sounded like a hell of a captain, and as things went hairy, he always had an escape plan for the company that made sense.
But bills didn't get paid (I'm still owed some). Stock certs had to be pried out of the office. Long time investors who are never getting above water stuck with the company and bought more stock because they heard the same things I did.
But the stock price drifted always, on good news and bad.
And so, with the stock at $0.16 recently, I took an ongoing round of crap from Twitter trolls who will never talk about the things you got right, only the one you got wrong.
Here's the thing: Anyone who lost money on GLH, lost it alongside me. I've had a position in that company, on and off, mostly on, since it was up over a buck. Not because I couldn't see the bleeding, but because I was seated at the table with investors of large amounts of shares who could have, at any point, pulled the plug on the company and locked in their losses, and who instead doubled down, again and again, knowing that there's an actual good product there, in a state that will be a big player, that just needed a new skipper.
More recently, with a new skipper, things began to change for the better. The former CEO made some big plans amid his death throes, including taking a piece of Nevada's weed game, and making moves in Canada. The new CEO is completing some of those moves and more, and has put the company into a really interesting route going forward.
There's still debentures to deal with. There's still costs to reduce. There's still WAY too many shares out. But it's happening. and the faith paid by GLH baggies (like me) is beginning to be not as dumb a move as it was a few months back.
Every stock is a winner, mathematically, at some point. Those who bought into GLH on day one and sold on day seven made 30% on their money. Those who bought six weeks back are on a three-bagger. The rest of us? We're waving our pompoms for the new CEO and holding strong.
ABCANN GLOBAL (ABCN.V) $0.90 –> $1.85
Organic. Pesticide free. Standardized.
Canada. Europe. Australia.
LOI to take over Harvest Medicine clinics with 8500 patients.
Offtake/expansion deal with Cannabis Wheaton (CBW.V).
And yesterday they received a license to produce oils.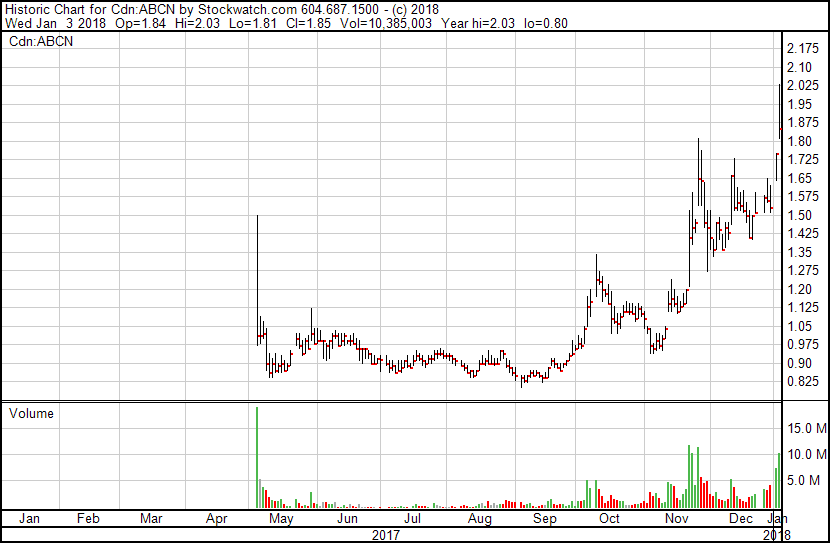 Abcann is the company Organigram wants to be.
Abcann is the company Organigram should have been.
Abcann is up this past month, but not nearly where it should be.
You know what to do.
INVICTUS MD STRATEGIES (IMH.C) $0.35 –> $1.75
I've seen SO MANY people on social media these past few months ask the question, "I have a thousand dollars to invest in weed – what should I put it in?"
Invictus is my answer.
They have a fully owned LP in west central Alberta, they own a third of AB Laboratories in Ontario, and a third of a license applicant. They also own 82.5% of Future Harvest, a hydroponics and fertilizer specialty retail storefront, from which they already made a substantial profit from selling off one of their product lines.
Here's the catch: Everyone has forgotten.
Canadian weed market cap values:
Namaste: $792m
Cannabix Technologies: $257m
Golden Leaf: $233m
Abcann Global: $220m
DOJA: $163m
INVICTUS MD STRATEGIES: $140m
Matica Enterprises: $139m
Tinley: $137m
LDS: $119m
True Leaf: $91m
Come on! Invictus, with an LP license, another maybe on the way, and investments in labs and retail, with cash in hand, is worth the same as Matica, a company with two applications on Health Canada's list, that may never happen?
It's worth less than Golden Leaf, which has been a punching bag for two years?
It's worth less than Cannabix, which may not have anything actually at all that works in any way, shape or form? It's worth five times less than Namaste, which sells vapes online and makes a few million bucks a quarter?
Let's put this another way – it would have cost you MORE to buy IMH stock in February of last year, before they started popping on licensing news, and before EVERY SINGLE WEED STOCK WENT APE SHIT.
Invictus is a SCREAMING gimme right now, even with the market bolting upwards – especially with the market bolting upwards. We're in the acquisition phase of the weed industry currently, and Invictus is geared for being acquisition bait.
THE GREEN ORGANIC DUTCHMAN (TGOD) Coming soon
We've been talking about it for over a year. It's had two pre-listing private placements that have brought in nearly 4000 retail investors before it has even gone to market. It's focused on B2B deals, it's organic, and it's coming, as soon as this month.
When TGOD lands, the impact will be felt.
FINCANNA CAPITAL (CALI.C) $0.50 –> $1.22
It's only days old, but Fincanna is trading nicely. We told you about it a few months back and got in on their PP, so we're happy.
The nutshell version: They're helping to finance a Californian cultivator's expansion and have done a nice royalty deal to make that happen. They're taking 50% of profits on that company's extraction plant in the interim as the campus gets built out, and California is HOT right now.
It's early days, and we generally don't say a whole lot about Fincanna because the guys behind it want to go through every word and leave no indication that they're doing anything untoward, like stock promotion, such is their desire to play everything as straight as a die. Which makes life hard for us because we don't normally wait for executive approval before publishing what we think.
Just know this: If you're looking for an honest California play, you've found one.
And you found it early.
ONE LAST THING:
We've talked a lot about a company called Lottogopher (LOTO.C) which wasn't a client but we thought was pretty great, and put our own cash into.
It's been disappointing. Not that the company hasn't made moves (it has, with William Shatner now signed on as spokesman), and not that the company doesn't have a viable business model (similar companies in Europe are worth billions) or growth plans (other states than its current California are reportedly coming).
But they came to market loaded with cheap paper, and that paper has been selling it right down to lower than $0.15 last week.
But something has been happening that makes me feel like it's about to go on a run.
First, they announced they're applying blockchain tech to what they do, and.gaming in general.
Second, the sell-off flattened last week.
Third, the buying began this week. In earnest. Volume is way up. And now I'm getting those Twitter private messages from industry players telling me they're loading up.
Those are the signs that someone is leaning on the go button. Either news is coming and word is out, or someone is buying promo, or a large investor sees something they'd like a big stake in… either way, the buying levels match the highest volume this stock has ever had.
Watchlist.
— Chris Parry
FULL DISCLOSURE: As mentioned in the article, most of the companies described in this piece are Equity.Guru client companies. That means we may also own stock in those companies, so we have a conflict of interest inherent.
Don't buy something because we say it's good, or because anyone else tells you to. Buy something if you look at it and think, yep, I know all there is to know about this opportunity and it makes sense to me, and if I lose some of my investment it won't lead to divorce.
Yeah. We still gotta work on our disclosure statements a little, BCSC…

NB: Doja Cannabis ("DOJA") announced a name and symbol change on January 30th, 2018 as a result of its merger with TS Brandco Holdings Inc. ("Tokyo Smoke"). Effective 31 January 2018, the company trades as Hiku Brands under the ticker symbol HIKU.C